Located on the south shore of Lake Simcoe, Sibbald Point Provincial Park is an easy one-hour drive north of Toronto. And with two dog friendly beaches, it's the perfect summer day trip for you and your pup!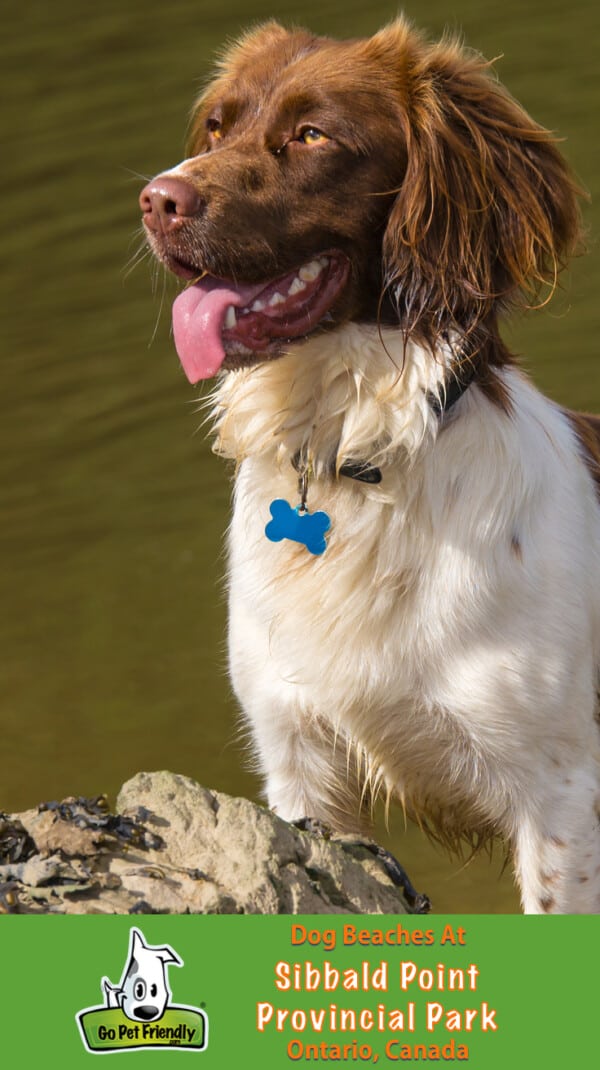 For anyone traveling with a pit bull, or a dog that could be mistaken for a pit bull, please know that Ontario has an especially ugly Breed Specific Law that bans "pitbull-type" dogs from the province. Police and animal control officers can search for and seize any dog deemed to be a "pit bull-type" based on visual inspection.

Please avoid Ontario with your dog and check out these Tips for Traveling with Pit Bulls.
Sibbald Point Provincial Park is a very popular destination — for good reason. In addition to the beach, the excellent facilities include playgrounds for the kids, a well-equipped shop for food, hiking trails, and a boat launch. Plus there are about 300 campsites that can accommodate RV and tent campers!
Pet Policy At Provincial Parks
The there is one basic rule at all of Canada's provincial parks, and it's pretty simple: "Have respect and consideration for your fellow visitors and the park environment."
As this pertains to pets, it means that park visitors must keep pets on leashes no longer than two meters. This is for the protection of wildlife and other park visitors.
In addition, owners must ensure their pet doesn't damage or interfere with vegetation, wildlife, or others' enjoyment of the park. (Picking up after your pet at all times would fall into this category.)
And finally, pets are not permitted in swimming areas or in a posted prohibited area at any time. Pets are only allowed on the designated dog beach areas.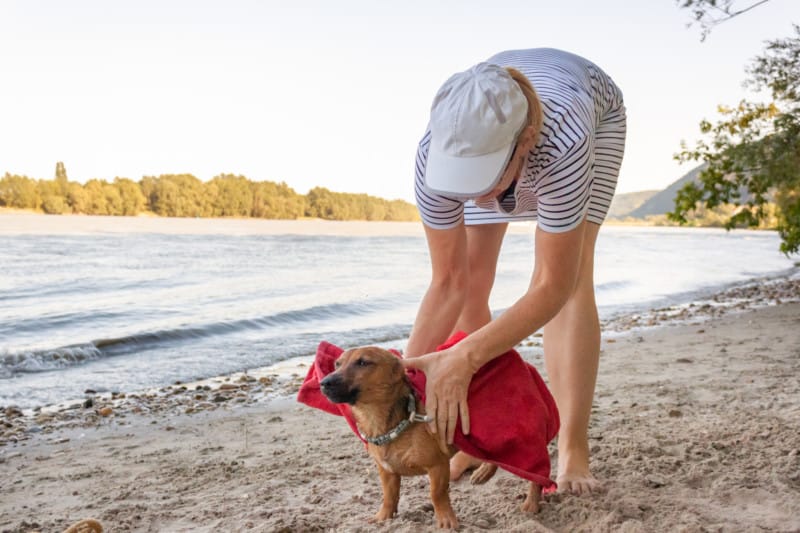 Dog Friendly Beaches At Sibbald Point
Sibbald Point has two beach areas where dogs are allowed. The boundary between the dog beach and "human" beach is a long stone jetty.
The beaches at Sibbald are natural — and the dog beach is covered in small round pebbles, which are okay to walk on even if you have bare feet.
There is sand on the "human" beaches, but still plenty of rock, too. And that's a good thing, because the bottom of Lake Simcoe can be very muddy and weedy, and the rocks don't get nearly as hot as sand on tender feet and paws.
The human swimming area is clearly marked, but there are no lifeguards. Comfort stations and change facilities are close to the beach.
The water is fairly shallow and warm, so swimming was comfortable. There are also lots of trees near the beach, so finding shade isn't a problem.
However, getting a picnic table is tricky! If you aren't there at the crack of dawn you're not going to get one. So bring your own chairs, or you'll end up sitting on the ground. (Or on your human, if you're a dog.)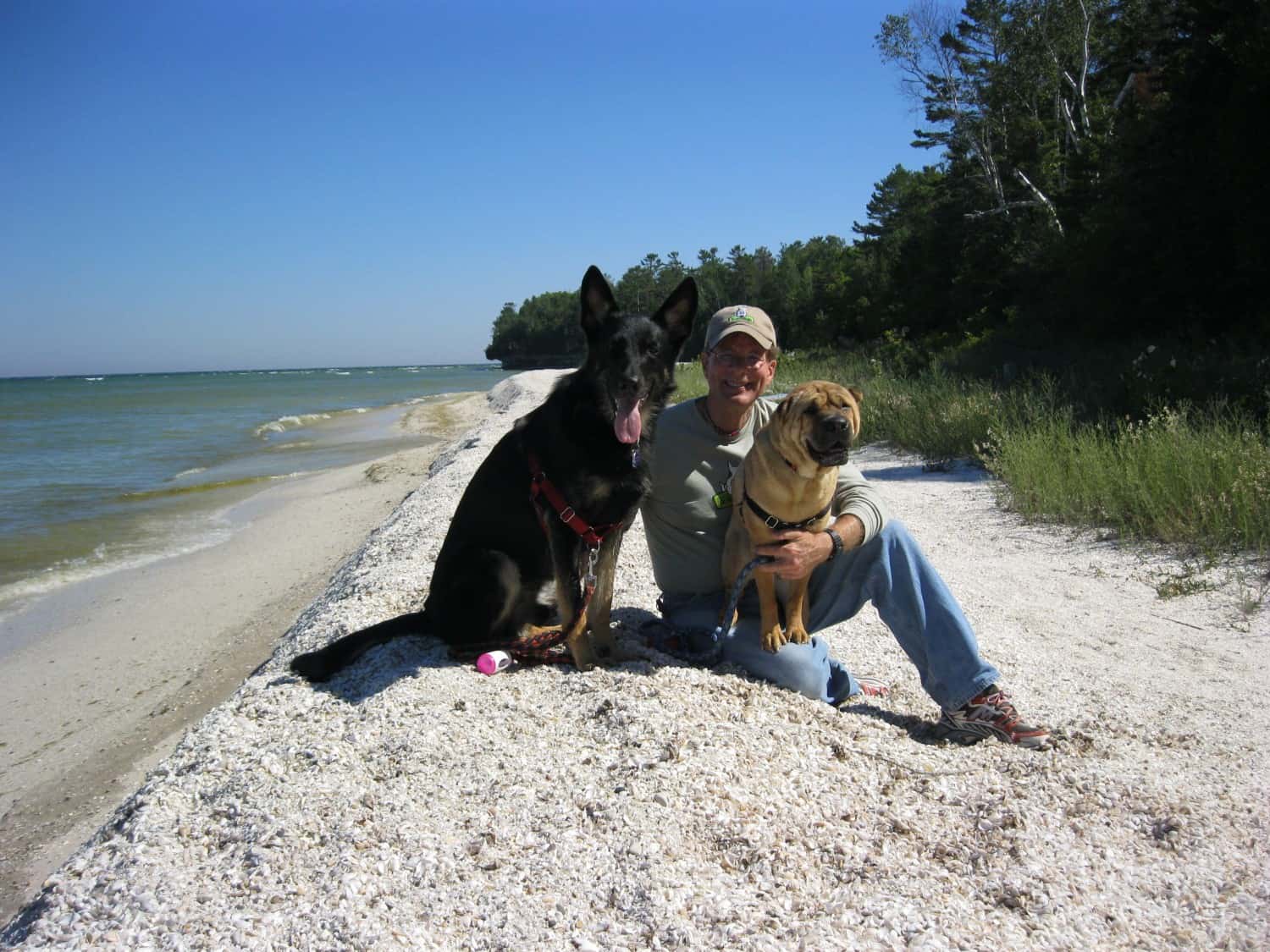 For those that don't like crowds, the Sibbald Point beach is not for you. Being at the dog beach was a little less busy than the "human" beach, so that was a bonus.
Fortunately, there are plenty of things to do at Sibbald Point that don't involve the beach!
Beyond The Beach at Sibbald Point
Biking – For the best views, cycle Hedge Road along the Lake Simcoe waterfront.
Birding – The best birding at Sibbald Point is along the Maidenhair Fern Trail, the Lake Simcoe shoreline, and in the day use area adjacent to Eildon Hall Museum. Watch for several species of warblers and waterfowl that stopover at Sibbald Point on their migration routes.
Boating – Lake Simcoe is an ideal place for sailing and motorboats. Campers and day visitors are welcome to use the boat launch and dock.
Camping – The camping options at Sibbald Point include car camping, group camping, radio-free camping, in addition to spacious electrical and non-electrical campsites with pull-throughs for trailers, RVs and tents. The campground is open from mid-May to mid-October.
Canoeing, Kayaking, Paddle Boarding – All paddlers should be aware of weather conditions on Lake Simcoe. The winds can come up quickly and be strong. It is recommended that you stay close to shore.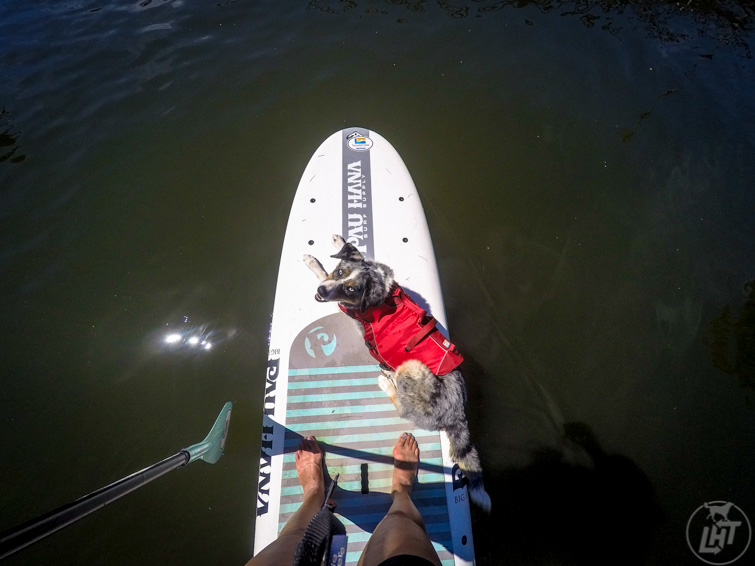 Discovery Program – The Sibbald Point park staff offer weekly educational programs for children and adults through the summer. Programs include nature and heritage drop-in programs, evening programs, and roving interpretation.
Fishing – Anglers will find Lake Trout, bass, whitefish, pike, yellow pickerel, and jumbo perch are abundant in Lake Simcoe.
Hiking – Getting out for a good hike with your dog is always a fun activity, and there are two great dog friendly trails to check out at Sibbald Point.
Maidenhair Fern Trail – 2.0 km, 1-1.5 hours, easy
This self-guided loop trail introduces you to the variety of ecosystems at Sibbald Point. Pick up the trailhead at the Park Office.
The Cultural History Trail – 1.0 km, 1-2 hours, easy
This walk explores the rich history of the Sibbald Family through an interpretive guidebook. The tour includes Eildon Hall Museum (Sibbald Family Home), the settlers cabin, a walk down "The Avenue," St. George's Anglican Church (ca.1877) and grave yard, which is the burial site of famous Canadian authors Stephen Butler Leacock and Mazo de la Roche. Please note that pets are not allowed in the buildings.
Winter Activities – Unorganized winter activities within the park include hiking, cross-country skiing, snowshoeing, and ice fishing. The main park road and a parking lot are kept open for winter visitors. For the most current ice conditions, check with a local ice hut operator.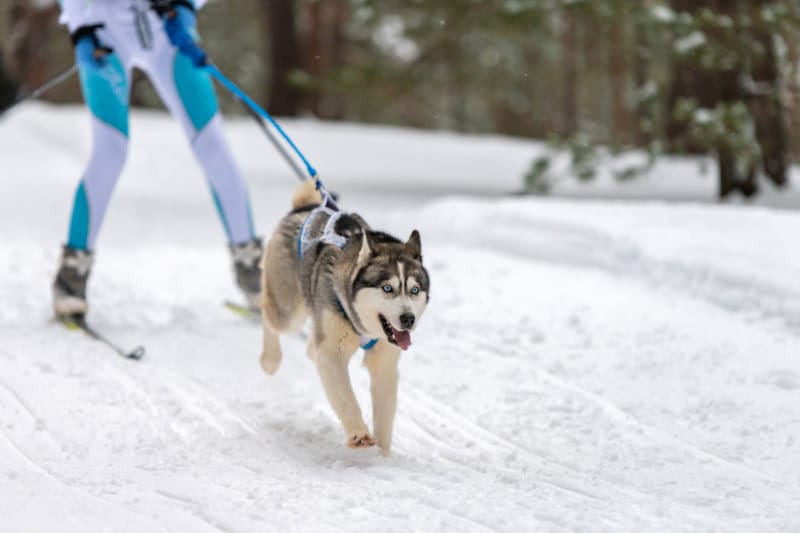 Visiting Sibbald Point Provincial Park
Sibbald Point is located at 26071 York Roadd 18 (Park Road), Sutton West, Ontario, and is open year-round.
The day use fee for this park is $21.00 per carload. Most park passes are valid from 8am to 10pm, but can vary by park.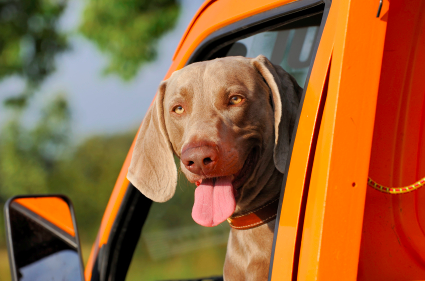 More Dog Friendly Beaches Near Toronto
Awenda Provincial Park – Located on Georgian Bay, and about a 1 1/2 hour drive north of Toronto. The ecology of Awenda is diverse, ranging from beach to old growth forest. Awenda has designated a stretch of its scenic Georgian Bay shoreline as a Pet Beach. 
Craigleith Provincial Park – Also located on the shores of Georgian Bay, the beach here isn't a typical sandy beach. Instead it has broad patches of shale leading up to the water. There are two areas where pets are allowed on the beach at Craigleith.
Wasaga Beach Provincial Park – Wasaga Beach is also located on Georgian Bay, which is part of Lake Huron. At 14 kilometers, it is the longest freshwater beach in the world. The park is split up into eight sections. One beach is designated at pet friendly.
We hope this look at Sibbald Point – one of many dog friendly beaches near Toronto – inspires you to visit, too!
(Visited 12,736 times, 1 visits today)