Visiting Mackinac Island with your dogs is the perfect summer vacation. With Victorian charm, rich history, gorgeous beaches, and miles of trails, you'll all enjoy the pure Michigan magic!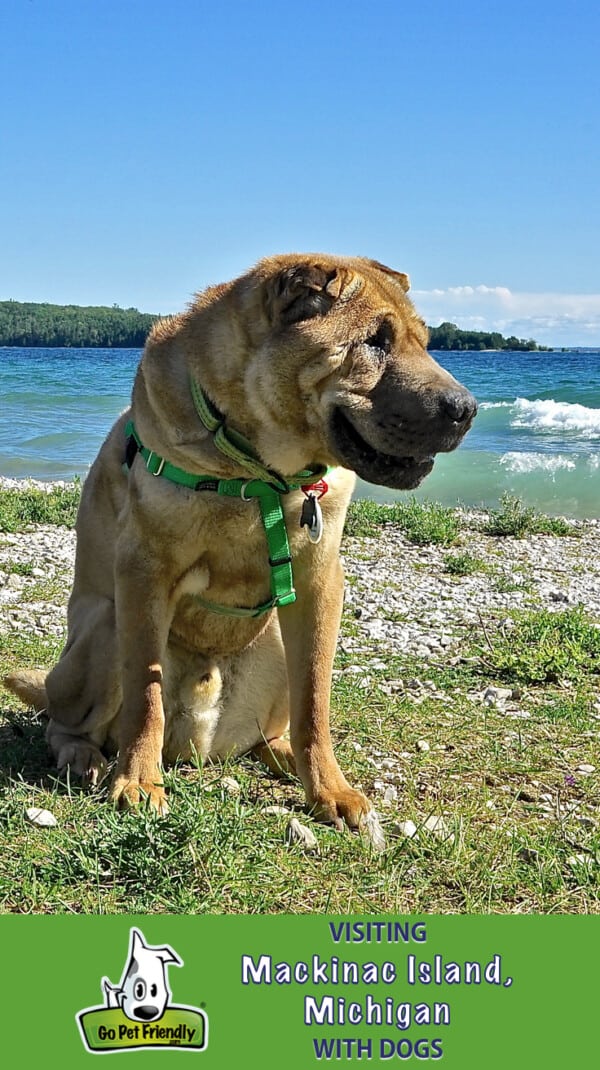 Embarking on a ferry across the Straights of Mackinac toward Mackinac Island is like hopping aboard a time machine for a trip into the past.
Though the ride only lasts about 20 minutes, the ship transports you to a different era. Horse-drawn carriages ramble down the streets, people walk or ride bikes, and the natural beauty that has drawn visitors to this place since prehistoric times is still intact.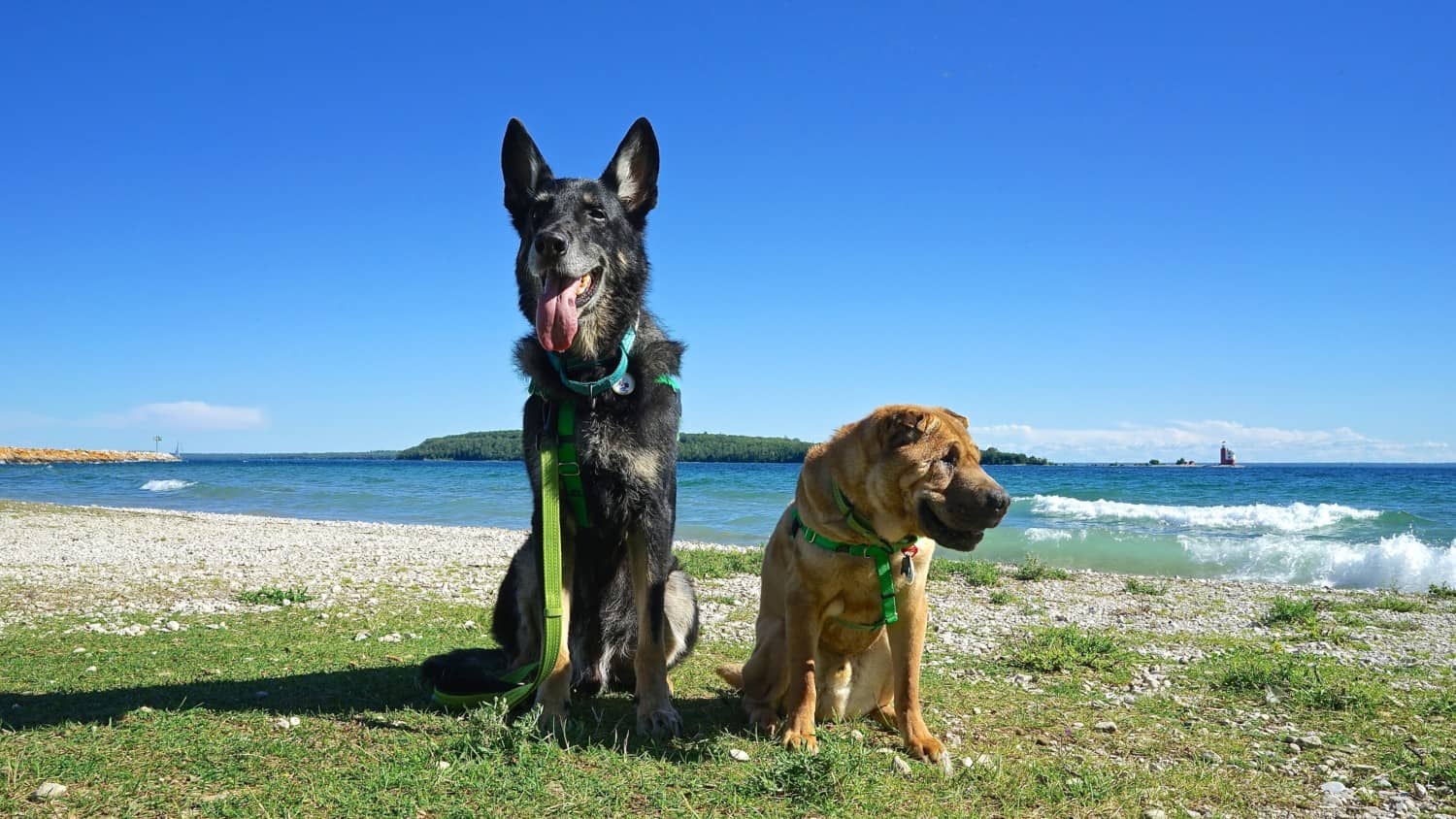 Cars Aren't Allowed On Mackinac Island
If you've heard anything about Mackinac Island, it's probably that cars are prohibited. When the first "horseless carriage" was delivered here in 1898, the noisy contraption scared the horses and threatened the islanders' peace and quiet. So the village council quickly decided to ban the automobile – a simple but decisive act that changed history. And made Mackinac a wonderful place to explore with your dogs!
The absence of automobiles doesn't mean you'll have difficulty navigating the island. The ferry docks are just steps from Main Street, where the shops, restaurants, and souvenir stores could keep you busy for days. And many of Mackinac's most popular sites are within easy walking distance – Fort Mackinac, the Grand Hotel, the cottages on the East and West Bluffs, and Arch Rock are all within a mile of the Visitor's Center.
For those interested in seeing more of the island, consider a horse-drawn taxi, or guided carriage tour. (Well behaved, leashed pets are welcome aboard, as long as there is no barking at the horses.)
Or opt for the "drive yourself" carriage or "ride yourself" saddle horses for an even more authentic (and perhaps more exciting) experience!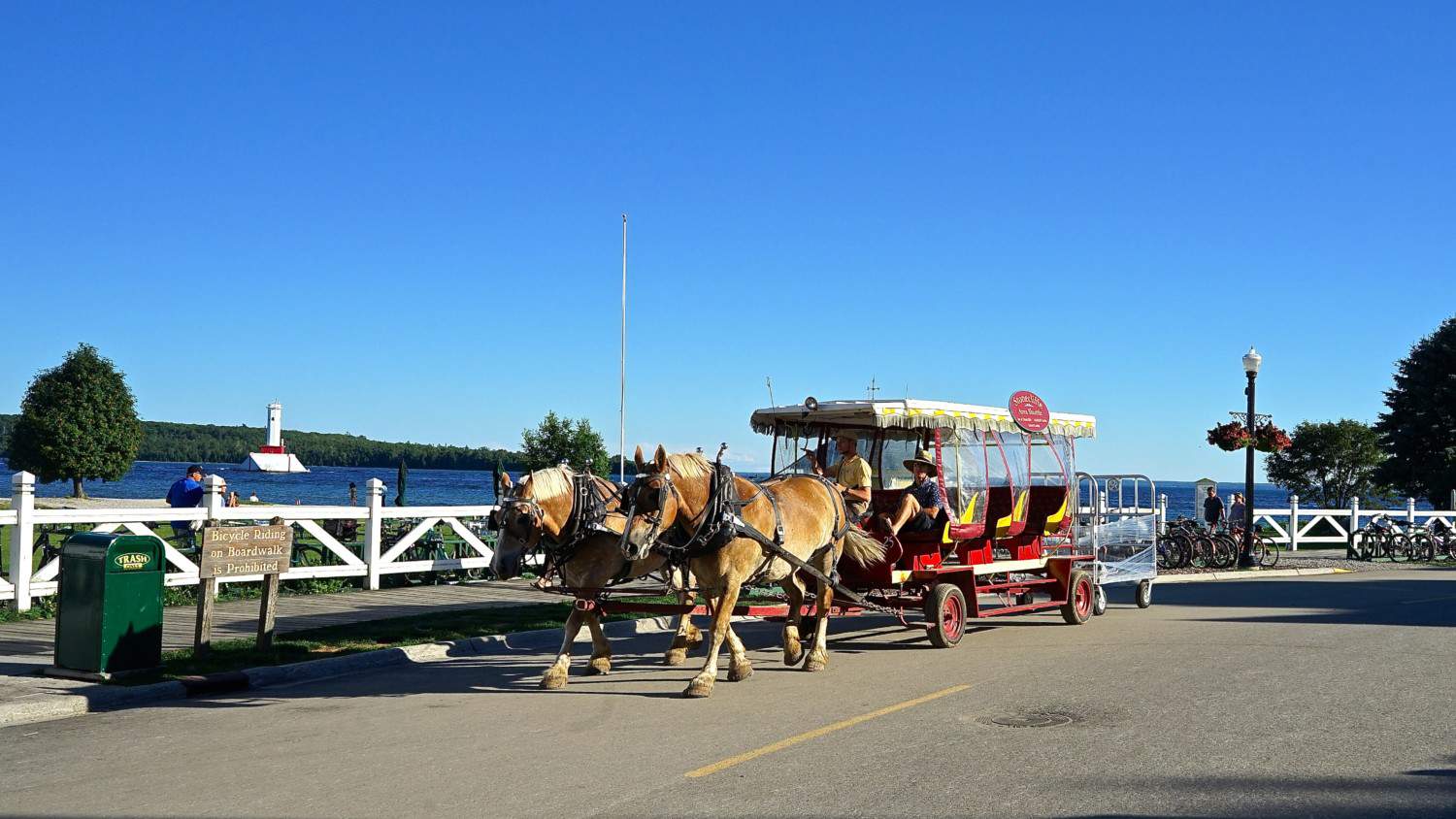 If you're not feeling quite that adventurous, there are several bike liveries where you can rent two- or three-wheeled bikes, as well as trailers for kids and pets.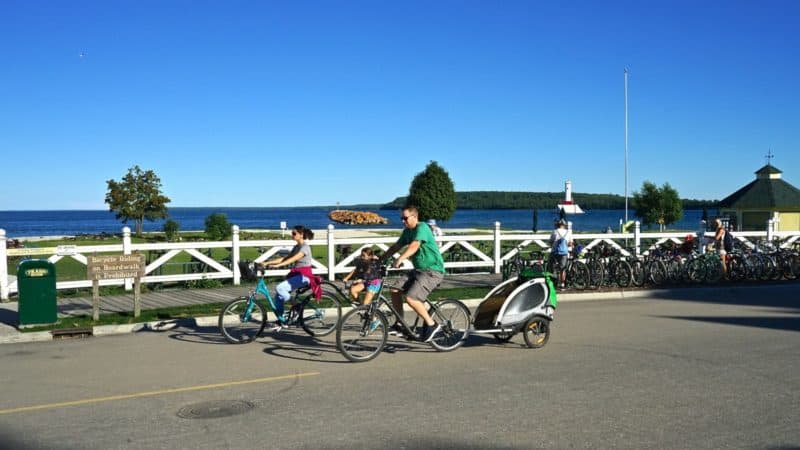 Taking A Pet Friendly Ferry To Mackinac Island
Both ferry operators serving Mackinac Island are happy to see your furry family members and welcome them aboard, free of charge. The ride takes between 15 and 20 minutes, and the adult fare is $32 round trip. Day-trippers can park their car for free in designated ferry lots in Mackinaw City or St. Ignace. And the ferry companies also offer a range of parking options for guests staying on the island overnight.
Ty and Buster were so excited to get going on our trip that we were first in line for the ferry!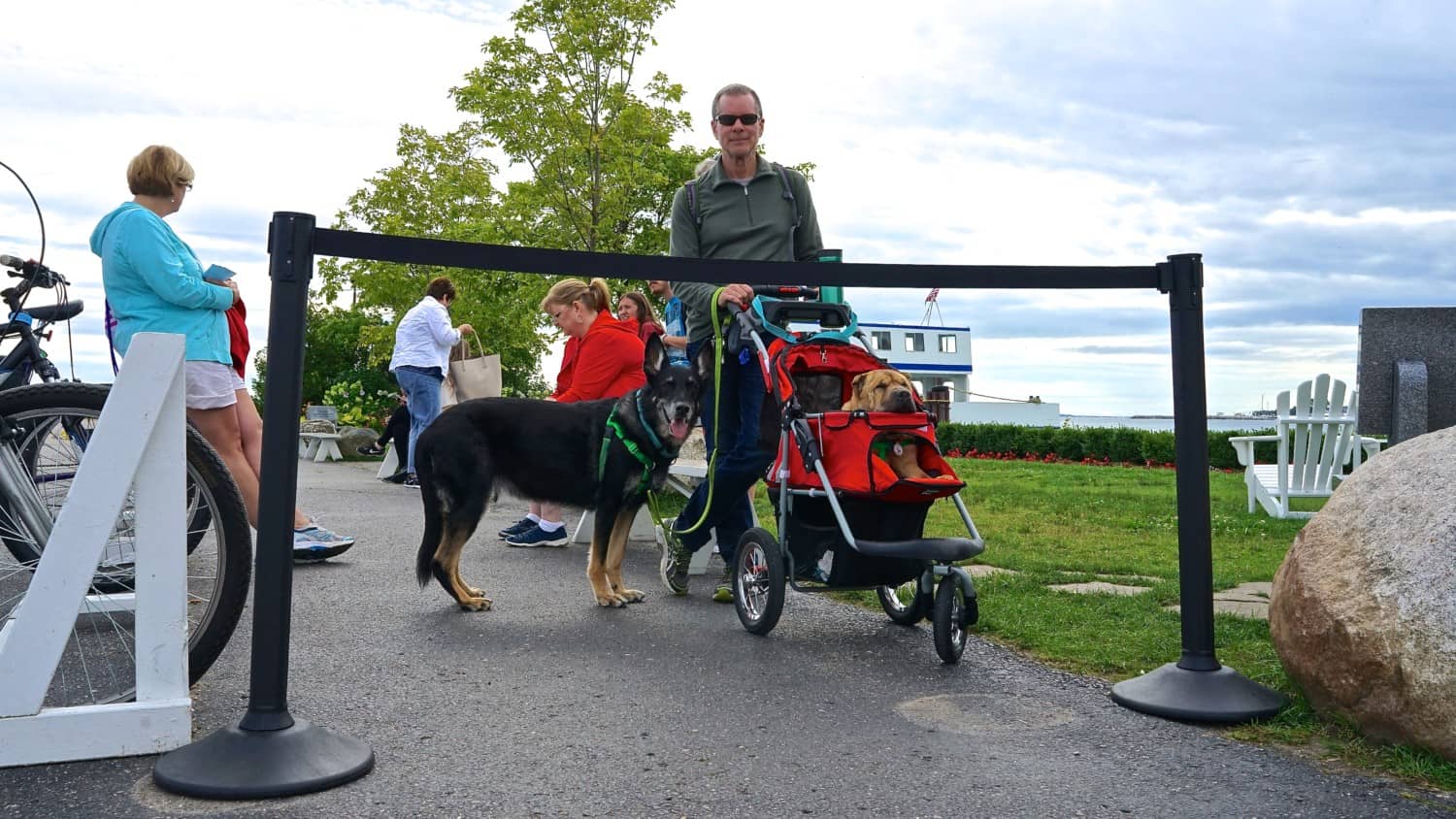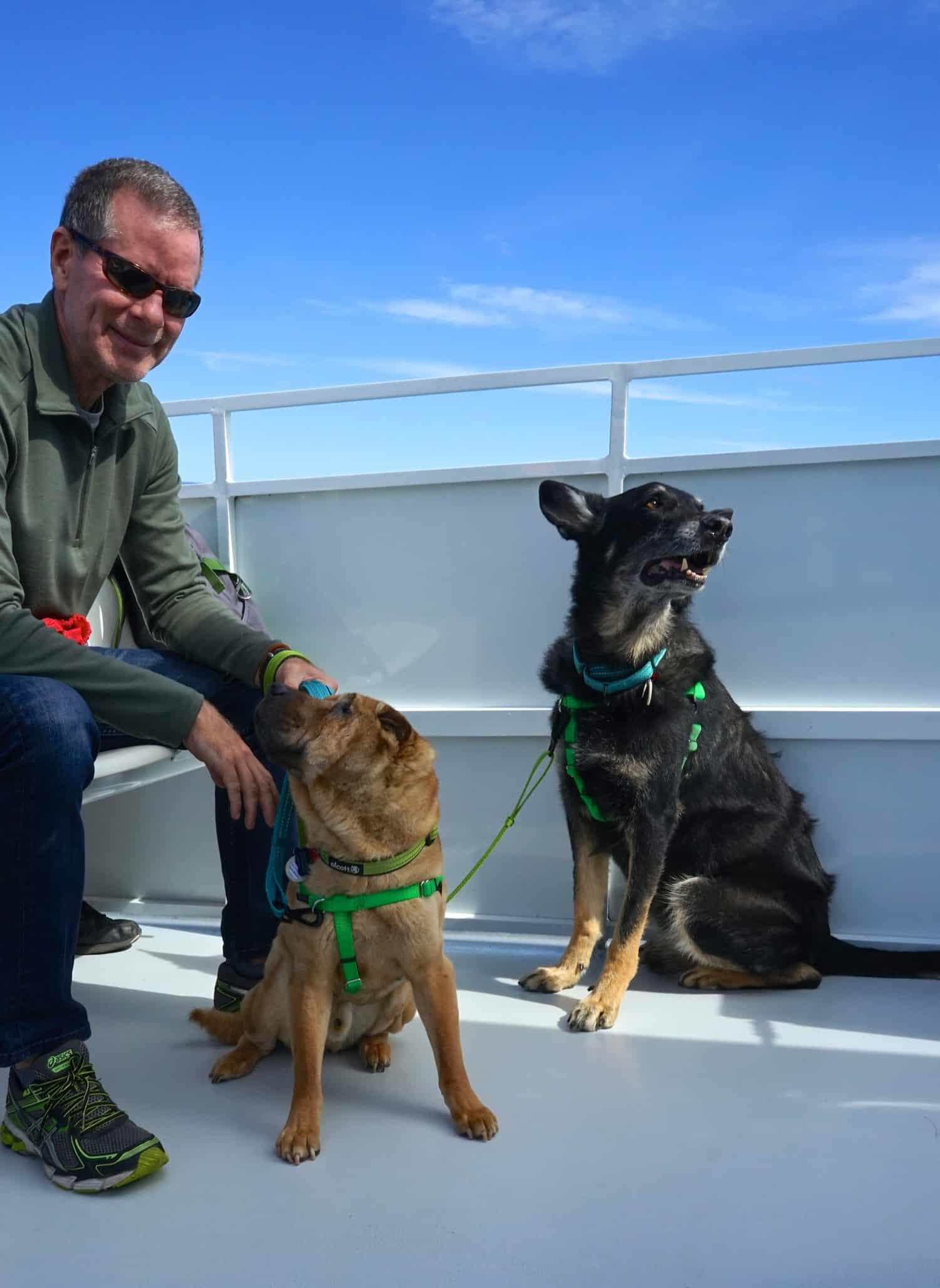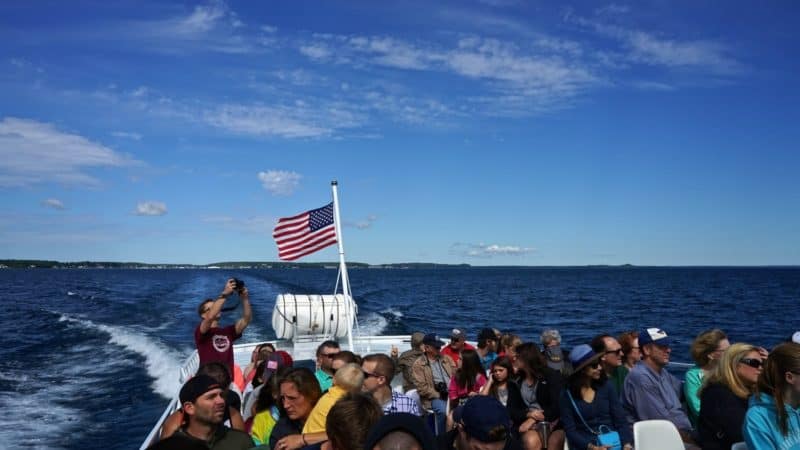 The ferries deliver you right into the heart of town, docking a short walk from Main Street. From there you can check out the shops, stop in the Visitor Center for tips and information, sign up for a carriage tour, rent a bike, or walk to Fort Mackinac, the Grand Hotel, the cottages on the East and West Bluffs, or Arch Rock.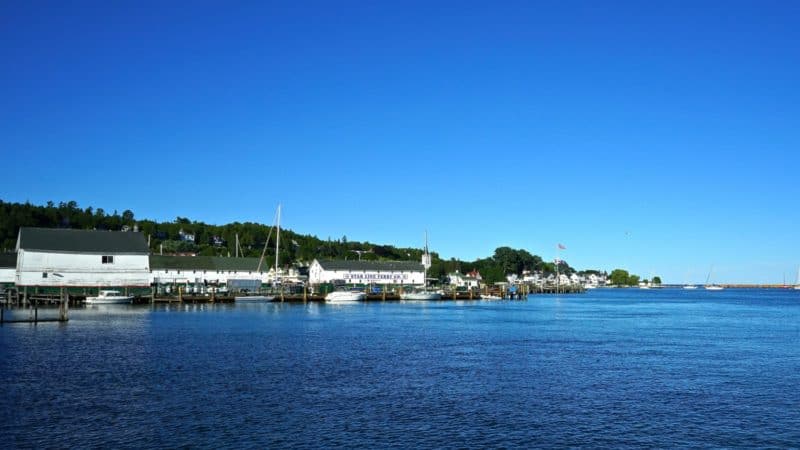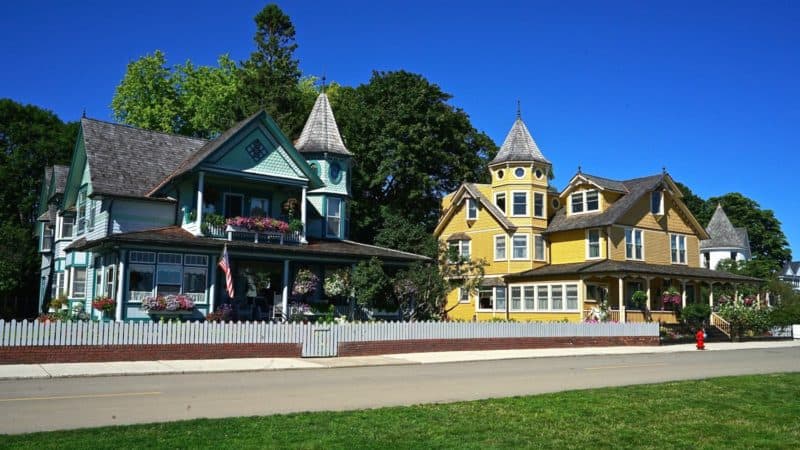 Pets On Mackinac Island
Leashed pets are welcome to explore most of Mackinac Island with you! Keep your eyes peeled for dog-friendly stickers in the windows of many shops and restaurants. And, if you don't see a sticker, please ask if your dog is allowed before entering.
Pets are also welcome at Fort Mackinac, in the parks, and on all the roads and trails in Mackinac Island State Park, which covers more than 80% of the island.
For those renting bikes, pet trailers are generally available at the island's many bike liveries. Even the horse-drawn taxi service and carriage tours are pet friendly! Small pets that sit on your lap ride for free, while larger pets are charged a child's fare.
Your dog is also welcome to join you on a kayak or paddle board excursion from the island, as long as he brings his own doggy life vest.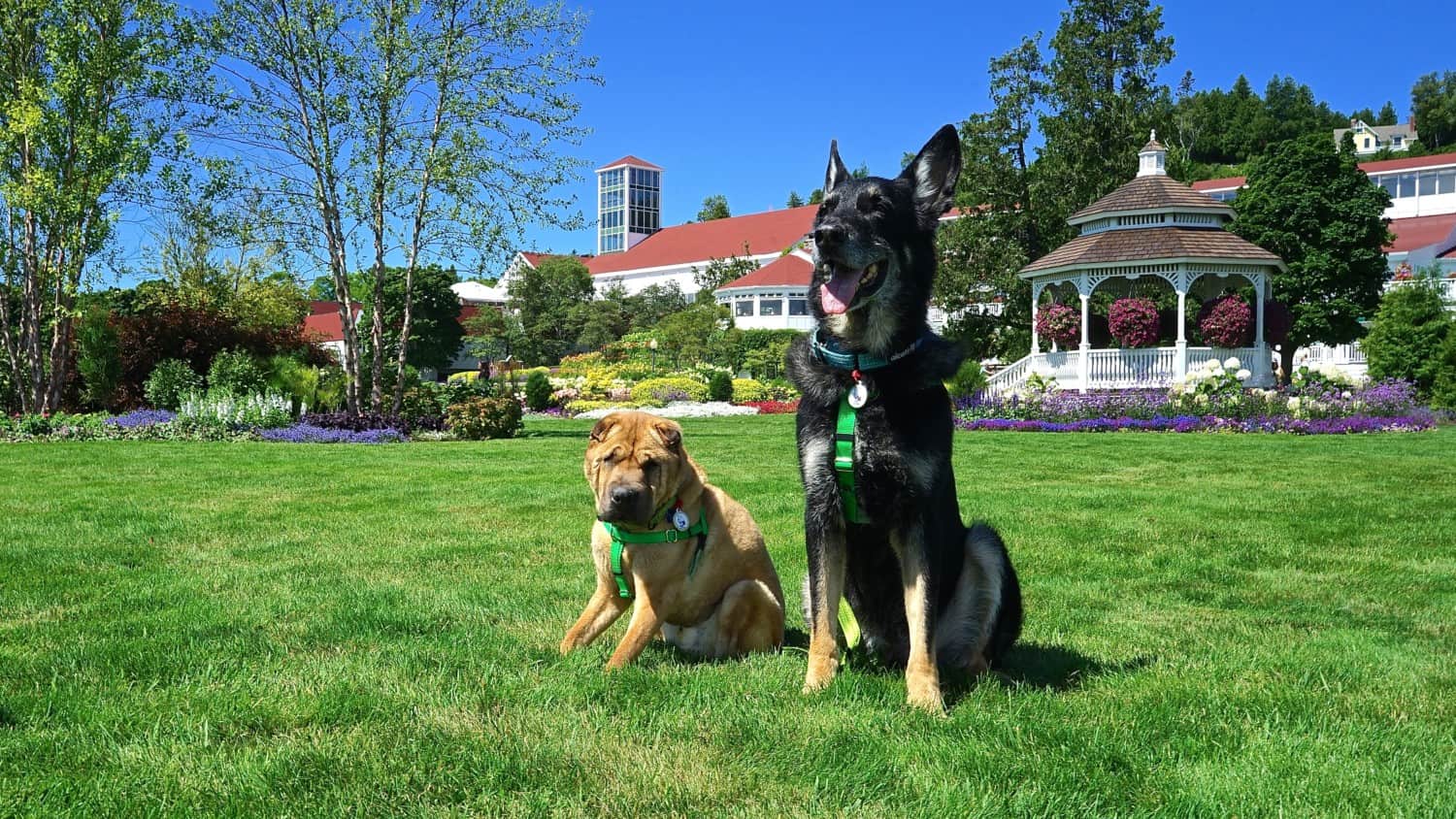 Pet Rules On Mackinac Island

Pets must be leashed at all times
Owners must cleaned up and properly dispose of pet waste
What Should You Do On Mackinac Island With Dogs?
Perhaps the most difficult part of visiting Mackinac Island with your dogs is deciding what to do first! We have some suggestions to help get you started:
Fort Mackinac
For the history buffs, Fort Mackinac might be the place to start. Moved from the mainland to the island between 1779 and 1781, interpreters are happy to share the history of the fort and the island, from its beginning as a French fur trading hub, the transformation to commercial fishing, and finally as a summer vacation destination.
The cannon at the fort is regularly "fired over the harbor" as part of the demonstrations, so if your dog is sensitive to loud noises, be sure to ask about the firing schedule.
Below the fort is a large green space that once served as the soldiers' garden. Now it's a park named for Father Jacques Marquette, who brought a band of Huron Indians to the island in 1671, after they were driven out of southern Ontario by Iroquois warriors.
It turned out the soil on Mackinac was too thin to sustain the Huron's crops, and the settlement was moved near what is now St. Ignace after a year. But a statue of Father Marquette still stands there. Having graduated from Marquette University in Milwaukee, which is also named for this Jesuit priest, I found this historical tidbit particularly interesting!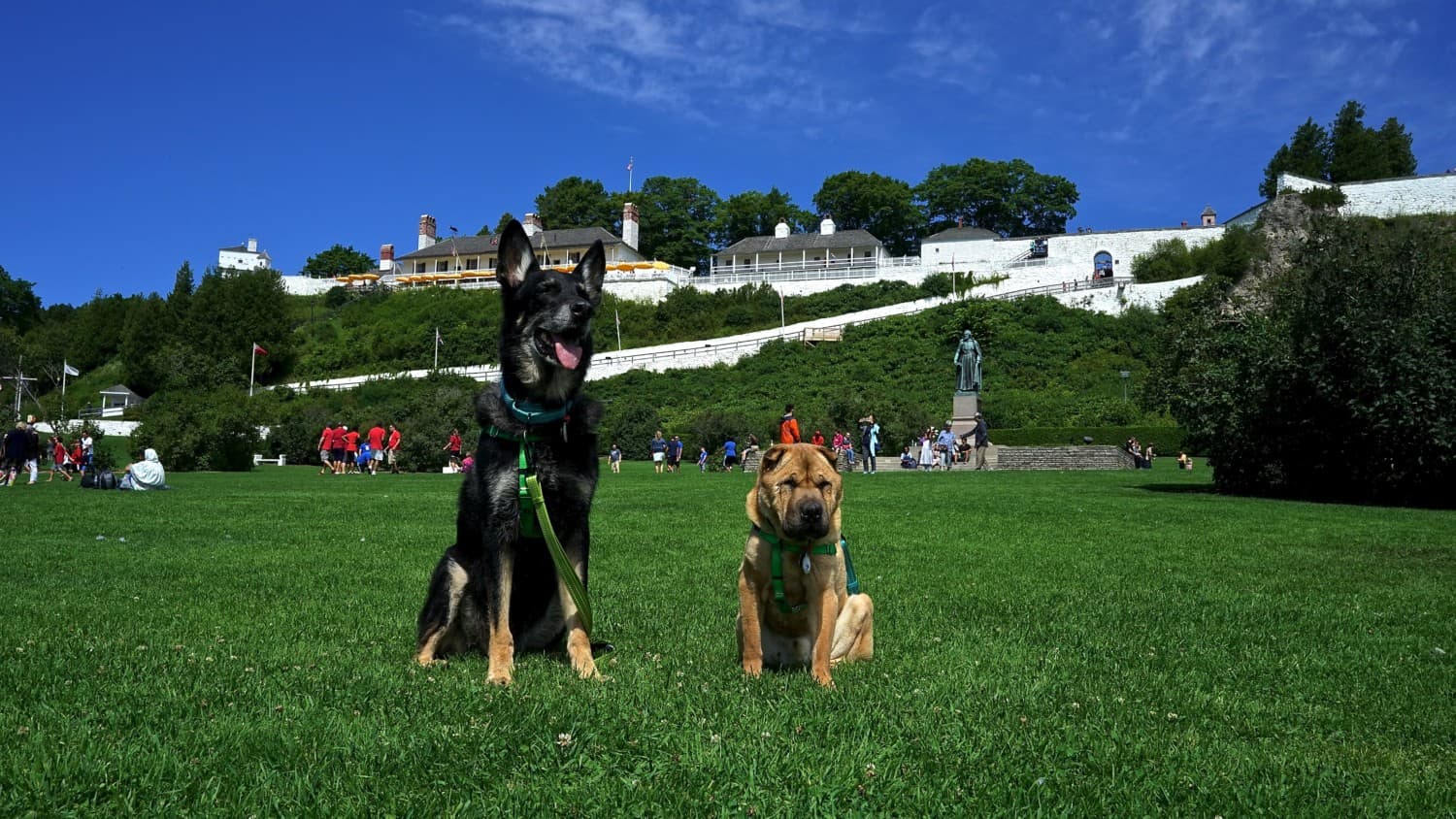 Mackinac Island State Park
In 1875, the U.S. Congress established Mackinac National Park – America's second national park after Yellowstone. Twenty years later, when troops were being moved out of Fort Mackinac for good, the fort and the national park were transferred to the state of Michigan.
Now the state park covers more than 80 percent of the island, protecting the 19th-century atmosphere, as well as the unique limestone formations, caves, and vistas of Lakes Huron and Michigan.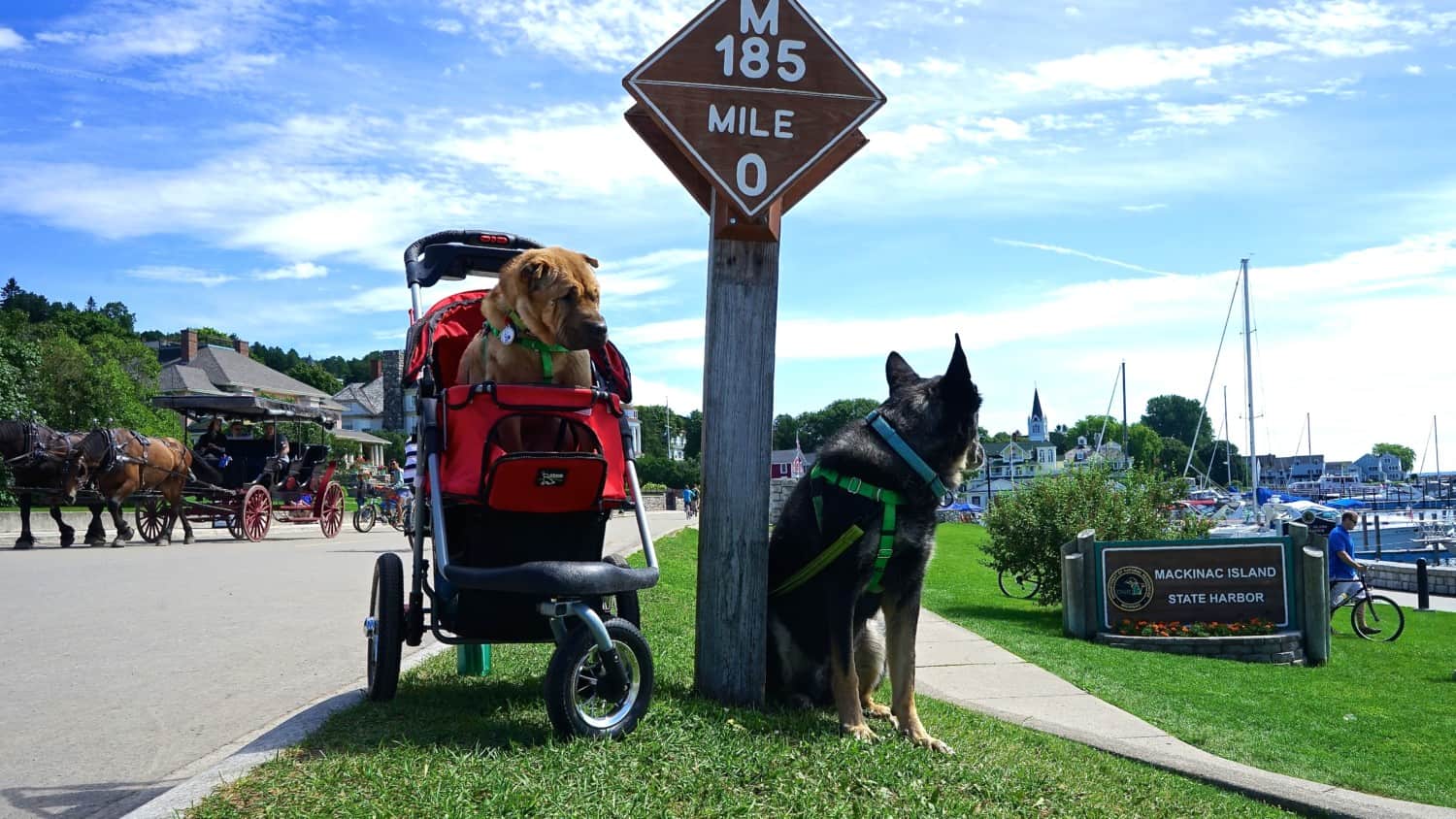 There are multiple routes and miles of trails through the park, and if you or your pet prefer to avoid crowds, this is a great place to start. Most people hang around town after getting off the ferry, so hitting the trails allows you to leave them behind.
Buster loves nothing more than a long walk, and Ty's happy to ride in his stroller for hours, so we opted to follow Hwy 185 for the 8.2-mile lap around the island's shore. After a short detour on the Shoreline Trail to appreciate the Mission Point Resort – one of the island's pet friendly hotels – we got hopping on our trip around the island.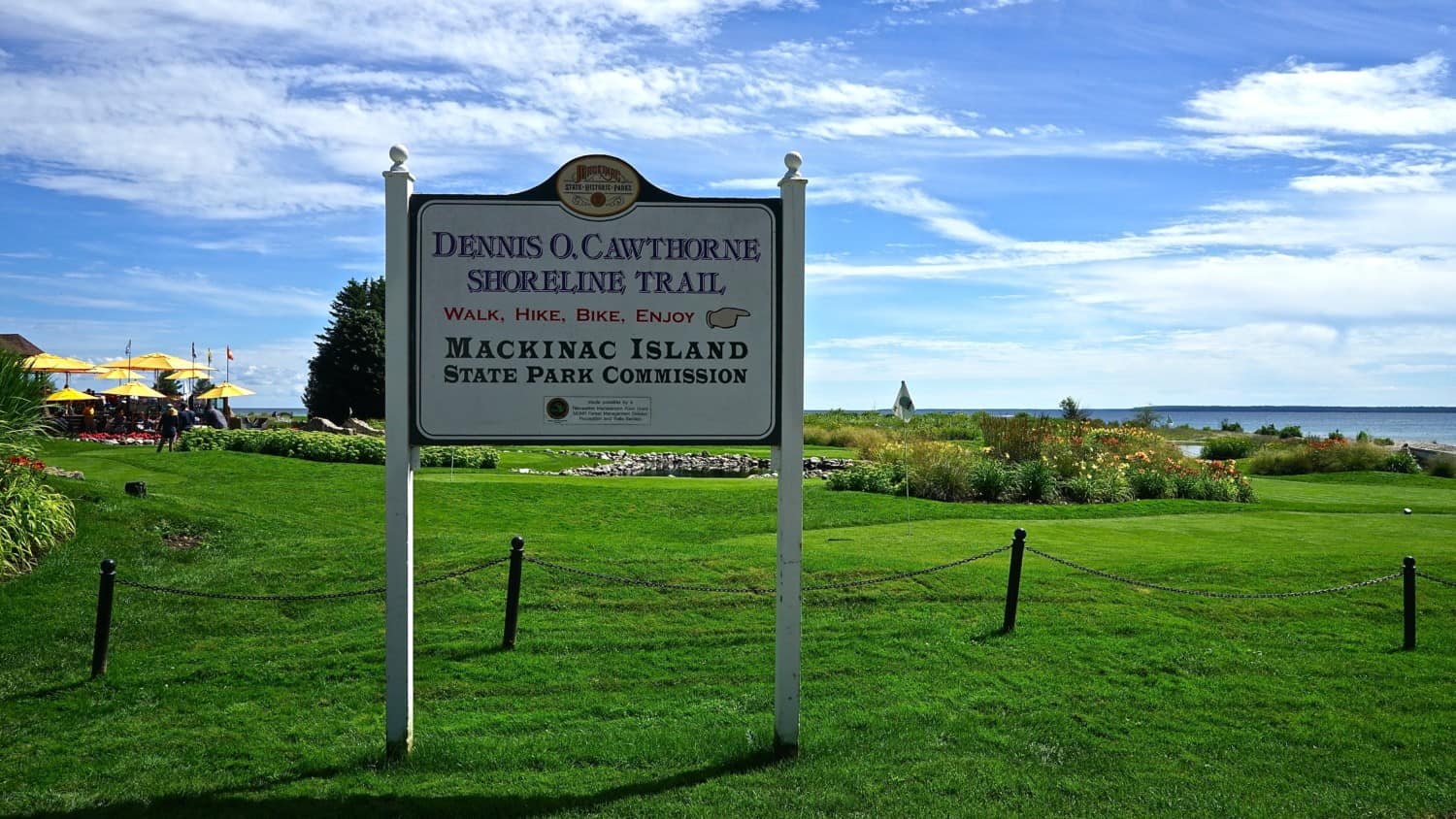 With stops for picture taking and to enjoy the views along the way, we spent about four hours circumnavigating Mackinac. It was a nice, level walk and, of course, there was no car traffic!
The scenery, the crystal blue water, and the rocky beaches are a wonderful payoff for your efforts. And we didn't see any carriages on this road, so their routes might not get you the same views.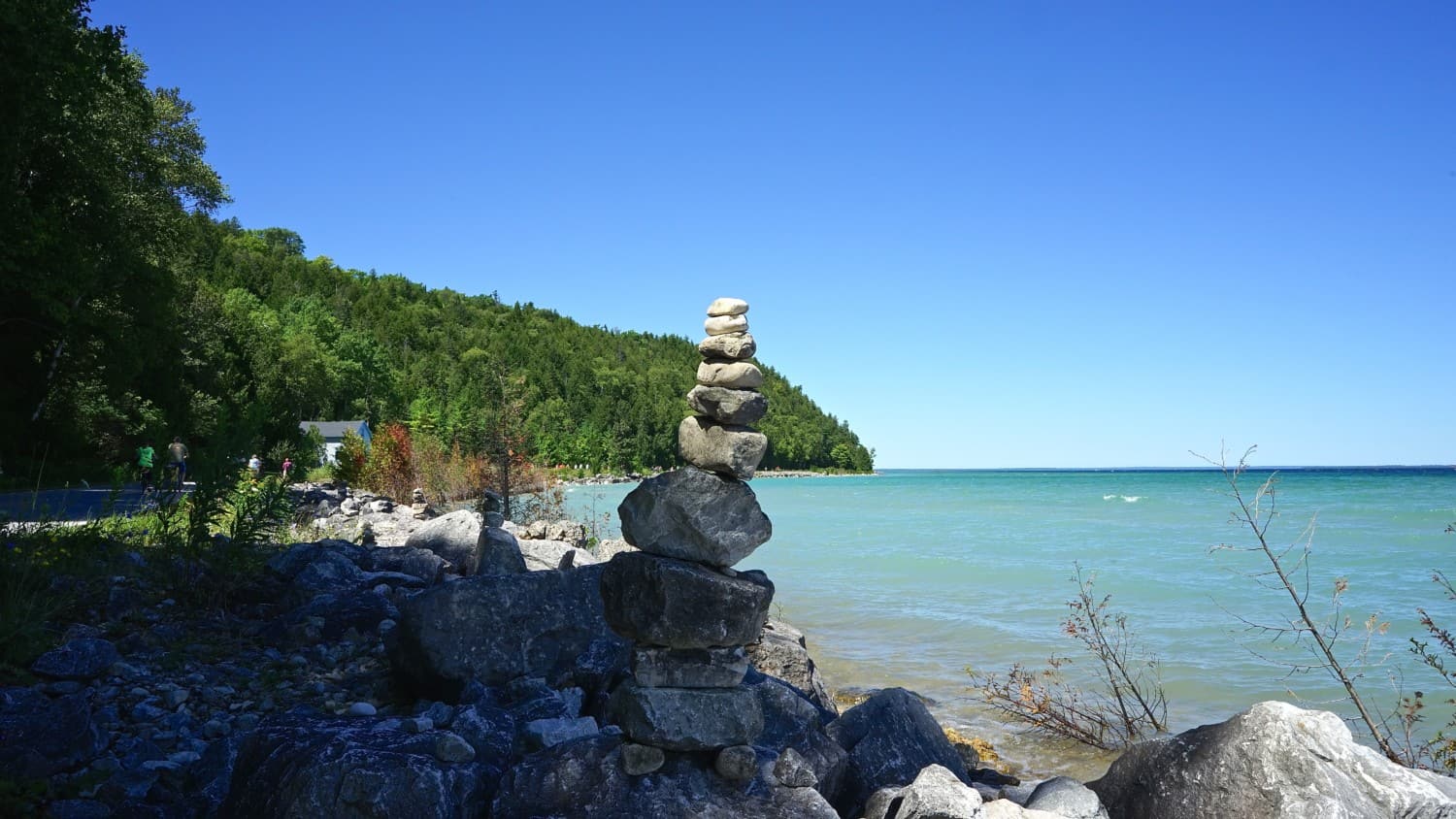 Our tip if you're considering the loop – either on bike or foot – is to travel the island in a clockwise direction. The visitor guide recommends traveling counter-clockwise, so nearly everyone does that … including us! If you go clockwise (come off the ferry and turn left on Main Street), your side of the road will be less congested with fewer bikers peddling by.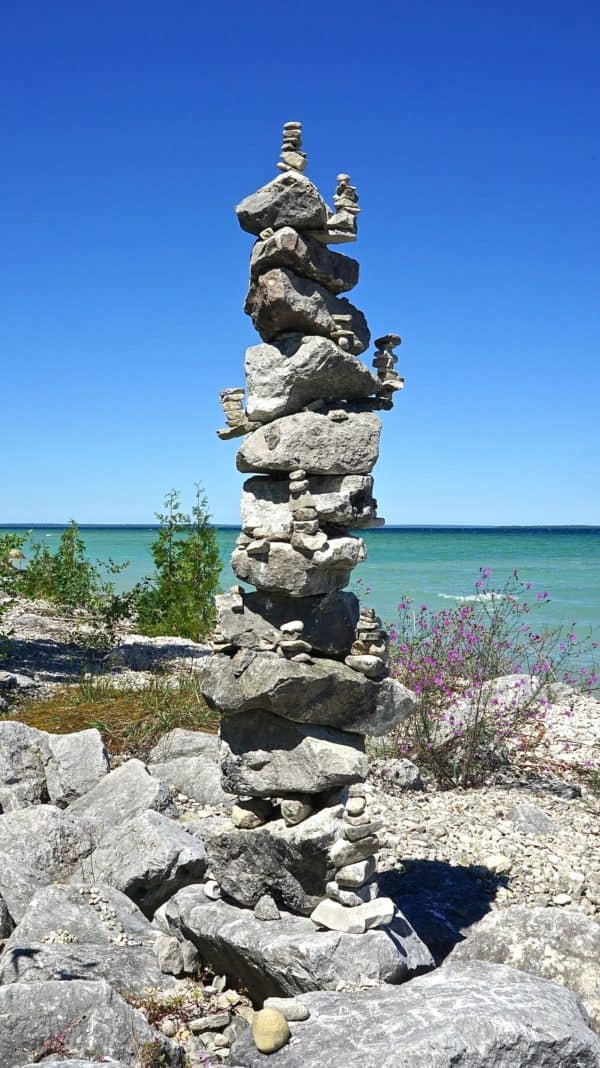 As you're walking along captivated by the lake and beach, don't forget to look up to see the famous Arch Rock!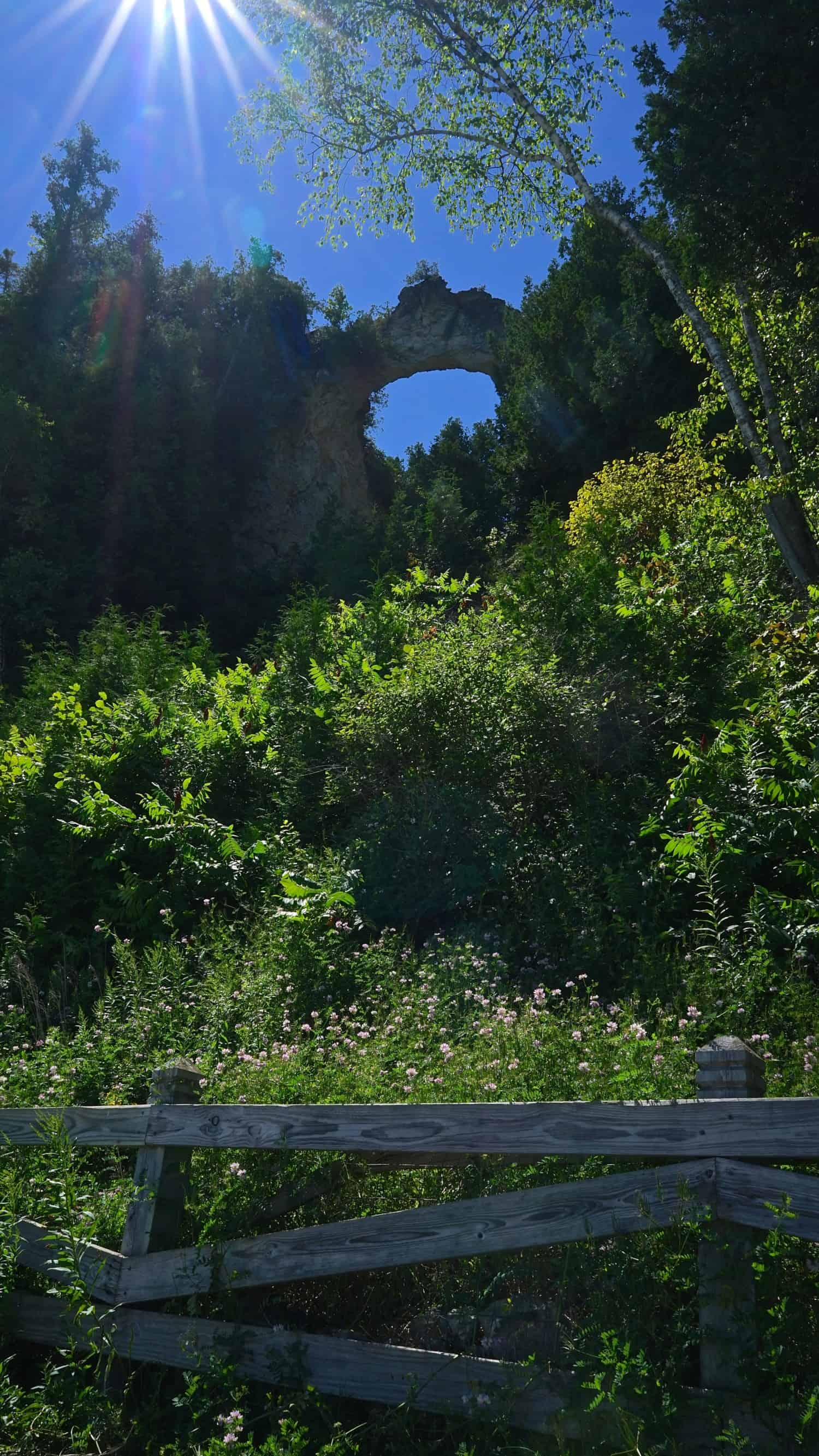 British Landing, which is roughly on the opposite side of the island from town, is a nice place to stop for a snack. And perhaps a splash in the lake, if you're so inclined!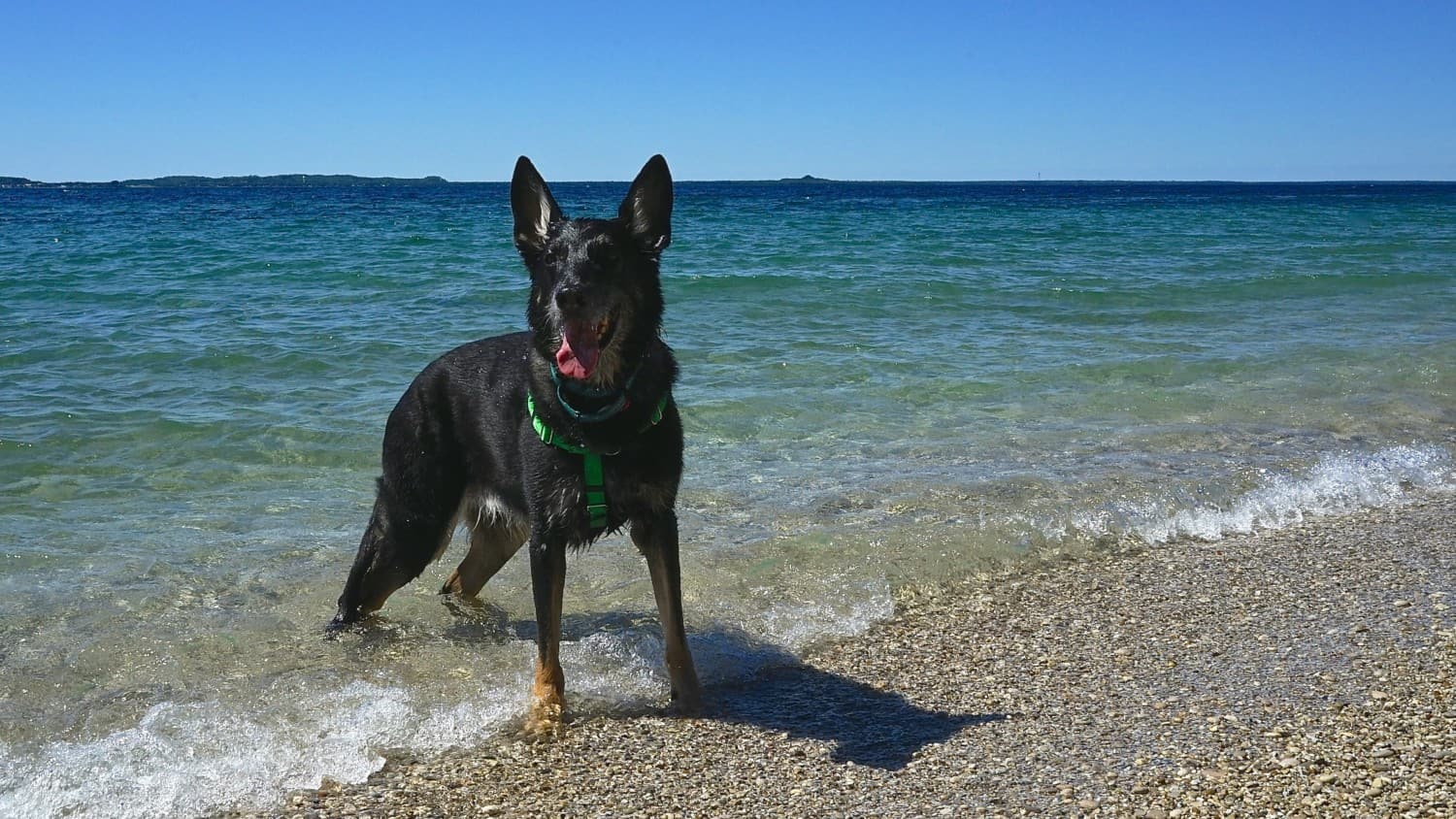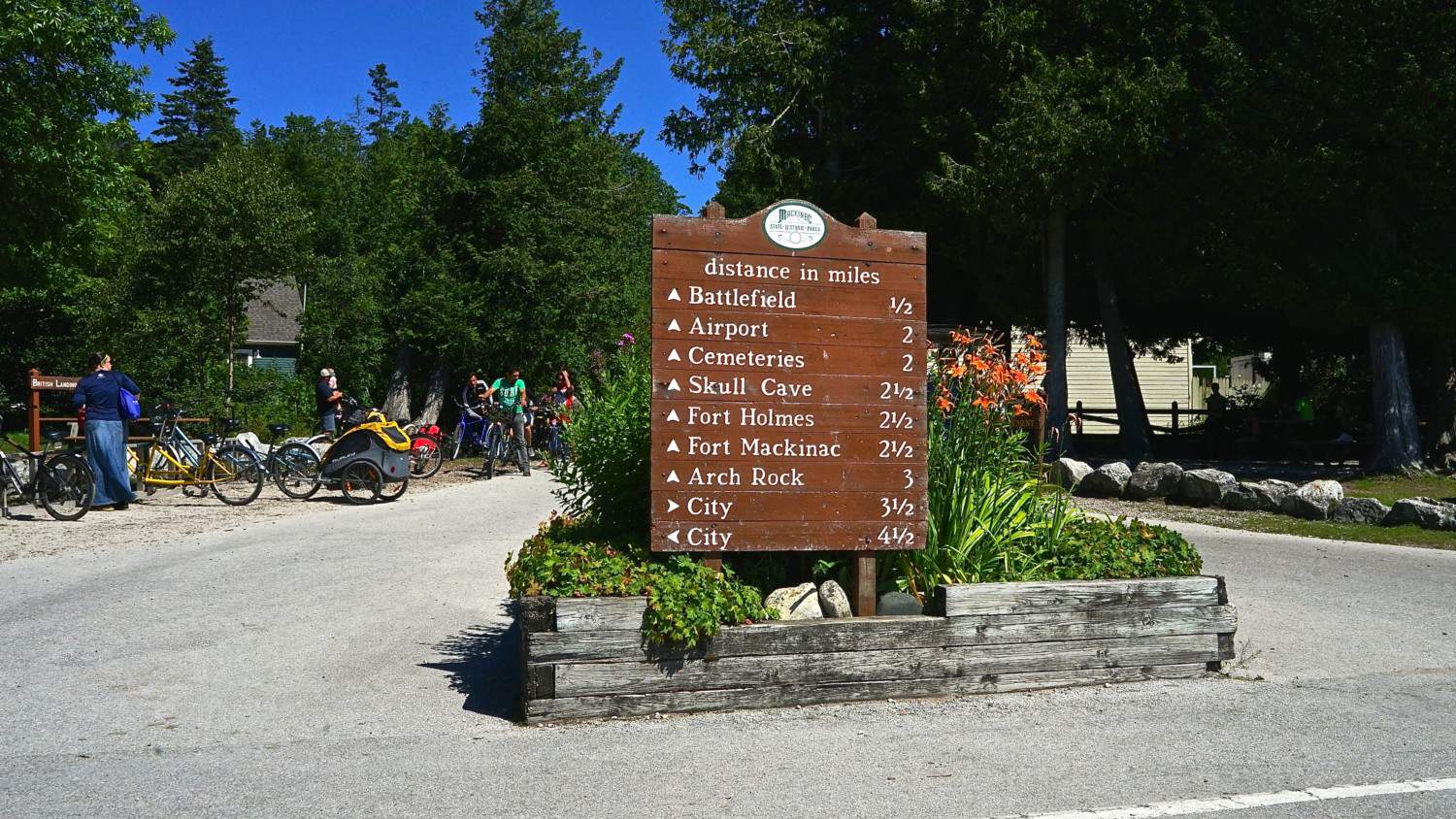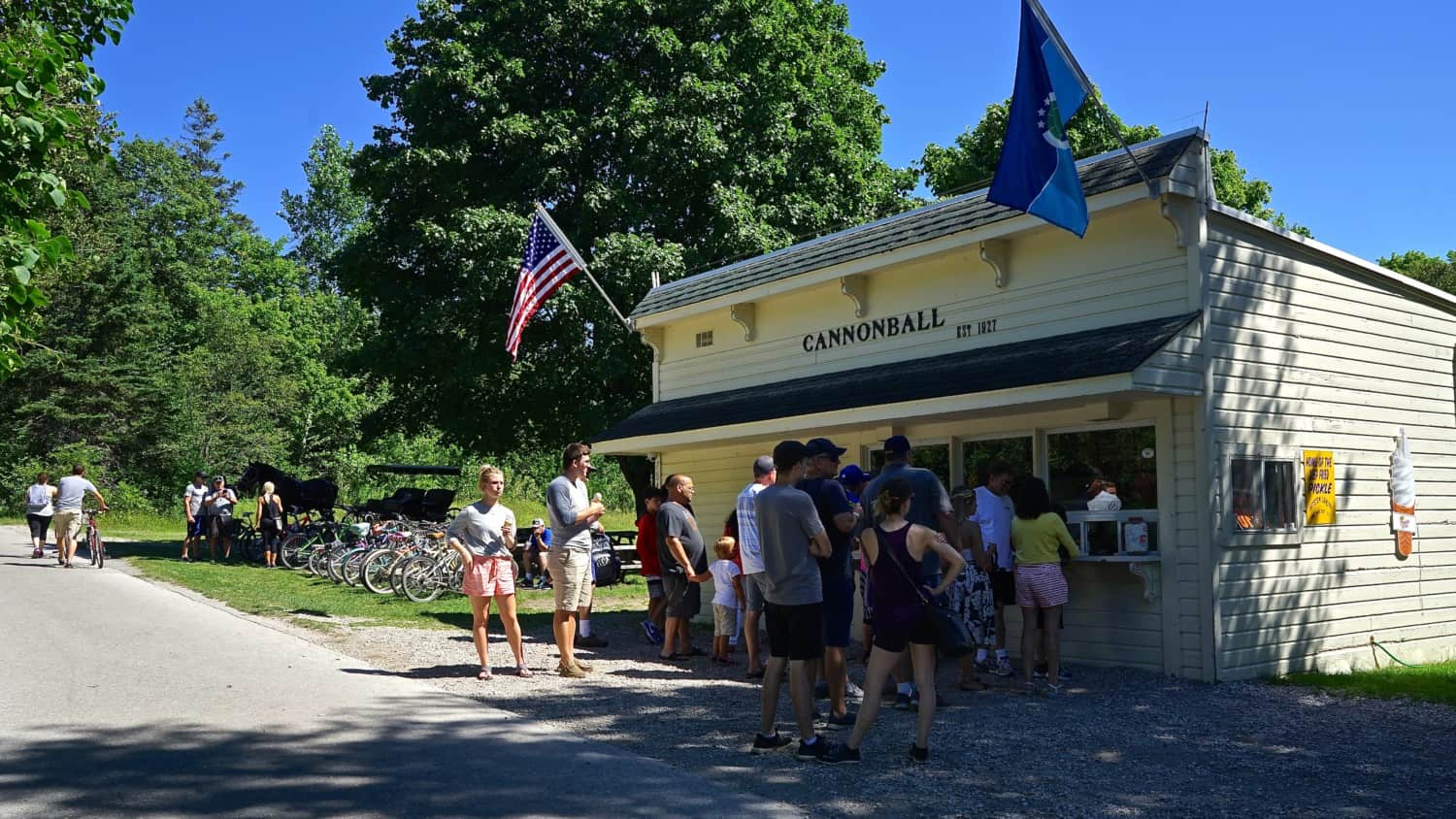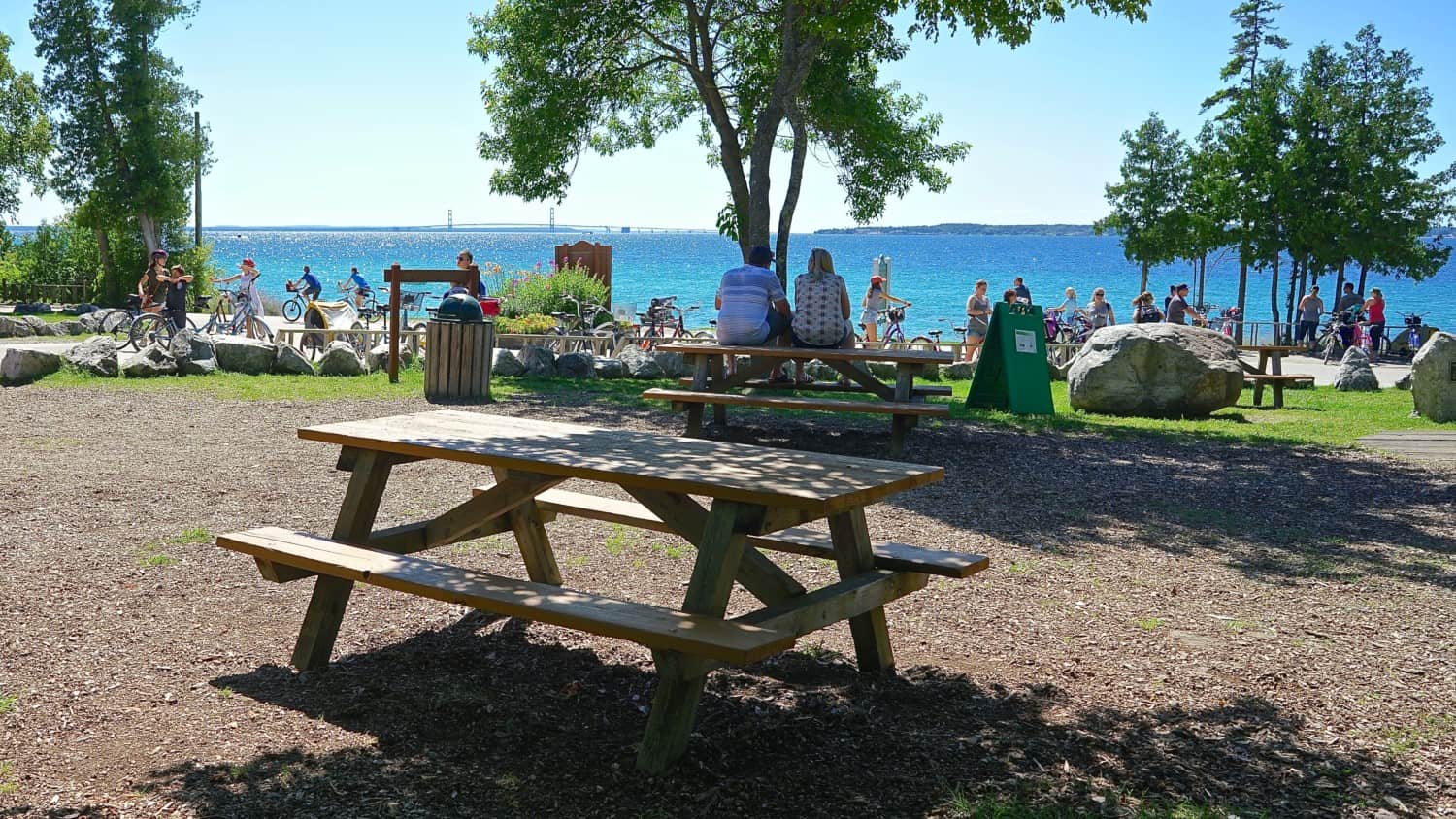 Pet Friendly Places To Eat
As the afternoon passed, foot and bike traffic on the road lightened. By the time we got back to town, things had quieted down quite a bit.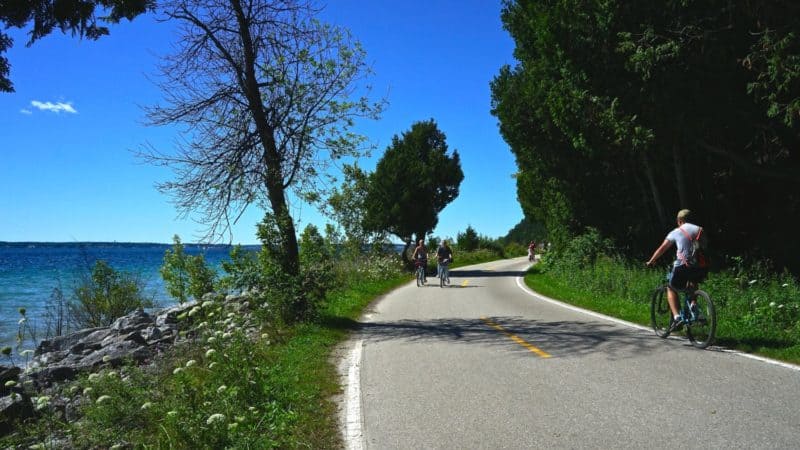 We considered getting a snack from the adorable Windermere Doghouse and enjoying the views from Windermere Point. But we'd worked up substantial appetites, so we went in search of a more robust menu.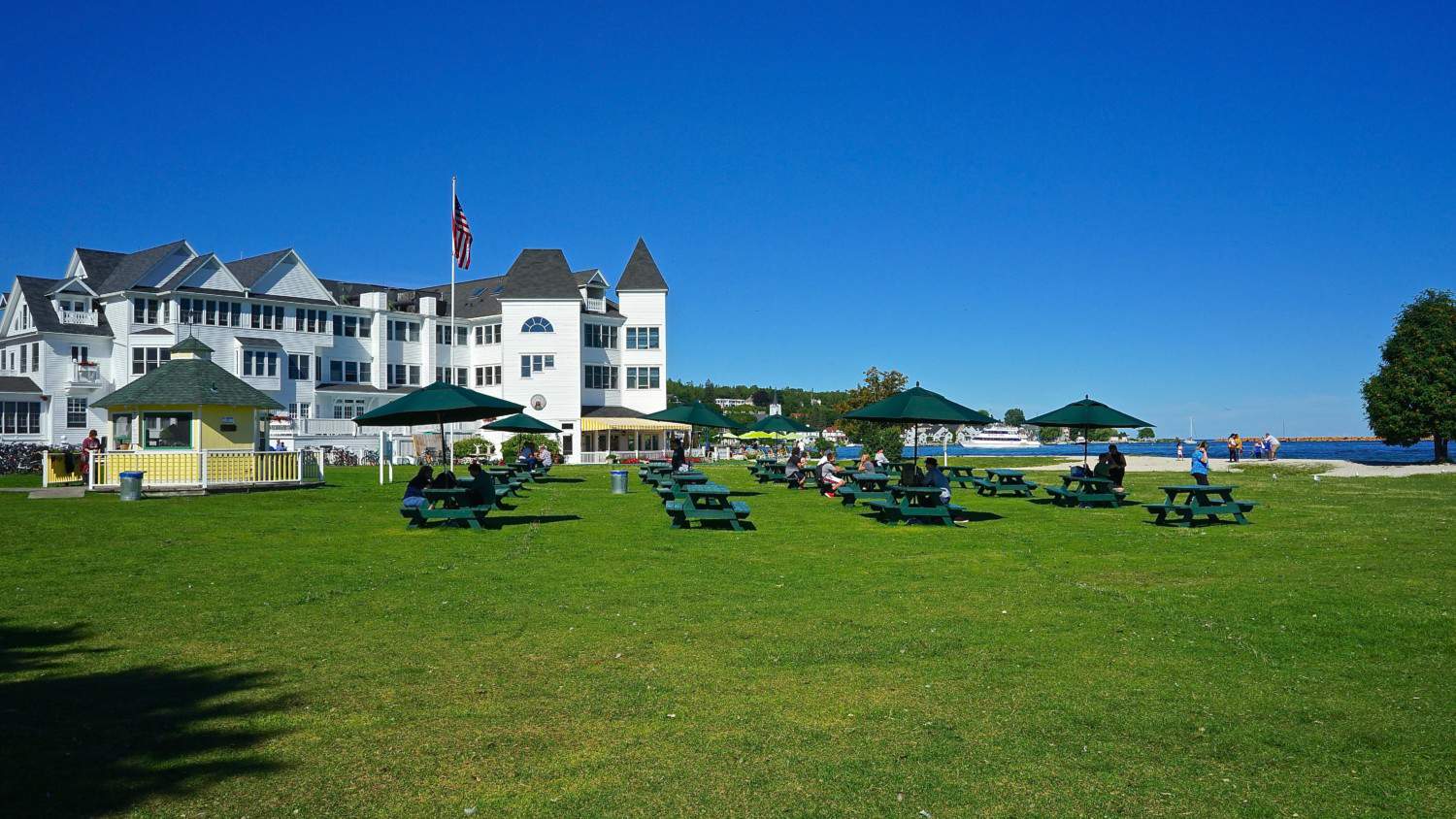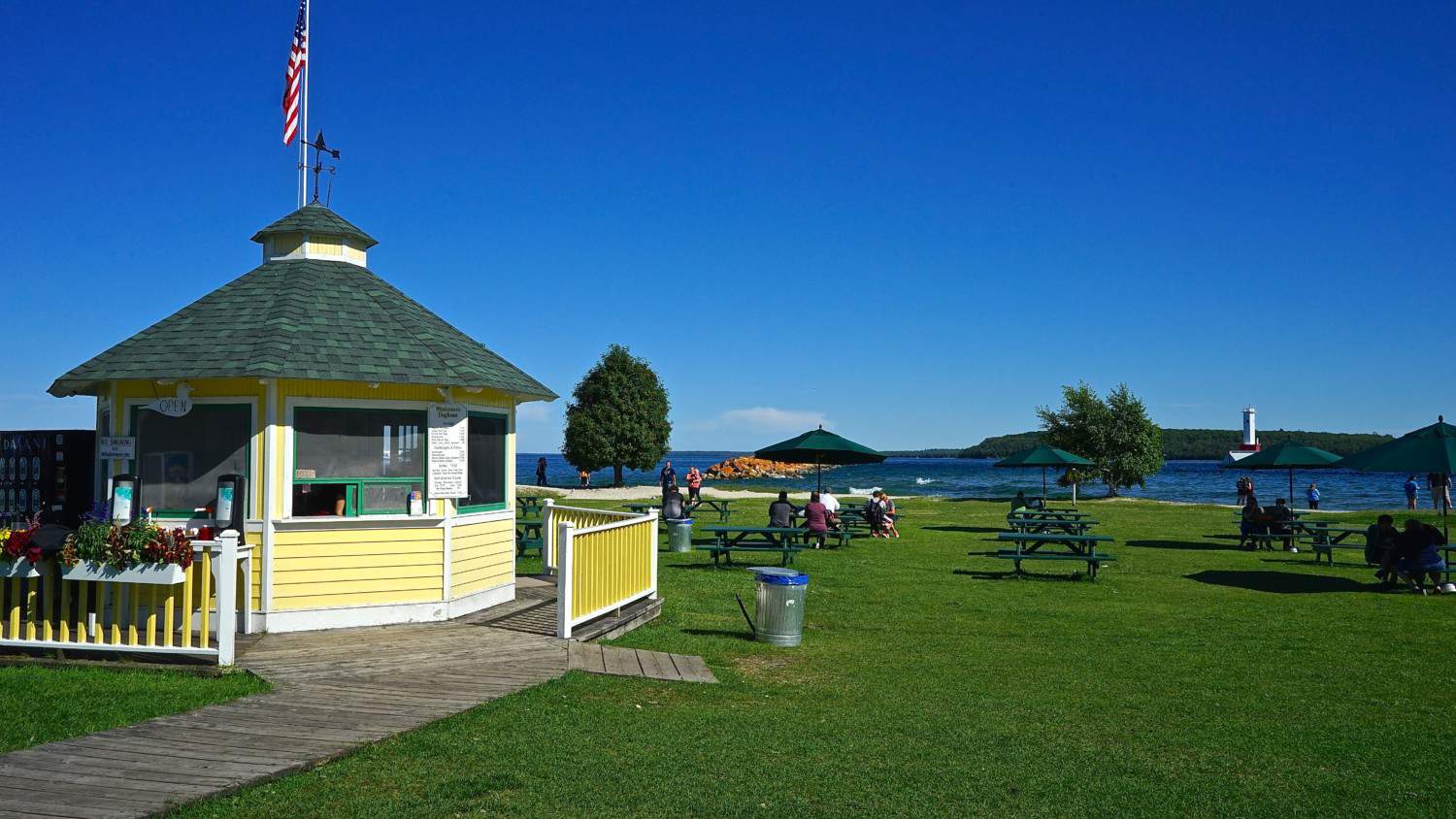 Ice House BBQ and Bistro on the Greens both offered pet friendly patio seating. But the brightly colored umbrellas at the Hotel Iroquois' Carriage House Restaurant caught our attention. We discovered that, while they're unable to accommodate pets in their rooms, they're happy to have them join you on their lovely veranda for drinks or a meal!
It was the perfect place to end our day before hopping back on the ferry and heading home.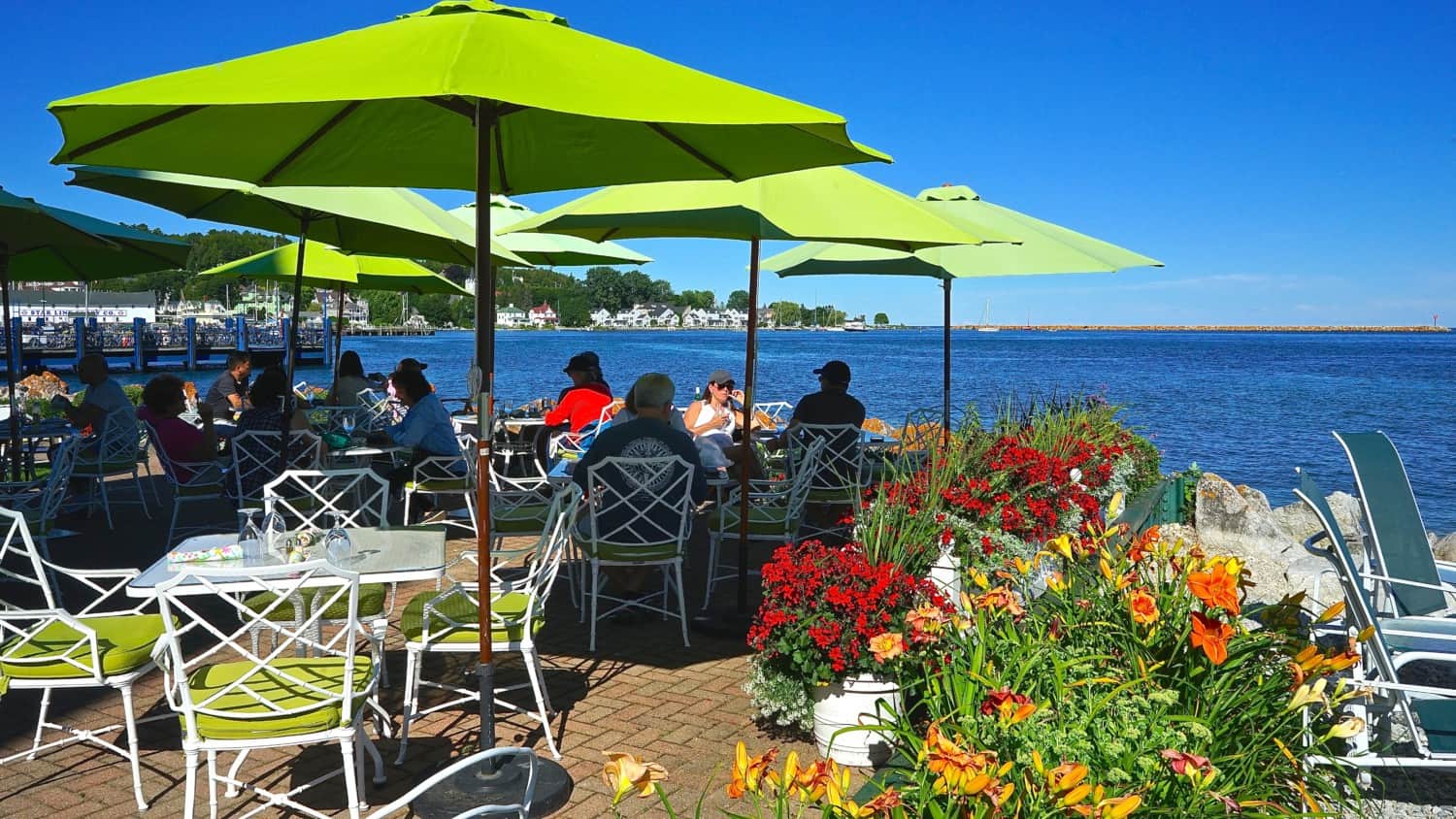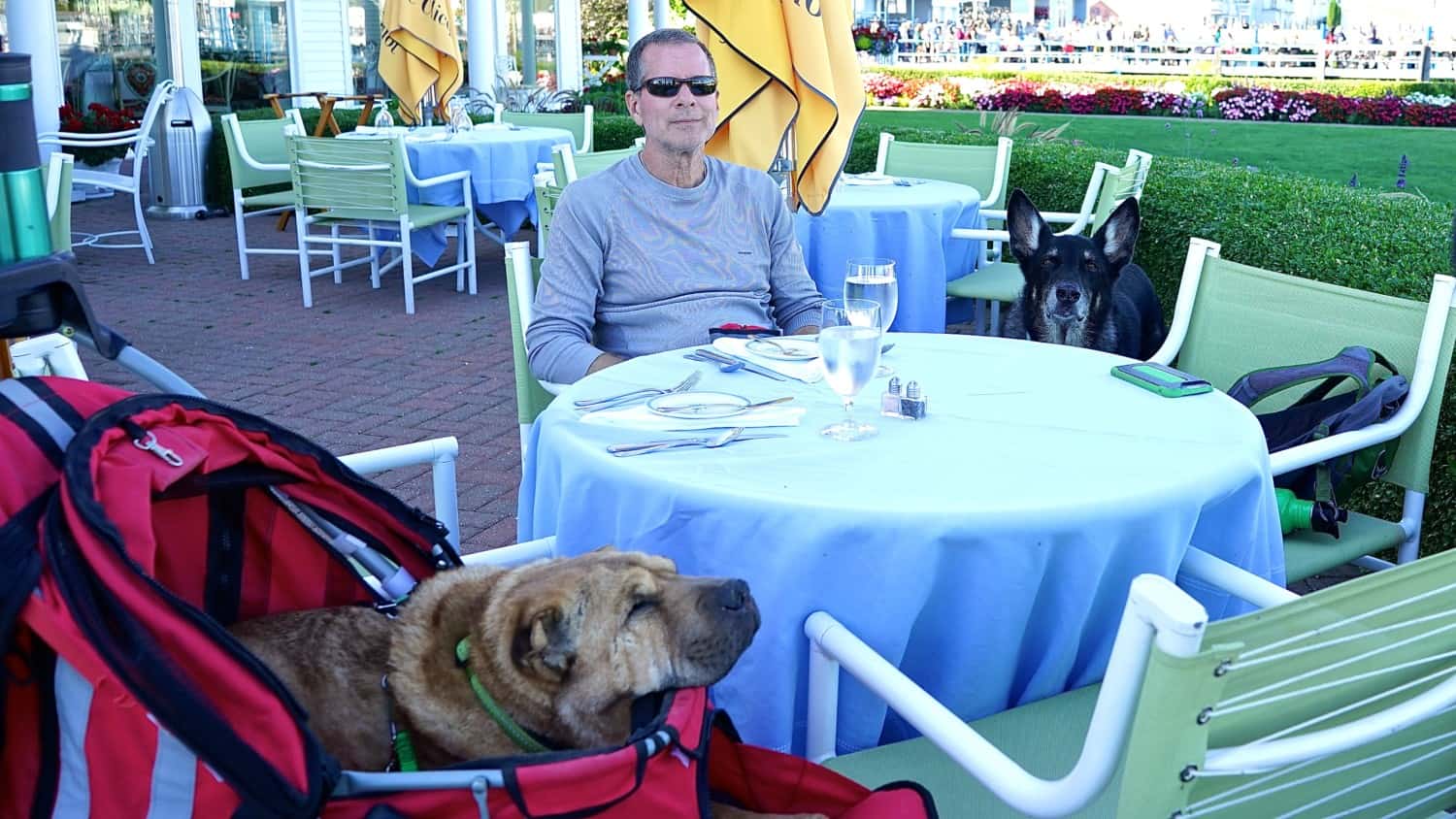 Pet Friendly Accommodations on Mackinac Island
Unfortunately, the famous Grand Hotel does not allow pets. Built in 1887 to accommodate the island's posh summer visitors, dogs visiting Mackinac Island aren't even allowed on the grounds.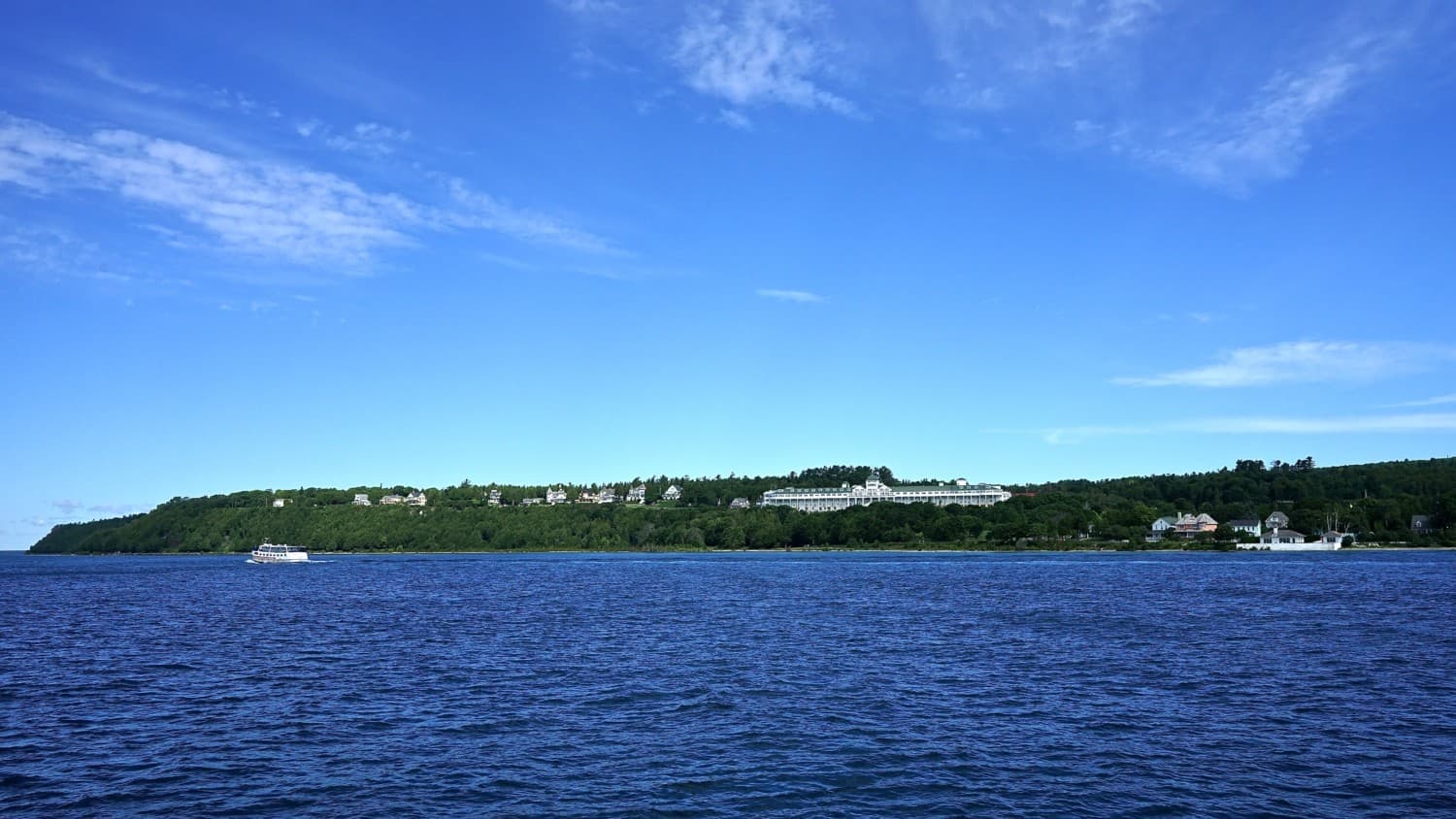 But, not to worry! There are three wonderful, pet friendly lodging options on the island to choose from.
Mission Point Resort, which has beautiful grounds and a dog friendly patio at their restaurant, welcomes up to two pets per room in the Straits Lodge for an additional $100 per-stay deep cleaning fee.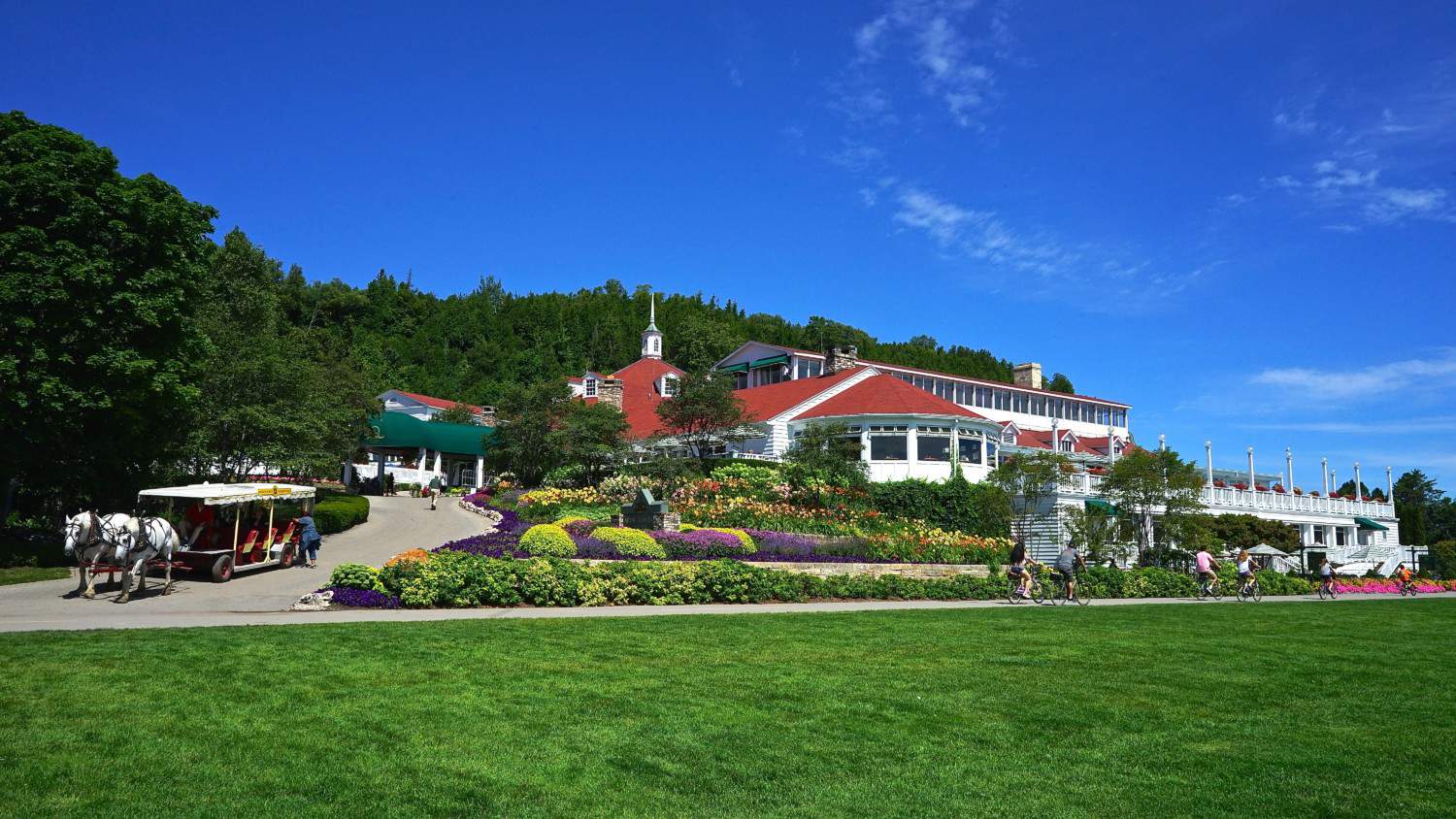 Park Place Suites offers just three condo units in the heart of downtown, so be sure to book REALLY early! Each condo comes complete with a kitchen and fenced yard. They charge an additional pet fee of $30 per night.
And Sunset Condos offers more seclusion and fantastic views of Lake Huron and the Mackinac Bridge. Their eight units sleep between 2 and 12 people, and they base their pet fee on the size of your pet. For pets less than 40 pounds, the fee is $75 per stay. If your pet is more than 40 pounds, it's $100 per stay. And two pets over 40 pounds are $150 per stay.
How Long Does It Take To See Mackinac Island?
We did everything in this blog post in one day! But we really hustled. For a more leisurely vacation, a two- or three-day stay would be better.
Best Time To Visit
The best time to visit Mackinac Island with your dogs is between mid-May and early July. The weather during this time is wonderful, with highs in the mid-40s Fahrenheit and fewer crowds in May. By July, the highs are in the mid-70s in July, but you'll have to contend with more tourists.
Many of the businesses on Mackinac Island close over the winter. So if you're looking for a secluded stay, this could be the perfect time to plan your trip. The Star Line's winter ferry has a reinforced steel hull that allows it to break through thin ice on the Mackinac Straits. It continues to operate limited ferry schedules from its dock in St. Ignace during the winter months.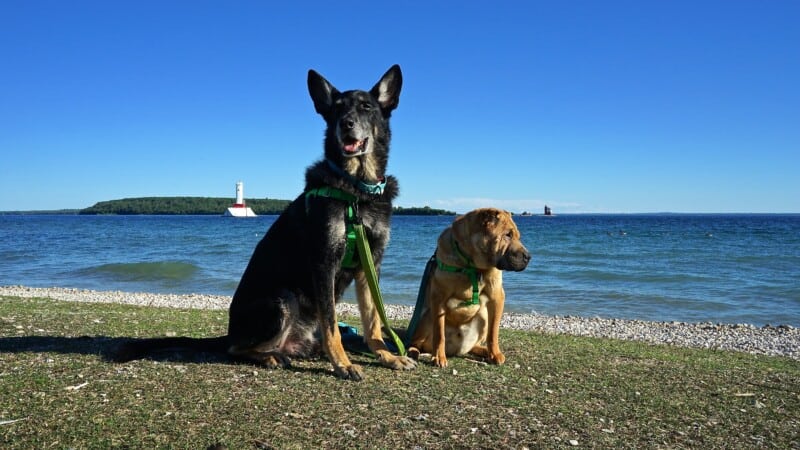 We hope our trip to Mackinac Island with our dogs has inspired to you and your best furry friend to see it for yourself! If you do, please share your experience in the comments below.
For more pet friendly fun in Michigan, check out these posts:
(Visited 40,546 times, 1 visits today)