Keeping cats safe in the car takes some thought. But whether you're taking your cat on an adventure or just heading to the vet, it's worth the effort to make sure they're comfortable and secure.
Why should dogs have all the fun? Cats also make awesome travel companions. But since fewer people travel with felines, there's less information out there about keeping cats safe in the car.
Hopefully, some of what we've learned will make things easier for you and your cat!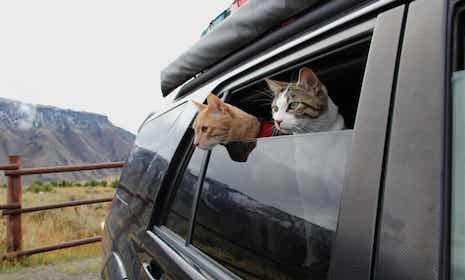 Safety Restraints In The Car
The first question you must answer before traveling together is how you'll keep your cat safely restrained while you're on the road. It's not wise (or fun) to have a cat launch himself into your lap while you're driving down the highway at 70 miles per hour.
You'll find three main options for keeping your cat contained in the car. Whichever you choose, start acclimating your cat to it well before leaving on a trip.
Training a cat to enjoy (or tolerate) traveling in a car can take a lot of patience, so it's important to give yourself plenty of time. But starting your training early doesn't just benefit your cat. In truth, if your cat doesn't like your choice for keeping them safe, you might need to begin again with another option.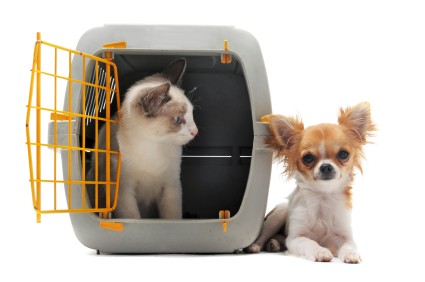 Cat Carrier
Does your cat like small, cozy spaces? Then the safest way for them to travel is probably in a cat carrier.
Carriers give cats their own personal space, protect them from impact should you be involved in an accident, and most importantly, prevent escape.
Carriers come in soft and hard-sided options. Hard-sided carriers provide protection because of their stiff bodies. But soft-sided carriers are easier to bring to and from your vehicle and sometimes include built-in seatbelt straps.
Fortunately, the Center for Pet Safety has crash-tested and certified both soft and hard sided carriers. So you'll have all the information you'll need to make an informed decision.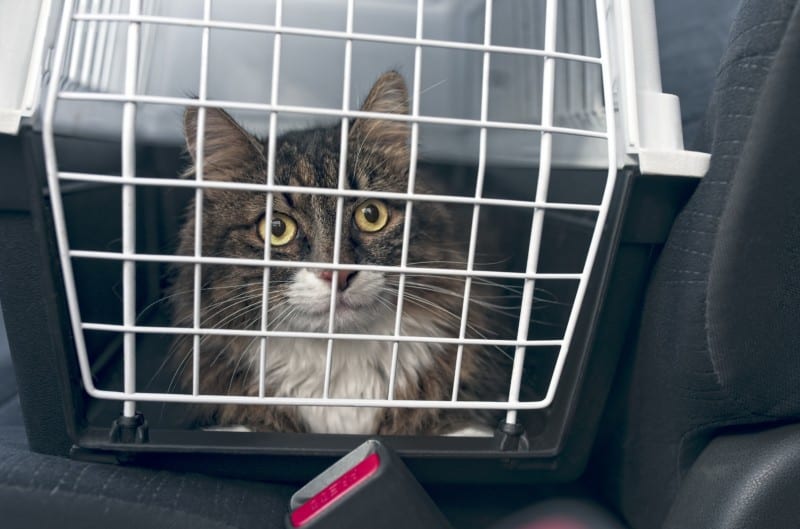 Travel Harness
Some cats adore their carriers in the house. But put them in a moving vehicle and they cry and cry. If that describes your cat, consider trying a seatbelt harness. It will keep your cat safe and save everyone's sanity.
Many harnesses are designed for dogs. So you'll want to try a few until you find one that works for your cat. The safest harnesses disperse a cat's weight across the chest, like the Sherpa Crash Tested Safety Harness (Amazon). A harness that fits across the chest protects from choking in case of a short stop or accident.
Use the harness along with a tether that snaps into the seatbelt receptacle and clips onto the d-ring of the harness. This allows your cat to move around a bit, so they can reach their water bowl and look out the window or lay down on long trips.
Just like the carrier, you'll want to do a lot of advanced training so that your cat loves her harness before she steps foot in the car!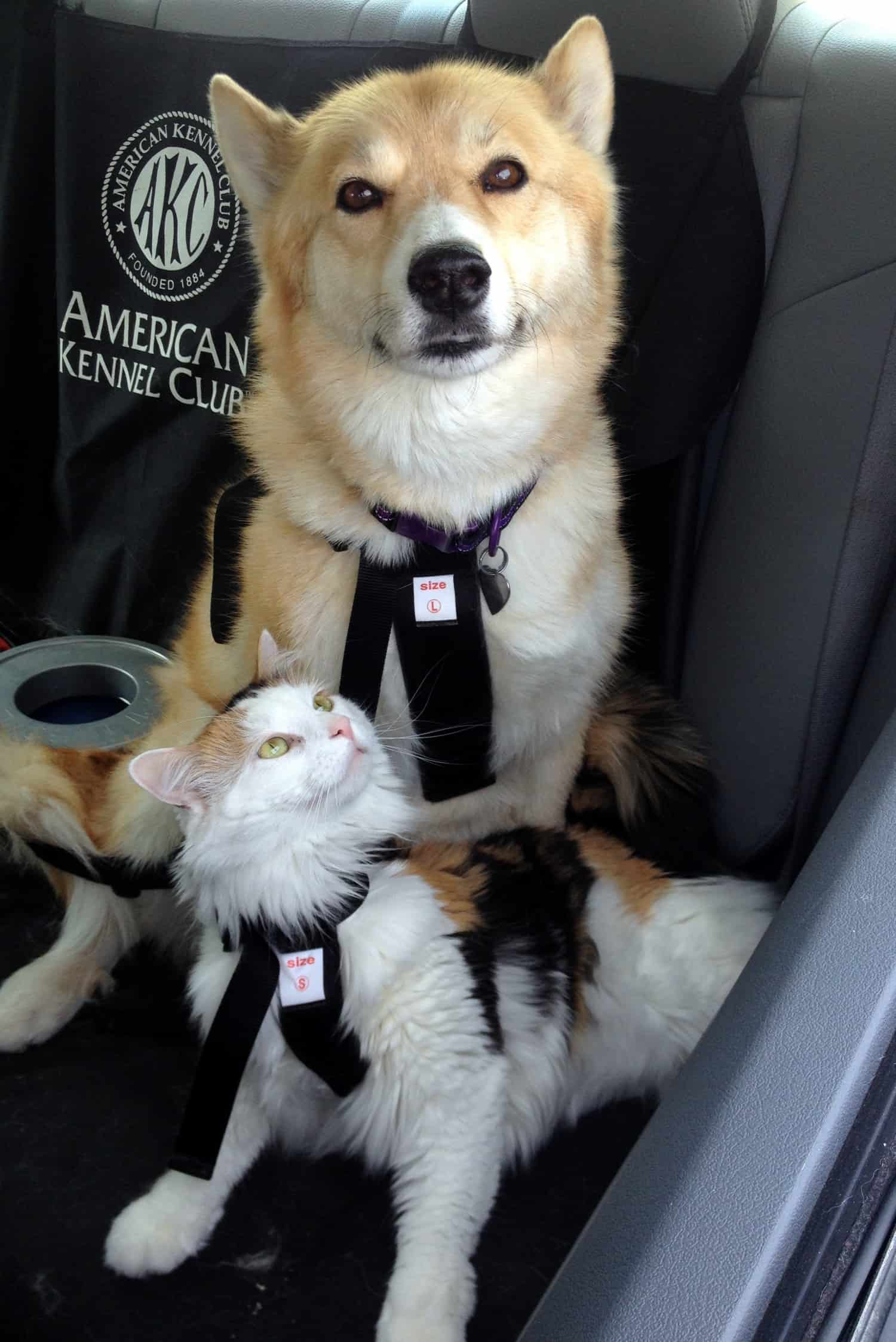 Crash-Tested Crate
If your cat likes privacy but needs more room, consider a small or medium dog crate. It's a little less convenient than a carrier, because carrying your cat to and from the car in the crate would be more cumbersome. But, if you set it up in the backseat or cargo area of your car, it might be just the thing to keep your kitty happy.
One additional benefit is that a dog crate has plenty of room for water bowls. You might even be able to fit a disposable cat litter box (Amazon) inside!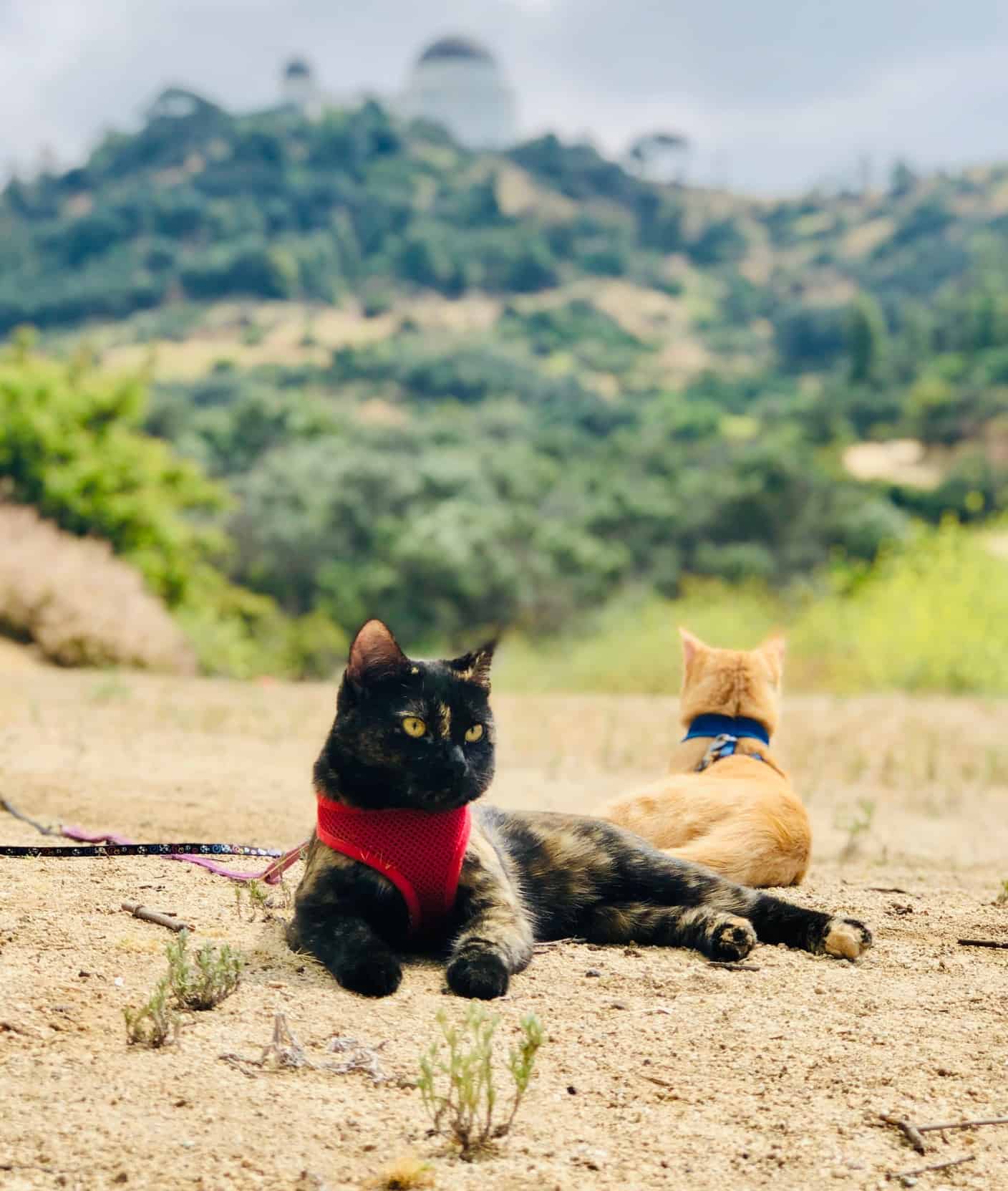 Opting For No Restraints Isn't Safe
There are other options for your cat while in the car, but the one thing you should NOT do is let your cat run loose. Cats can get into dangerous places in the car, like under your feet while you drive, or in a position to distract you. They could also eat something they shouldn't or get stuck in places you'd never imagine. Not to mention, an unsecured cat can easily jump out and disappear when the car doors open.
Even if your cat is restrained, it's best to take precautions when you open the car doors. Keep your cat's carrier door closed unless it's in a safe, enclosed area.
If your cat wears a seatbelt harness, make sure you have the leashed attached to the harness and have a firm grip before you unbuckle your cat. And adding ID tags with names and cell phone numbers to your cat's harness will help them find their way home should they ever bolt.
As an added precaution, consider a microchip for your cat. And then remember to keep your contact information up-to-date.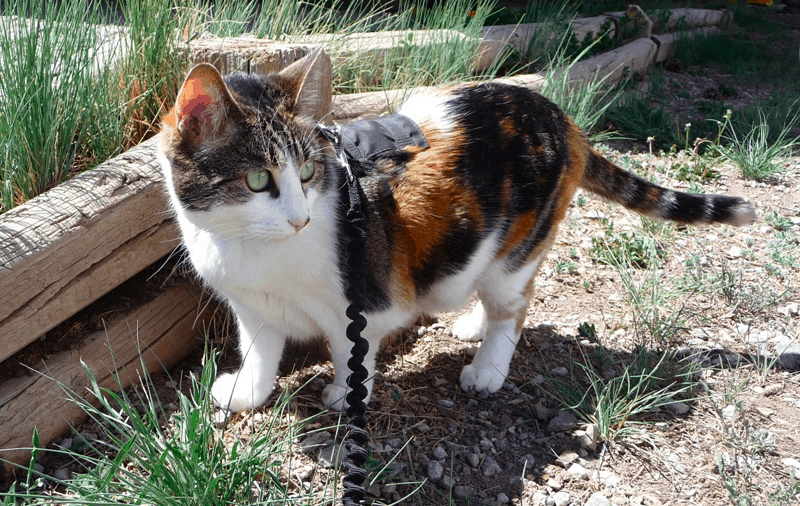 Calming Products For Cats Who Are Unhappy In The Car
Obviously, you want to do everything you can to make your cat comfortable in the car. And that might include products that help them stay calm while traveling.
If you've done all the training and your cat still feels anxious in the car you may want to consider a calming product. You'll find many over-the-counter options. Unfortunately, these products work for some cats and not for others. So you'll have to test them to see which works best for your cat.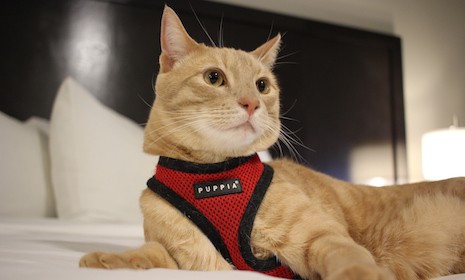 Some cat owners swear by calming pheromone products like Feliway (Amazon). There are also CBD and calming products containing hemp oil that have become increasingly popular. And, of course, catnip sends some cats into sheer bliss. Others, become more energized and active … probably not the result you're hoping for at the beginning of a road trip.
Some pets find a wrap, like a Thundershirt (Amazon), relaxing as well.
Asking your vet what they recommend is another option. They will know which over-the-counter remedies seem to work for their patients. And if anxiety is extreme, might suggest a situational medicine by prescription.
Travel Safely With Your Cat
Are you ready to take your kitty on the road? Hopefully, with this information on keeping your cat safe in the car, you will both have a great time exploring.
Visit our Amazon store to learn about more products we rely on to make traveling with pets easier, safer, and more fun!
Amazon Affiliate Disclosure: GoPetFriendly.com LLC is a participant in the Amazon Services LLC Associates Program, an affiliate advertising program designed to provide
a means for website owners to earn advertising fees by advertising and linking to amazon.com, audible.com, and any other website that may be affiliated with Amazon
Service LLC Associates Program. As an Amazon Associate, the owner of this site earns a commission from qualifying purchases.
(Visited 12,991 times, 1 visits today)