Surrounded by water on three sides, Washington's Olympic Peninsula is a study in opposites. The silence of the moss-covered woodlands contrasts sharply with the roaring wind and crashing surf of the beaches. Each has their own beauty, and both are beyond words. Combined, they make the Olympic Peninsula an amazing place to visit with dogs!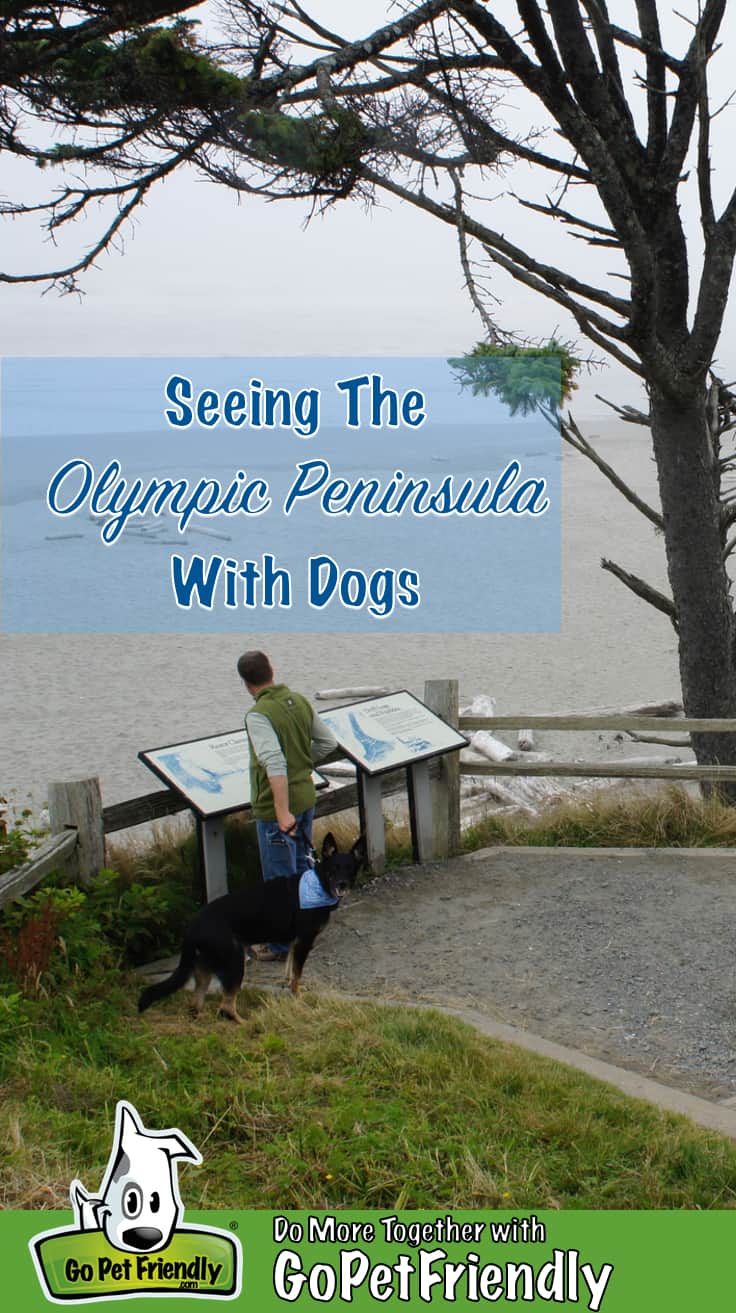 If this is your first trip to the Olympic Peninsula, start by getting the lay of the land. In the heart of the peninsula, Olympic National Park encompasses nearly a million acres. Towns and travel routes skirt the edges, abiding on the lip between the park's boundary and the rugged beaches.
The Olympic National Forest forms a near semicircle to the east and south of the national park, with another section to the northwest. This is important because pets are welcome in the Olympic National Forest. Of course, they must be under control or on a leash. And in developed areas such as trailheads, campgrounds, and busy trails pets must be on a leash and under control.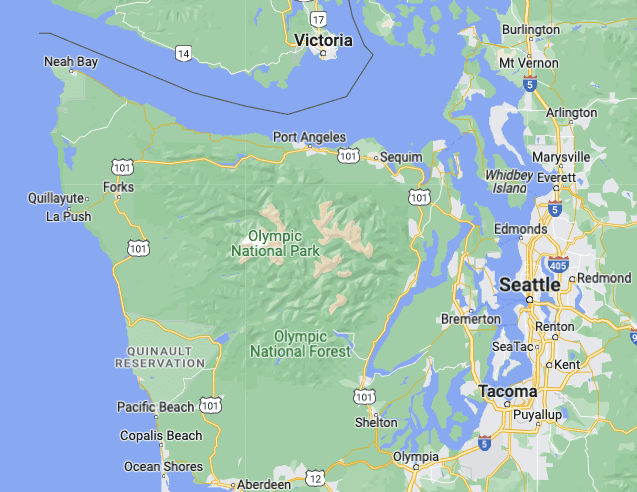 Olympic National Park
Mount Olympus rises nearly 8,000 feet from the center of Olympic National Park. It, along with the rest of the Olympic Mountains, stirs the wild and ever changing weather that makes this area famous.
With glacier-capped peaks, old-growth temperate rain forests, and over 70 miles of wild coastline Olympic National Park is a nature lovers dream. However, pet friendly areas are somewhat limited. In addition to all campgrounds and picnic areas, pets are welcome on some trails and beaches, along roads, and in the parking lots. Be sure to ask how your dog can become a BARK Ranger during your visit!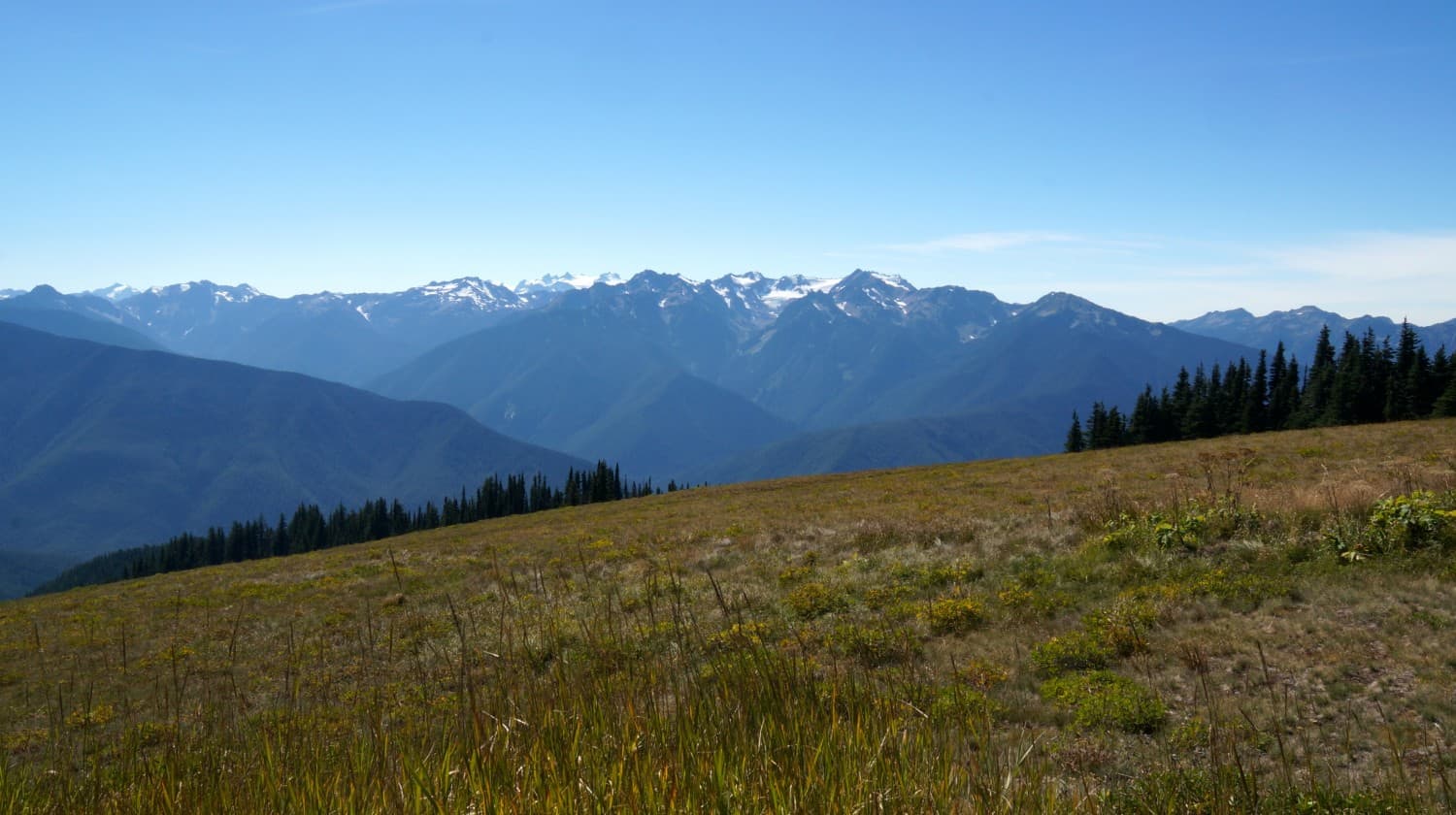 Pet Friendly Beaches and Trails in Olympic National Park

Peabody Creek Trail at the Olympic National Park Visitor Center in Port Angeles (1/2 mile)
Rialto Beach from the parking lot to Ellen Creek (1/2 mile)
Kalaloch Area Beaches between the Hoh and Quinault Reservations
Madison Falls Trail near Elwha (0.2 mile to a waterfall)
Spruce Railroad Trail on the north shore of Lake Crescent (11.2 miles)
July Creek Loop Trail on the north shore of Lake Quinault (0.4 mile)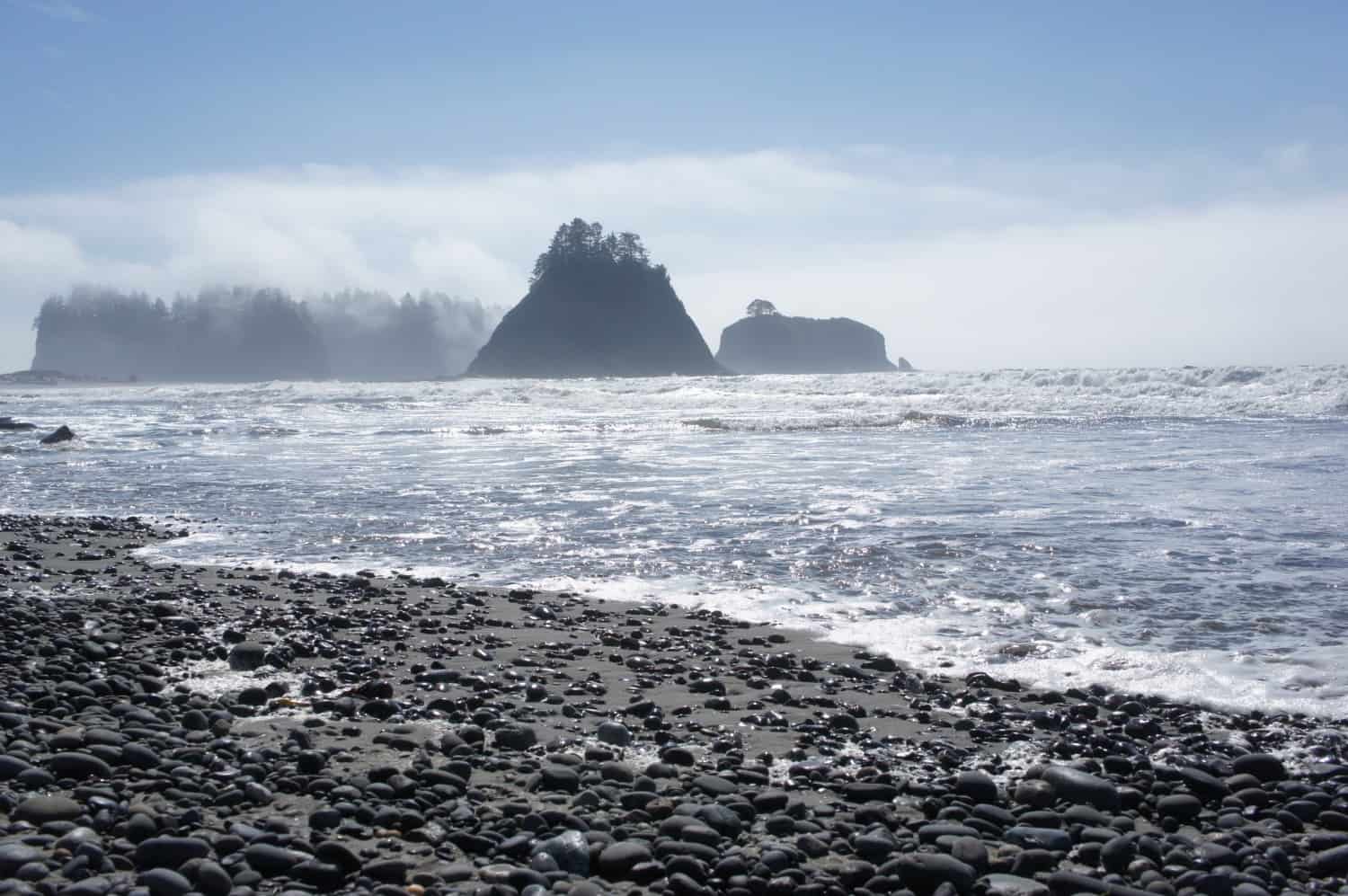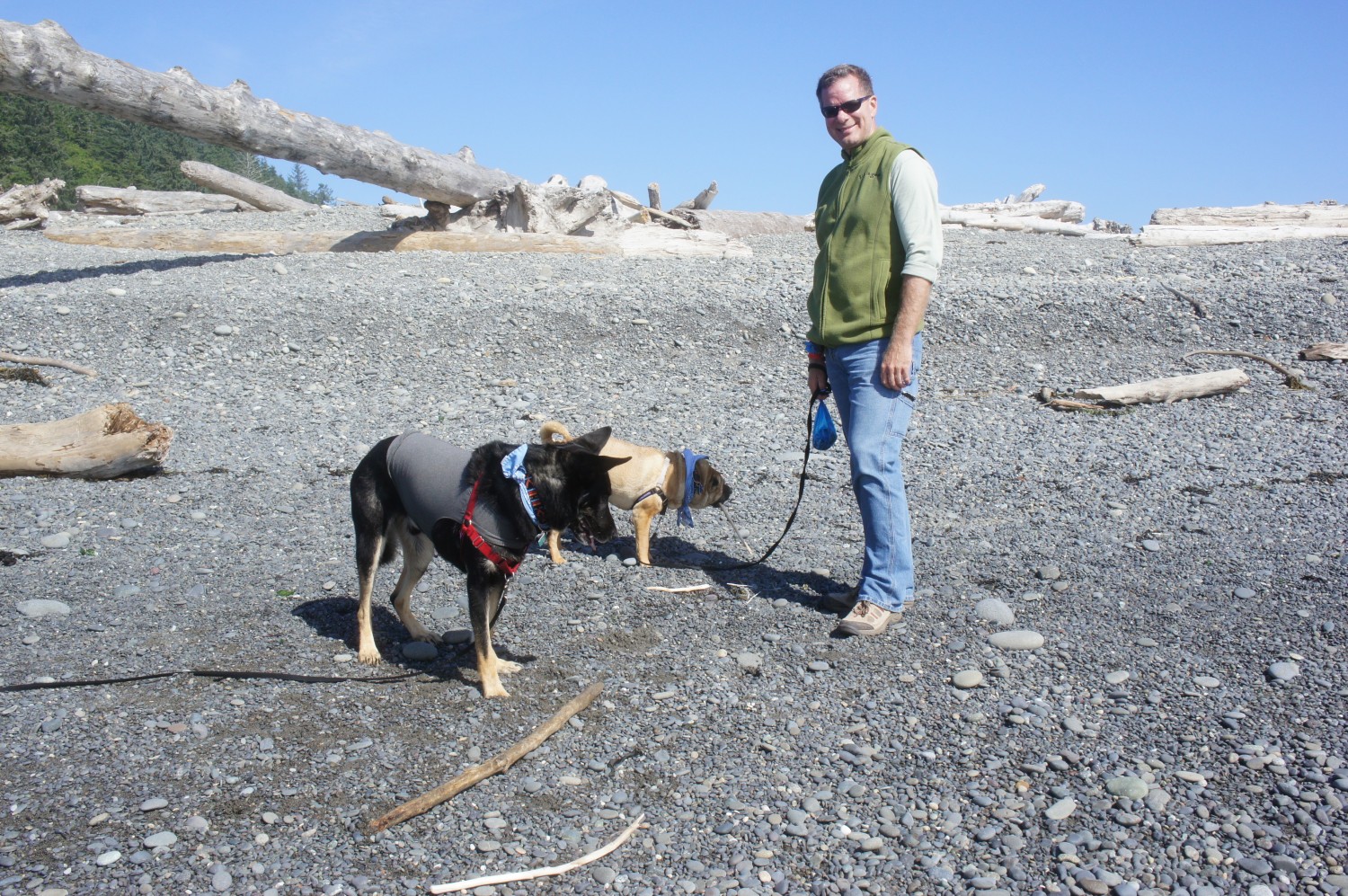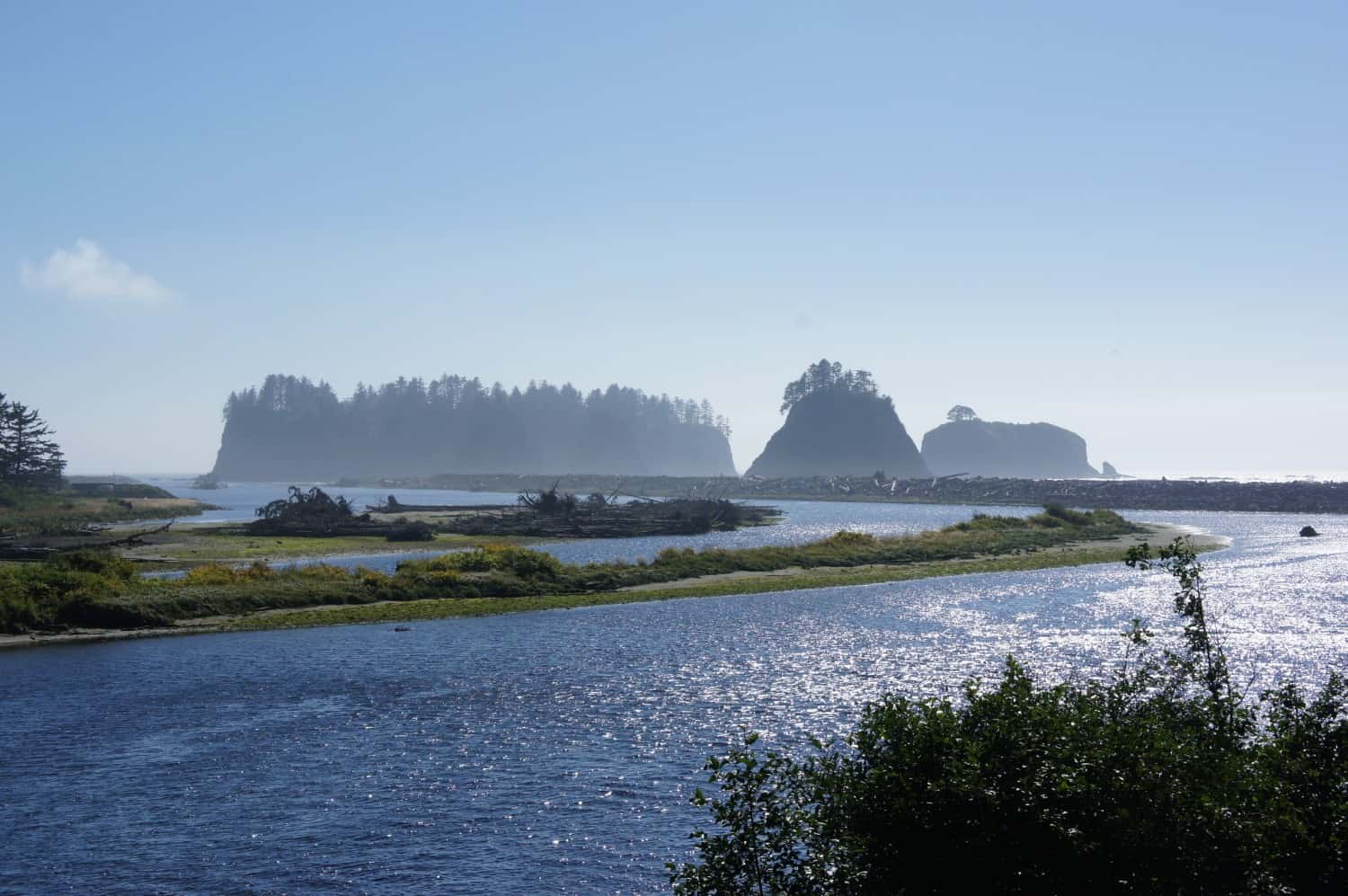 Hoh Rain Forest
Located on the west side of Olympic National Park, the Hoh Rain Forest is one of the most popular destinations on the Peninsula. Once spanning the Pacific coast from southeastern Alaska to the central coast of California, this is one of the finest remaining examples of temperate rainforest in the United States.
Unfortunately, dogs cannot go on the trails in the Hoh Rain Forest. That is not unexpected given the unique habitat. But we've never seen a statement quite like the one posted on a sign at the visitor's center:
"Dogs are natural enemies to all creatures of the forest. For the protection of your pet, as well as yourself and other hikers, pets are not allowed on the trails."
That seems a little harsh.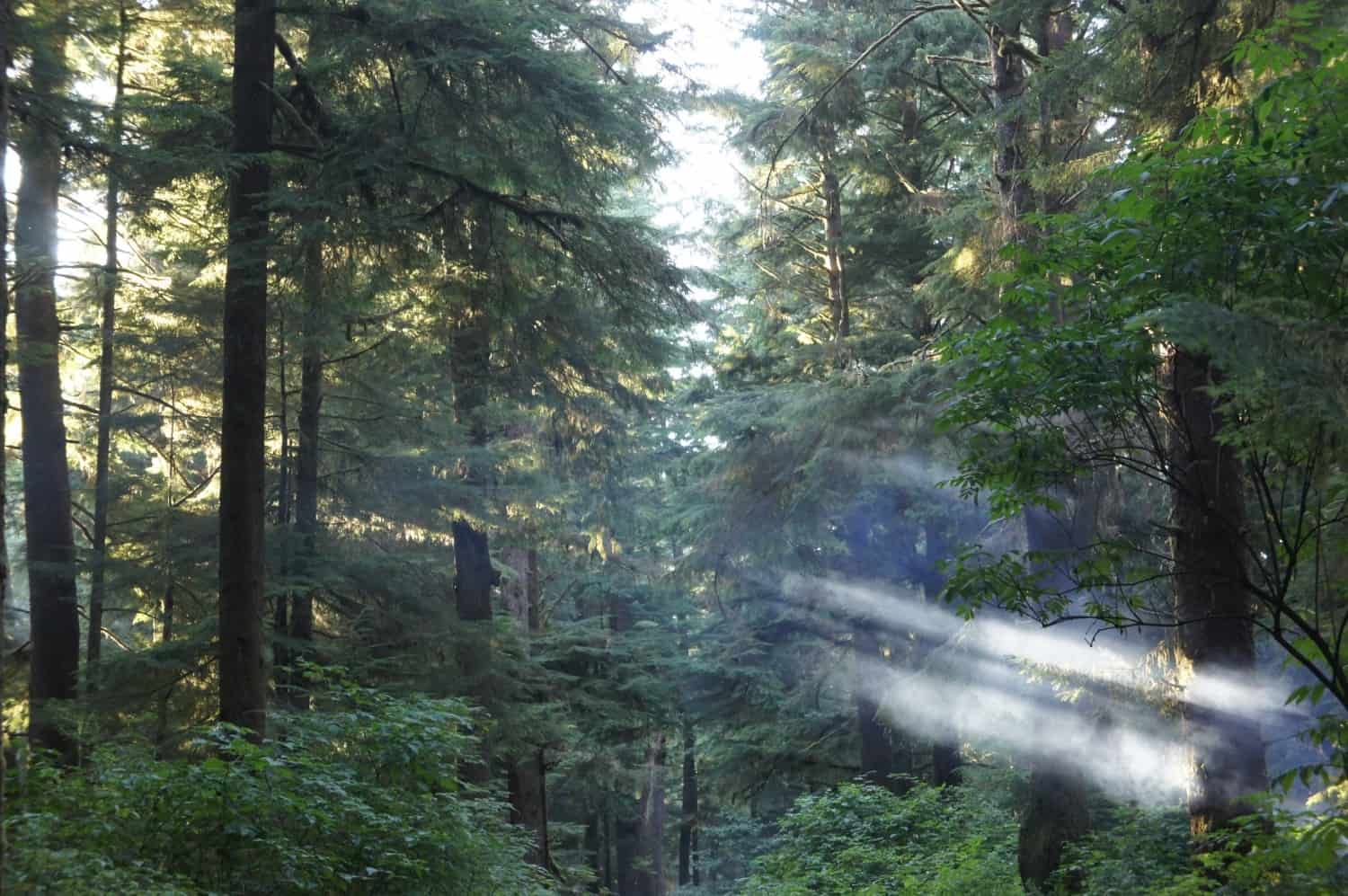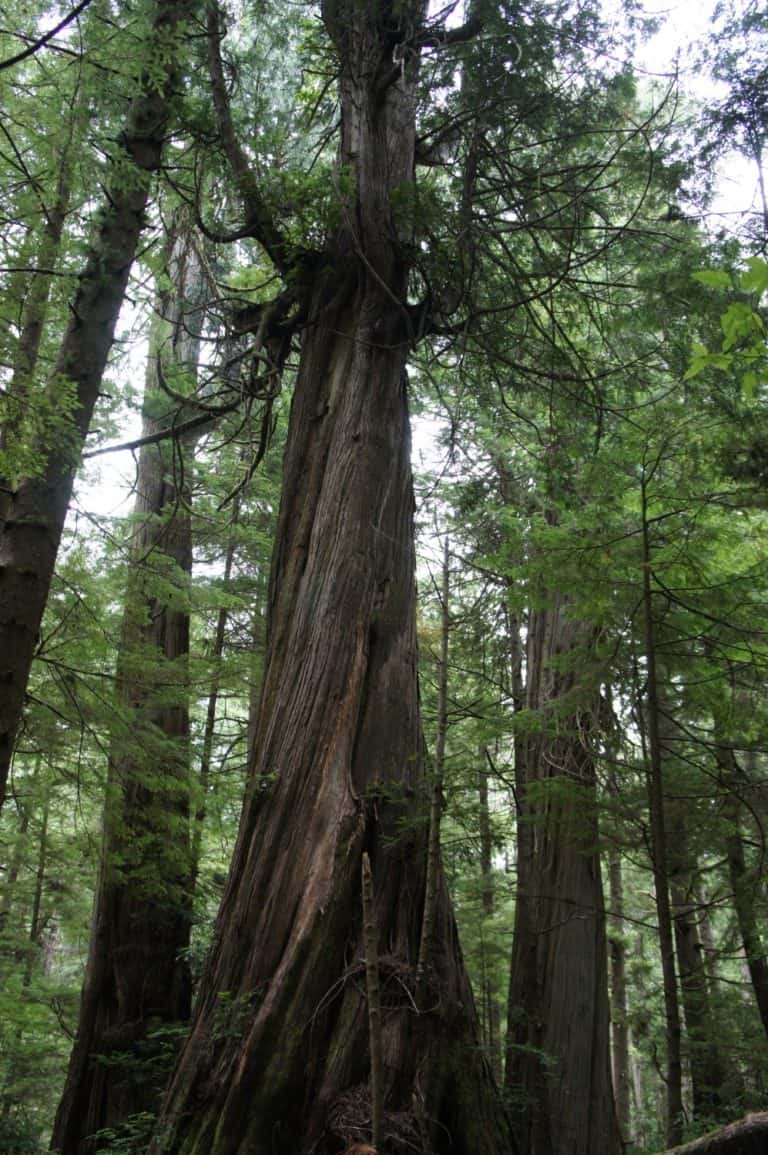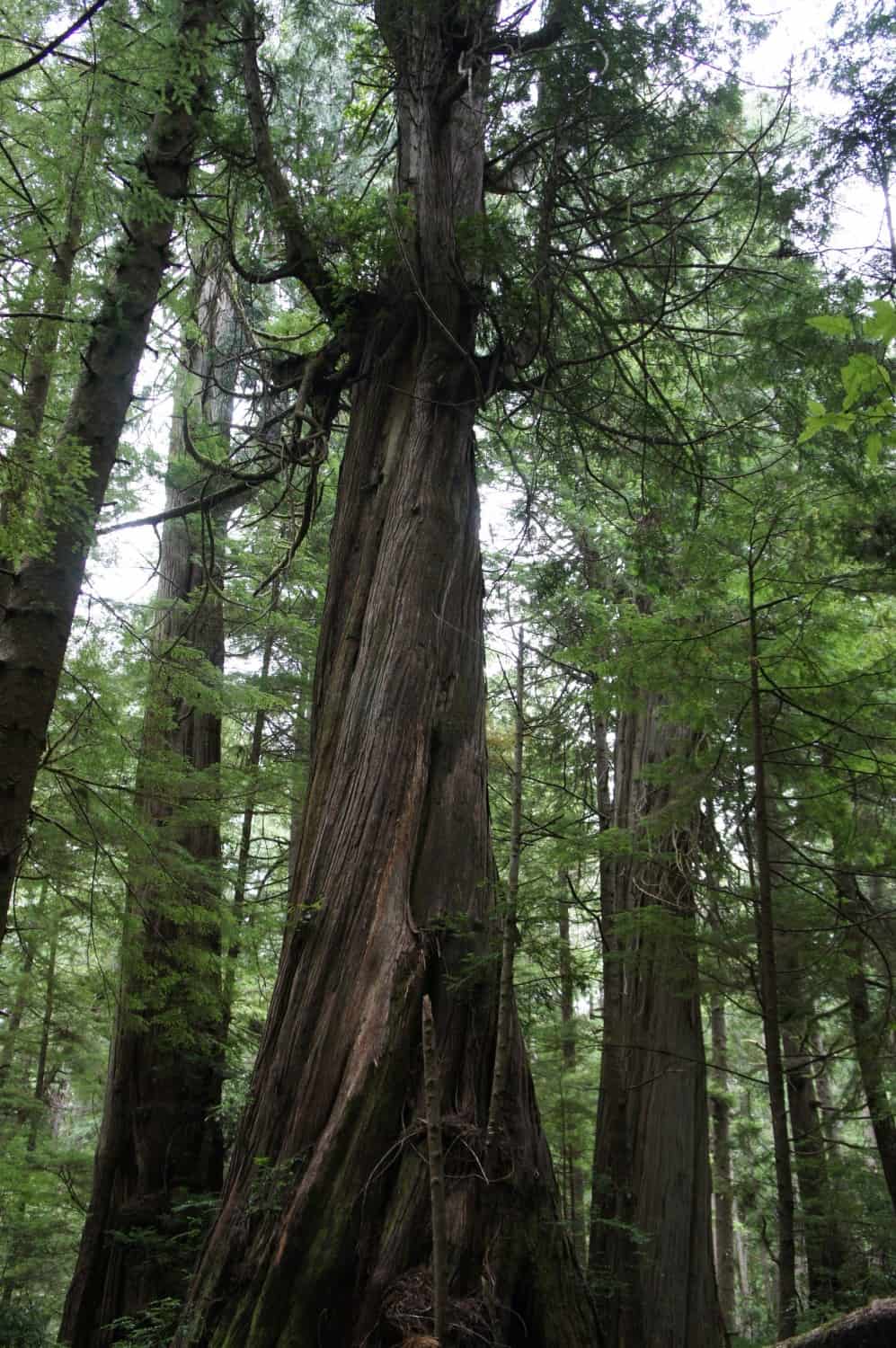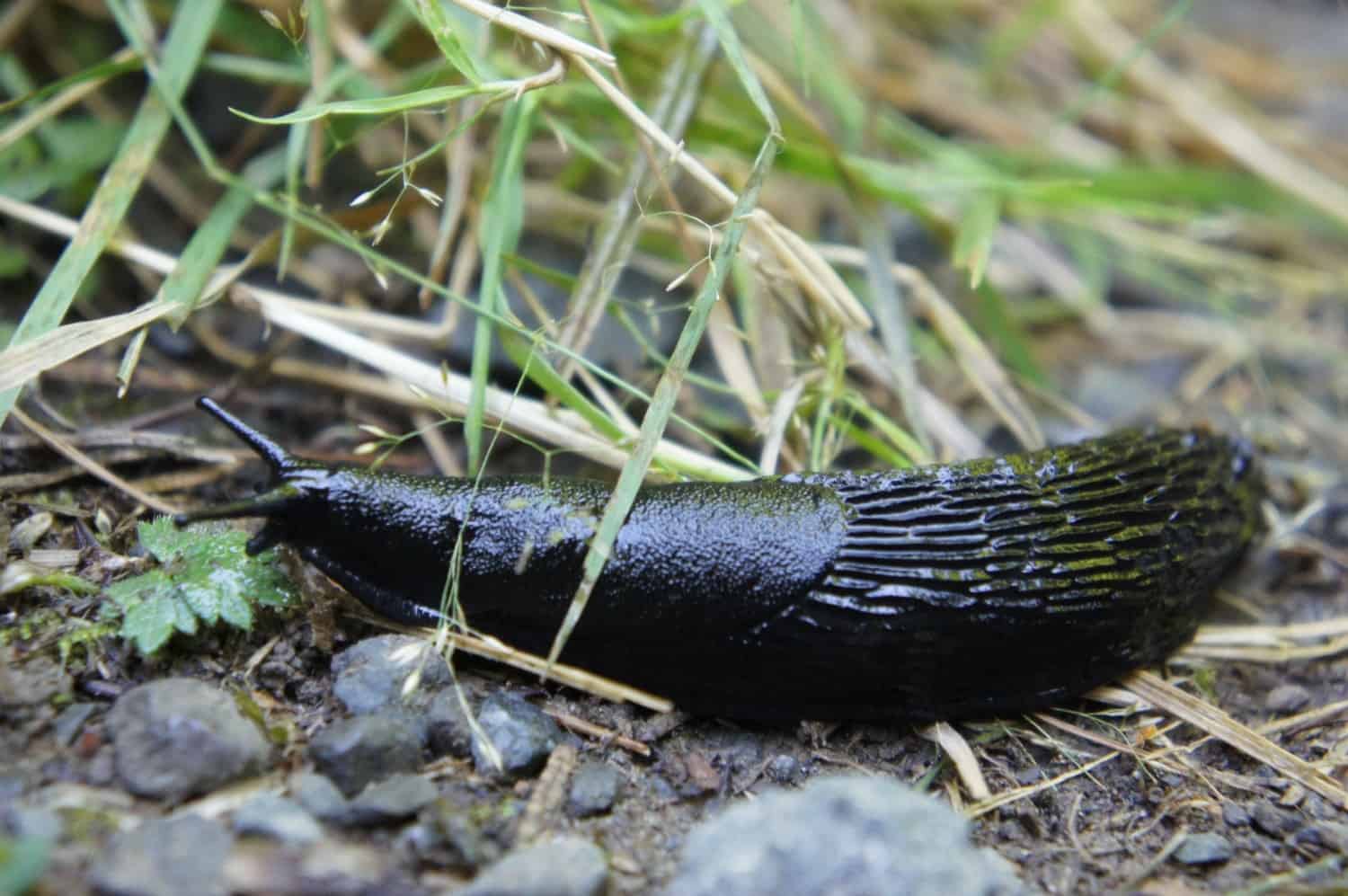 Olympic National Forest
Olympic National Forest has over 250 miles of trails – and you can enjoy them all with your dogs! Whether you're hiking a peak for a view of Puget Sound, or exploring the rivers and rainforests, the diverse landscapes are breathtaking.
Olympic National Forest Pet Policy

The Olympic National Forest is pet friendly! Pets must be under control or on a leash. In developed recreational areas, such as trailheads and campgrounds and busy trails, pets must be on a leash and under control. Pets are prohibited in swimming areas. Saddle, pack, or draft animals are allowed only in authorized areas. Be aware that pets are restricted in Olympic National Park; know where Park and Forest boundaries are. 

https://www.fs.usda.gov/detail/olympic/learning/safety-ethics/?cid=fsbdev3_049550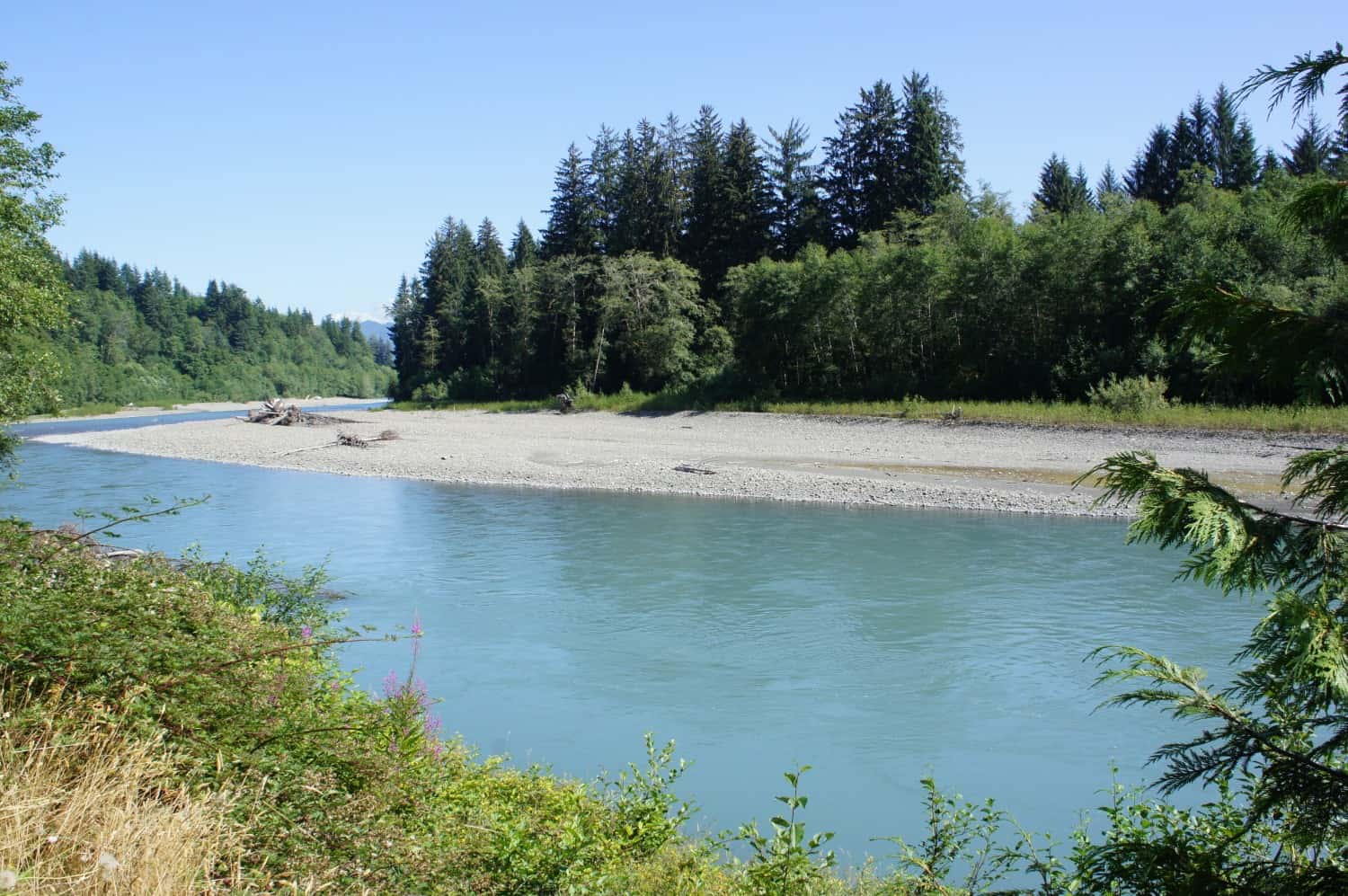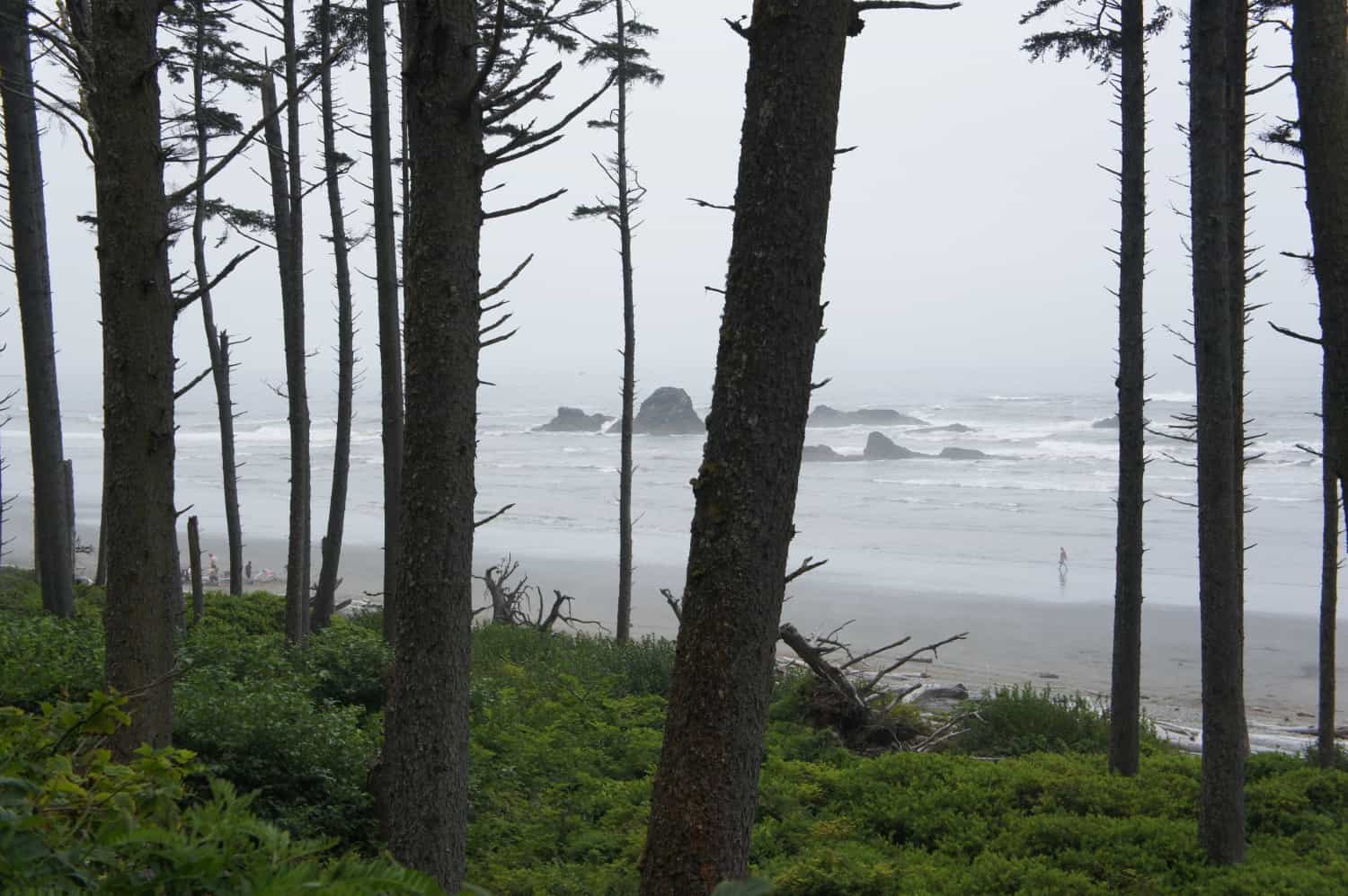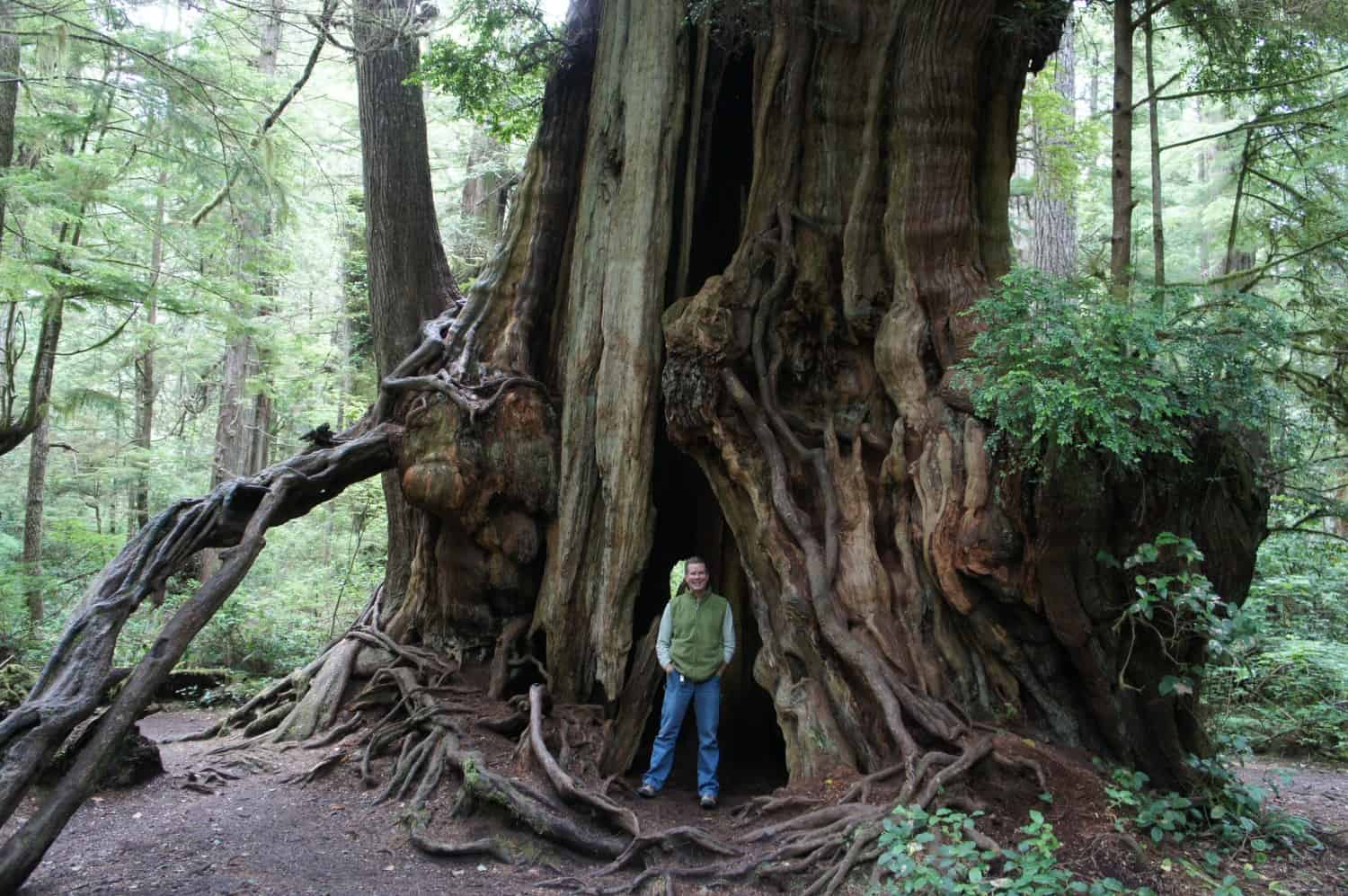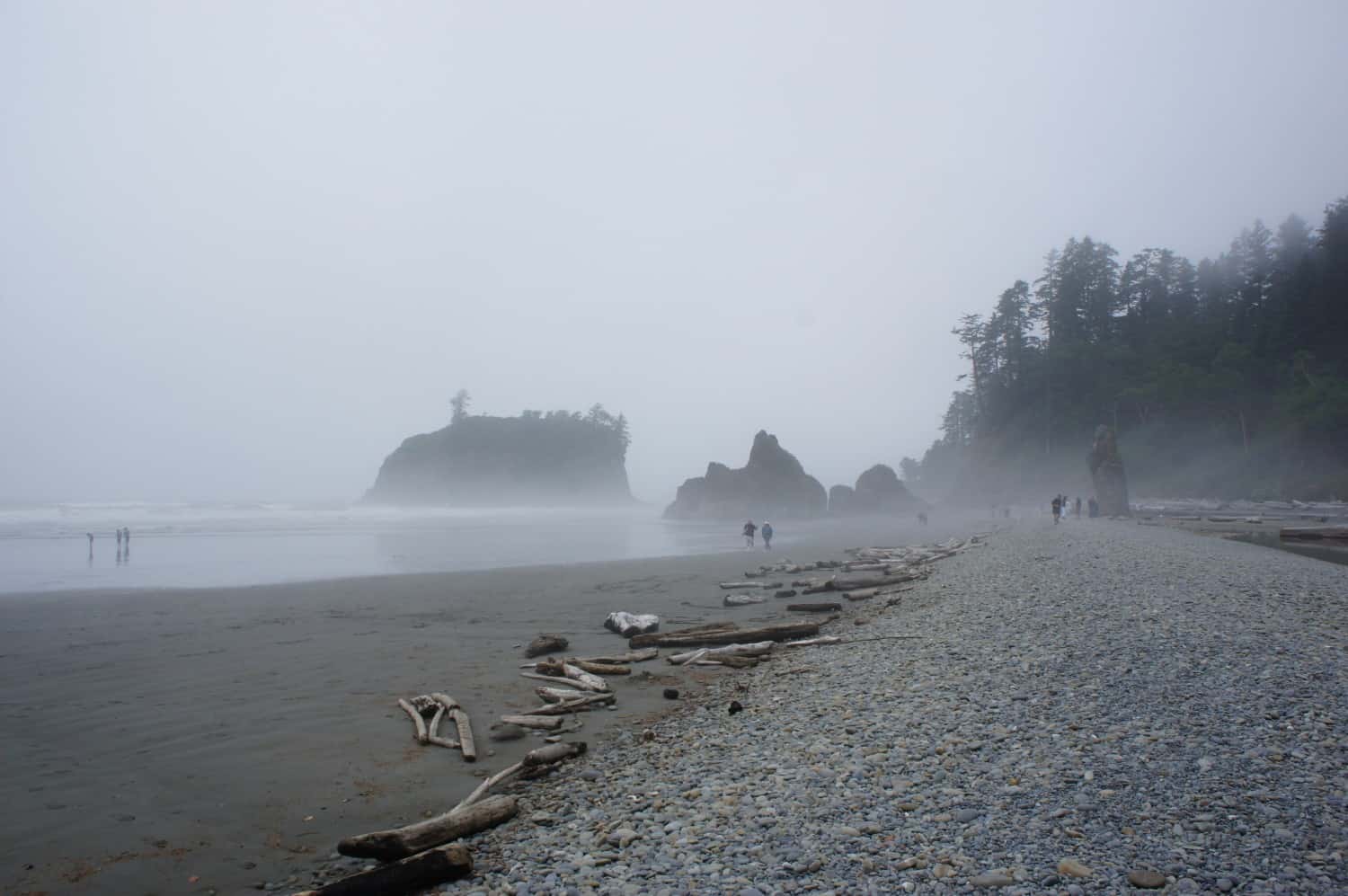 Fort Worden State Park
Fort Worden was an active military base until 1953. Now a 433-acre state park, it's a fascinating and beautiful Olympic Peninsula attraction to explore with your dogs.
Leashed pets are allowed almost everywhere in Fort Worden State Park, including the 11+ miles of hiking trails and the beaches. However, they cannot go inside active buildings and museums.
Note: You will need a Discover Pass to park anywhere within Fort Warden State Park.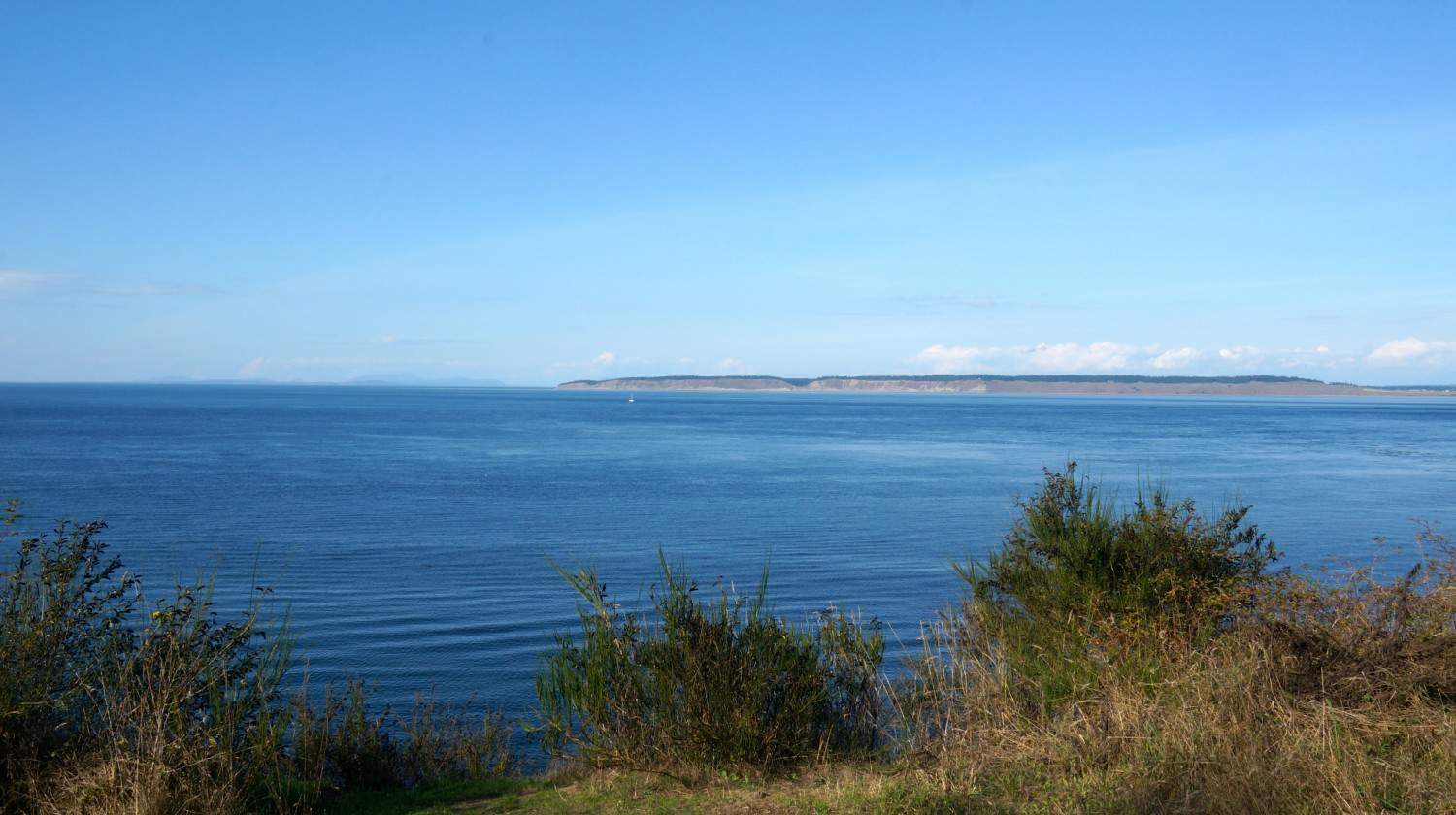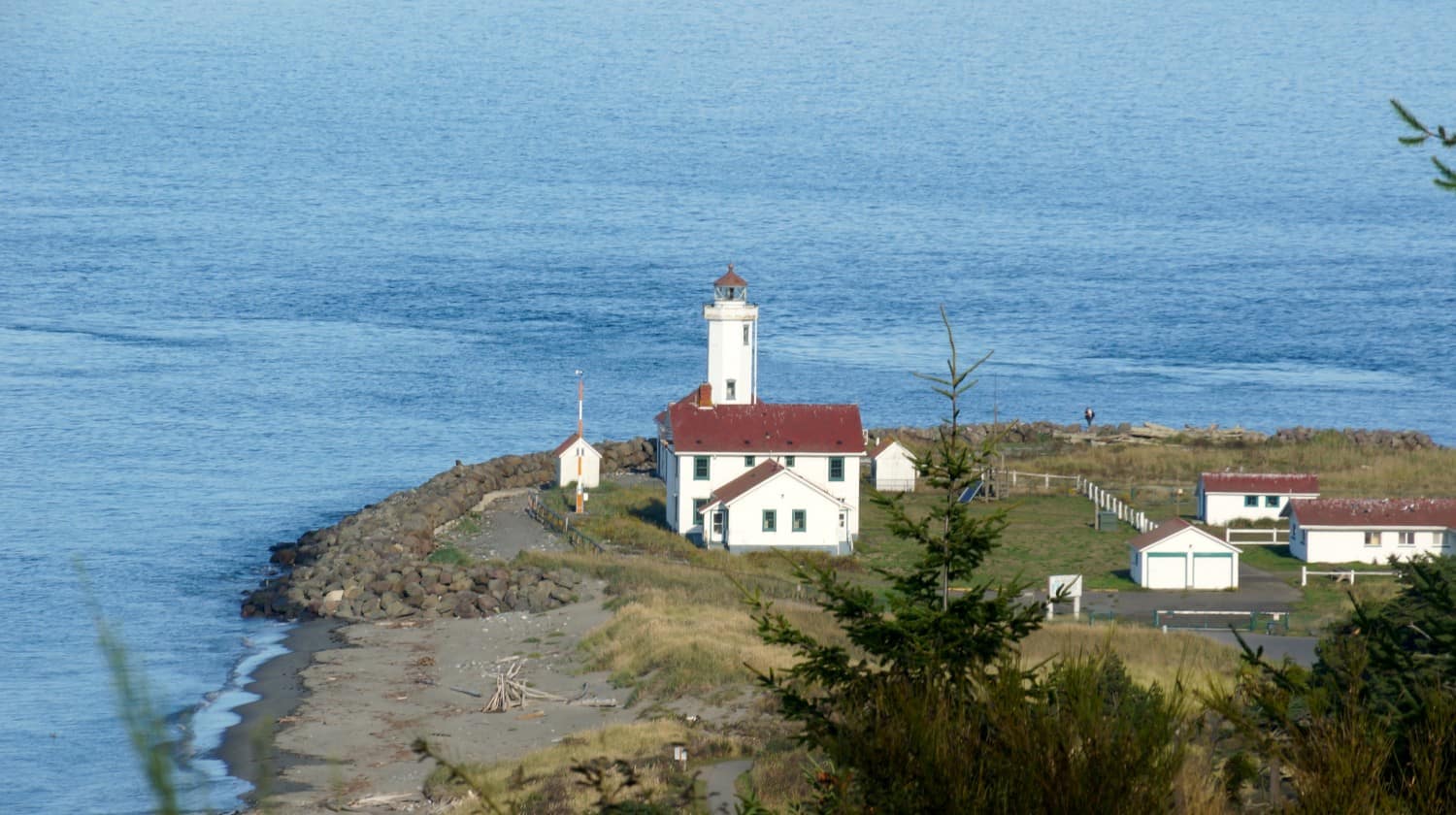 Constructed between 1898 and 1920, Fort Worden, Fort Flagler and Fort Casey formed the "Triangle of Fire" at the entrance of Admiralty Inlet and protected Puget Sound from invasion by sea.
The forts never fired a hostile shot, and many of the guns were removed during World War I for use in Europe. But the bunkers and gun batteries still occupy the strategic hilltops overlooking Puget Sound. Pets are welcome to explore the bunker and battery structures with you.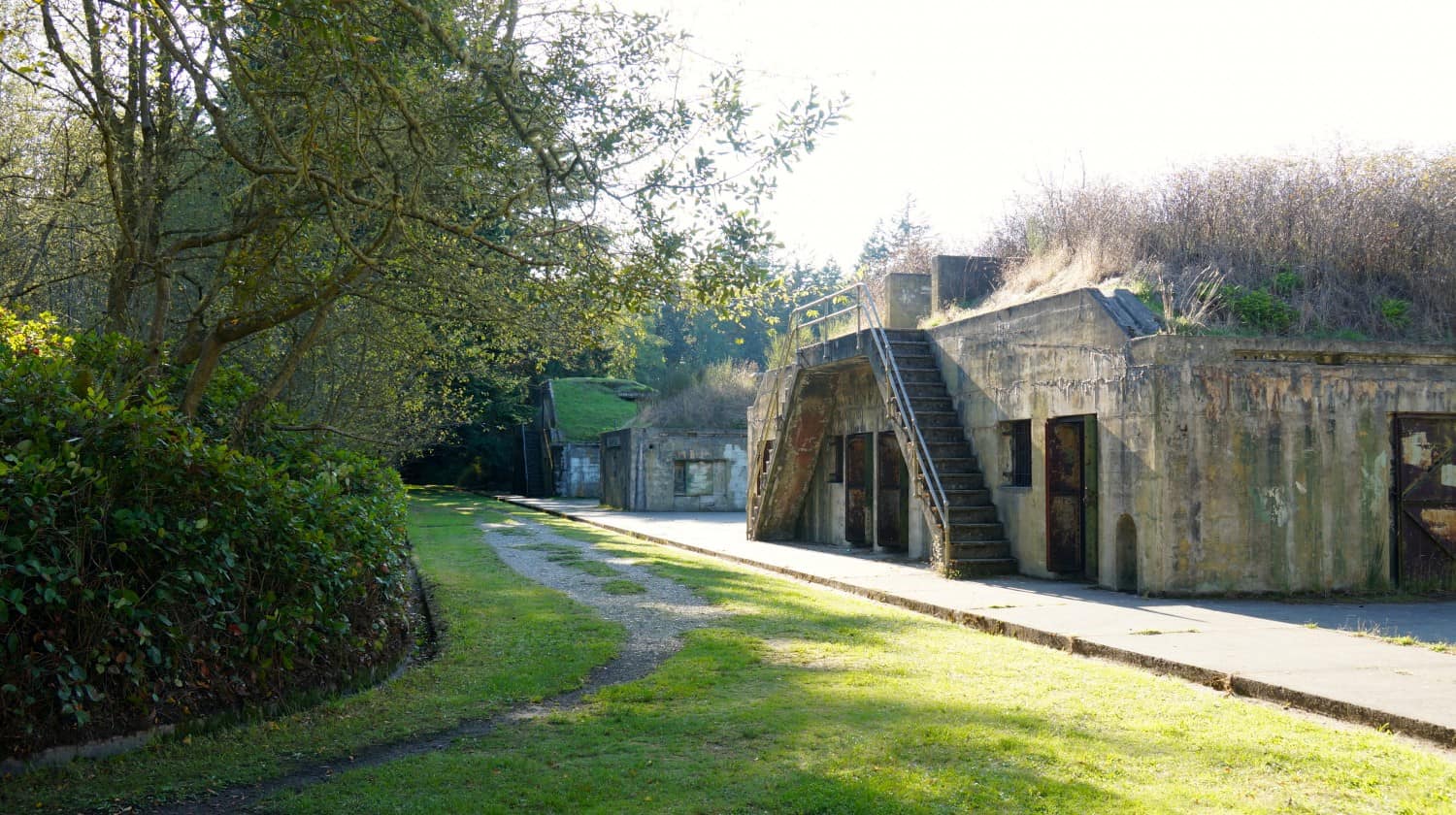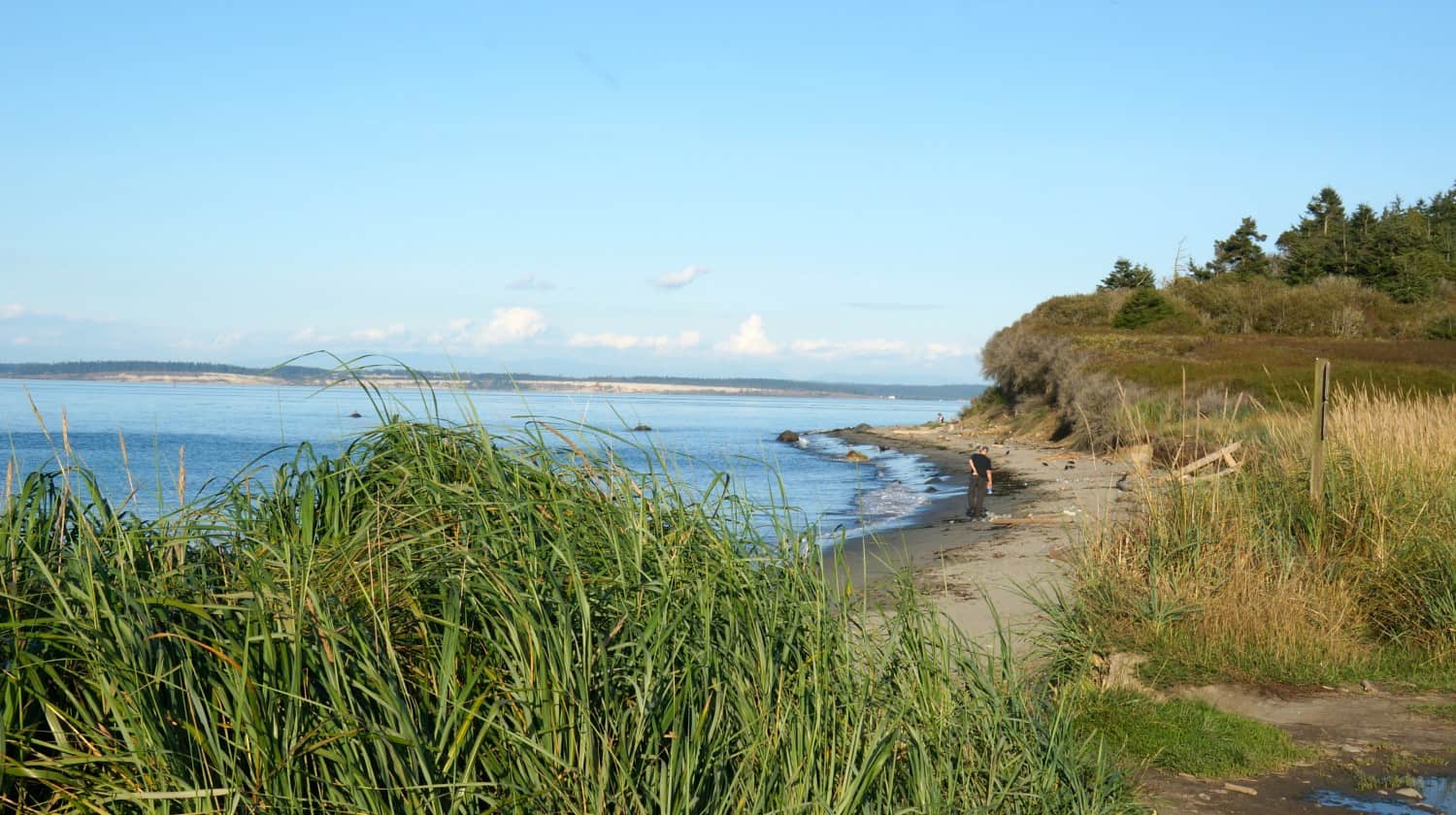 Pet Friendly Accommodations At Fort Worden State Park
Looking for a cozy getaway for you and your dogs on the Olympic Peninsula? Fort Worden has a variety of pet friendly lodging available!
The original fort barracks — three dozen Victorian houses — have been renovated into vacation rentals. And the designated pet friendly units welcome up to 2 pets with no weight restrictions for a pet fee of $30 per day, per pet, exclusive of tax.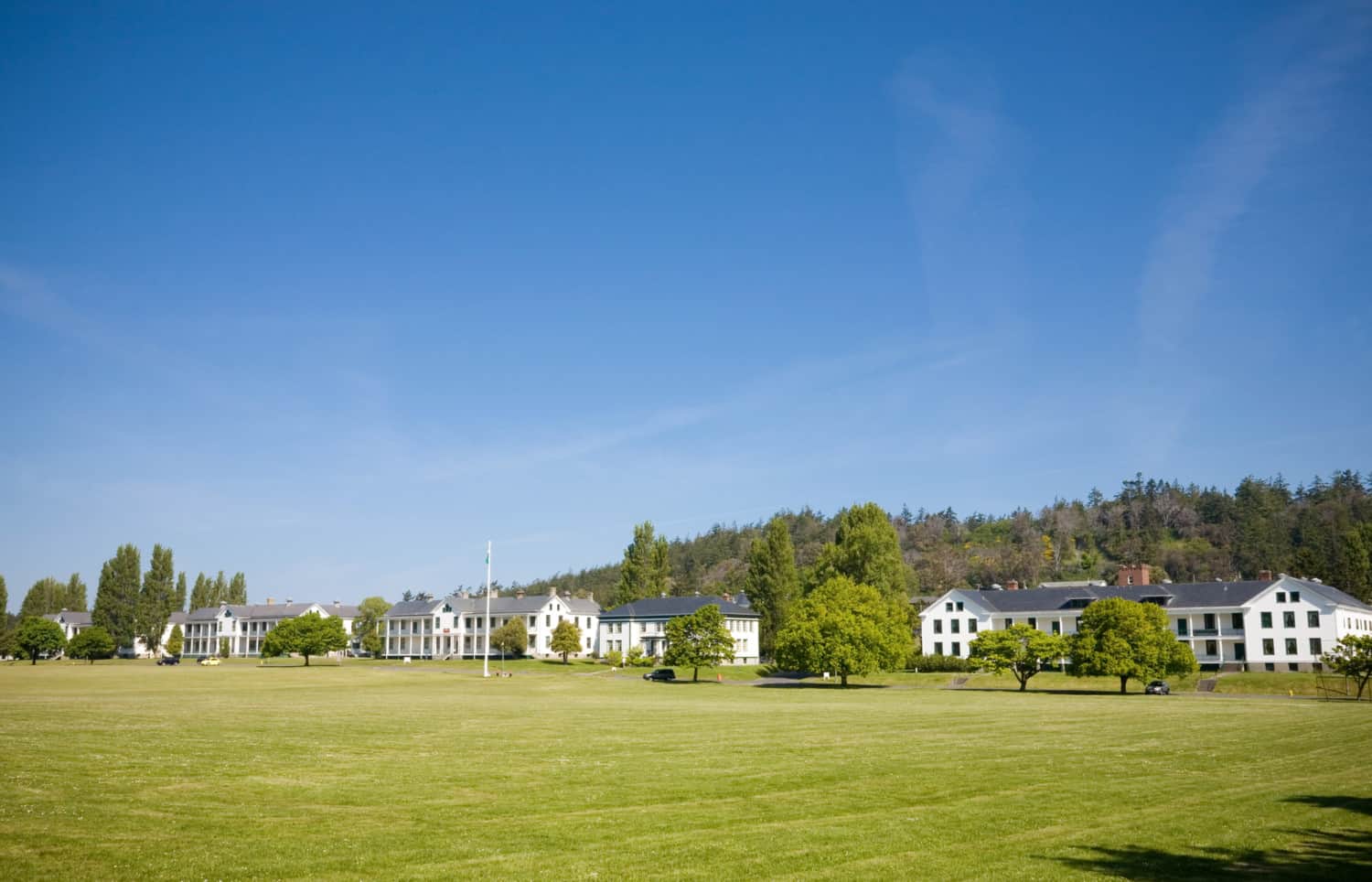 Fort Worden also offers camping options! The Forest Campground is located near the main entrance to the park, and the Beach Campground is down by the beach, adjacent to the lighthouse. With 50 RV sites and great views of the Sound, this is a spot you won't want to miss!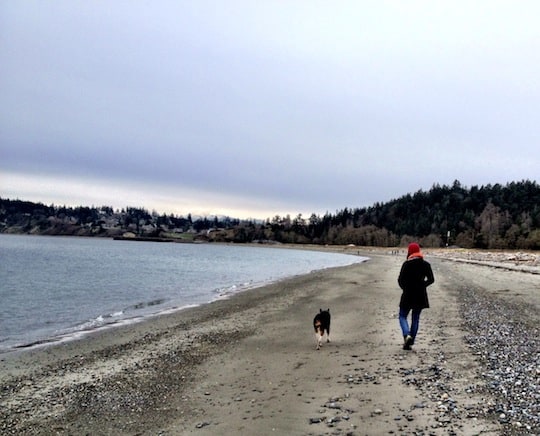 Port Townsend
Located on the northeastern tip of the Olympic Peninsula, Port Townsend was founded in 1851 with hopes of becoming the biggest harbor in the northwest. As overseas ships began docking, businesses took off, and Victorian buildings were constructed to house them.
Unfortunately, everything came to a crashing halt when the Great Depression hit and the railroads couldn't afford to extend their lines across Puget Sound. Much of Port Townsend's population left, and the buildings were abandoned. Now, after careful restoration, they give the town it's quaint feel.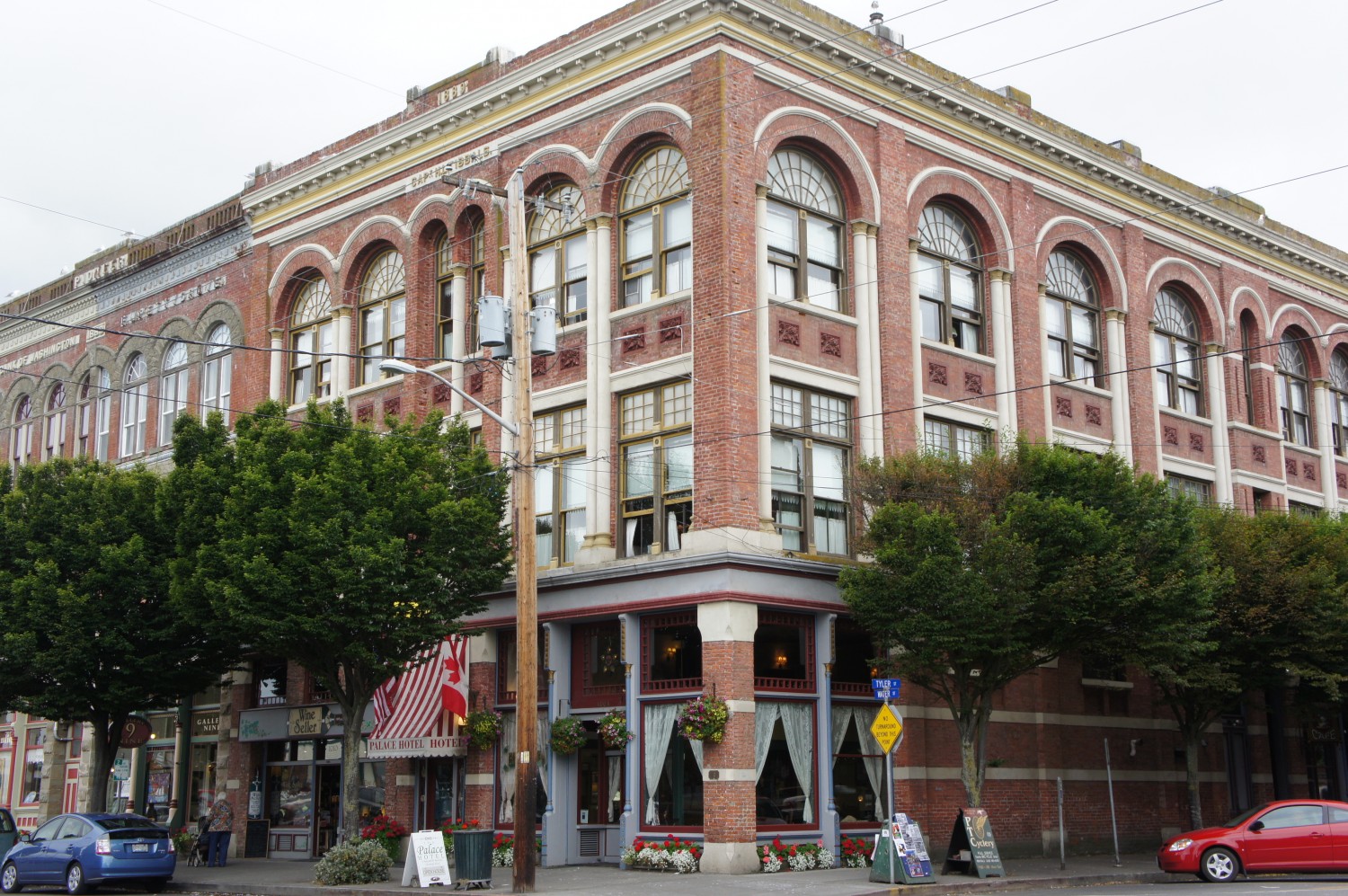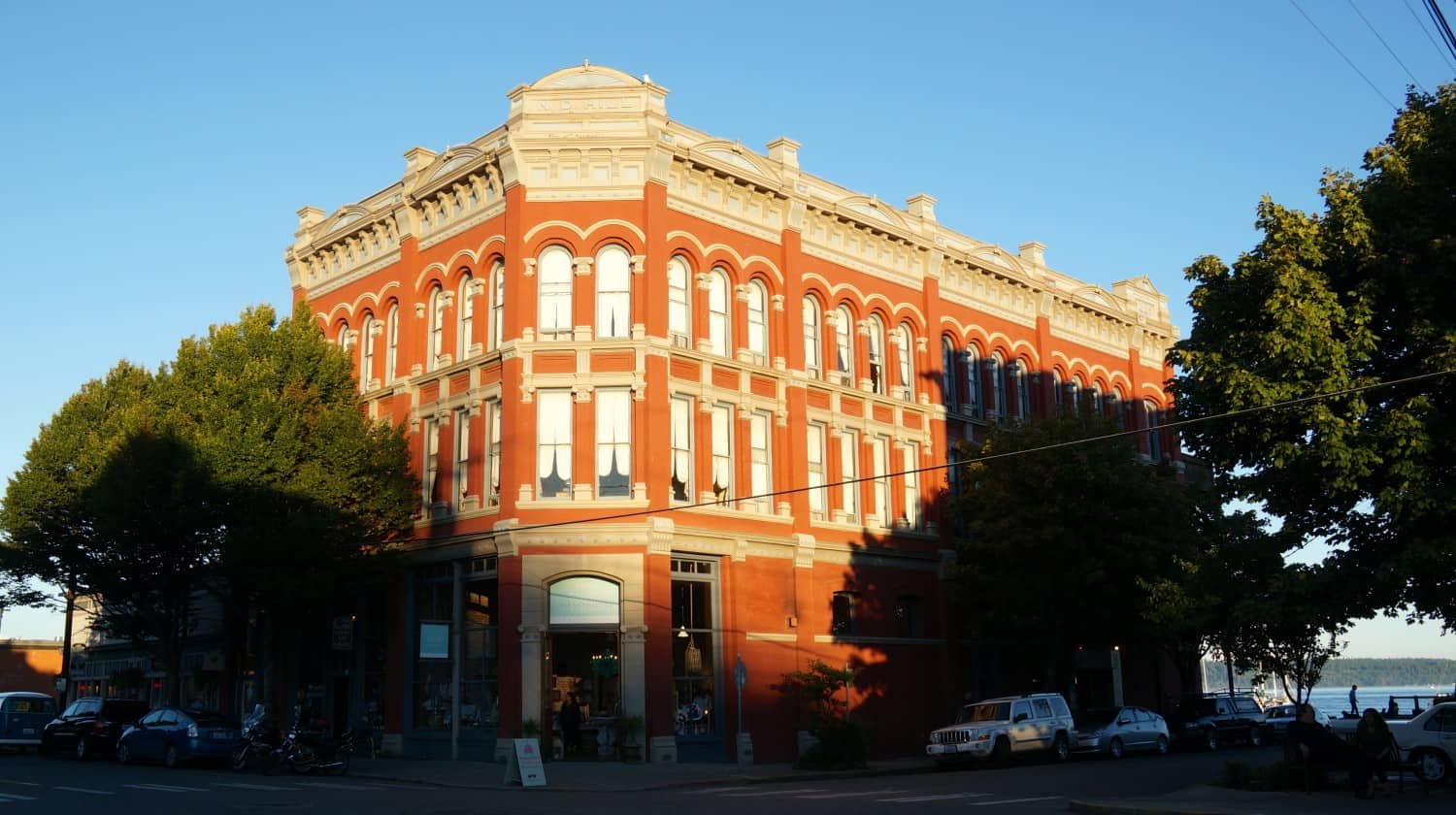 Still deep in maritime relevancy, Port Townsend is now a hub for independent boat builders. Walking through the marina to view the vessels docked here is entertaining – even if you know nothing about boats!
There were also a few friendly locals willing to pose for a photo with Ty and Buster.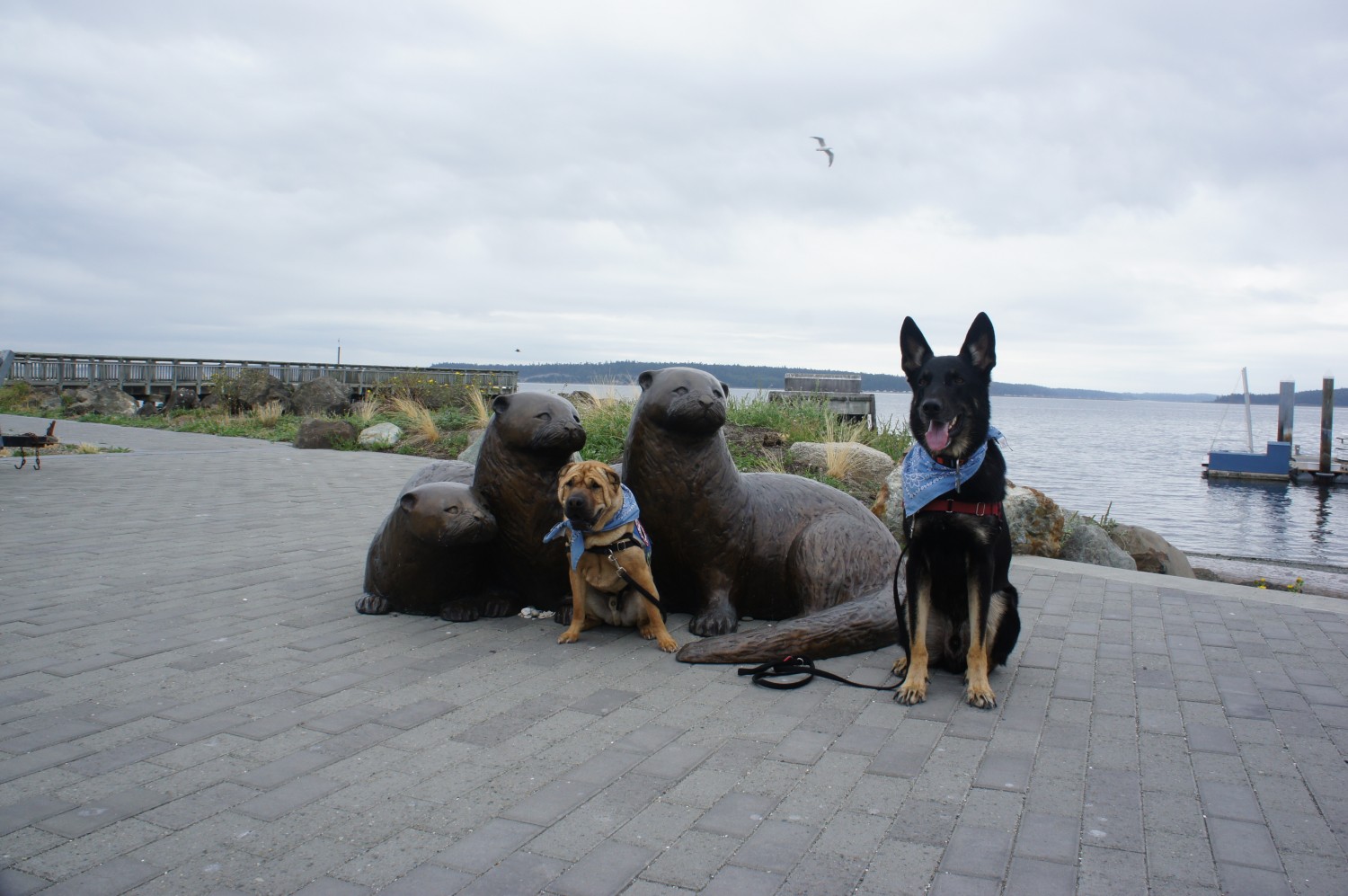 Finding unique, pet friendly restaurants has become a hobby for us, and Port Townsend provided one that was particularly memorable. The PT Soda Fountain & Diner looks just like you'd imagine a soda fountain should look! And with its dog friendly back deck overlooking the harbor, who could ask for more?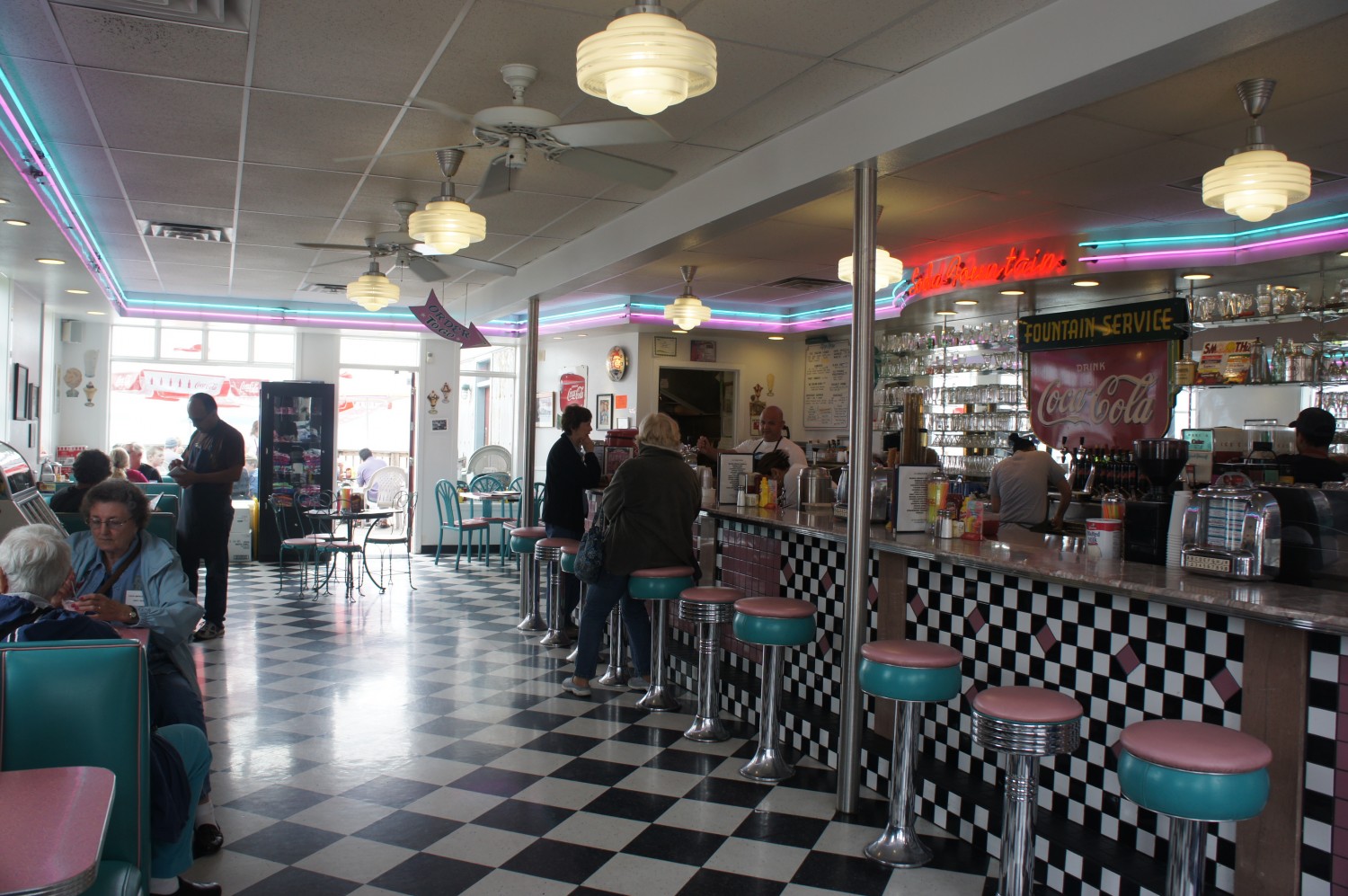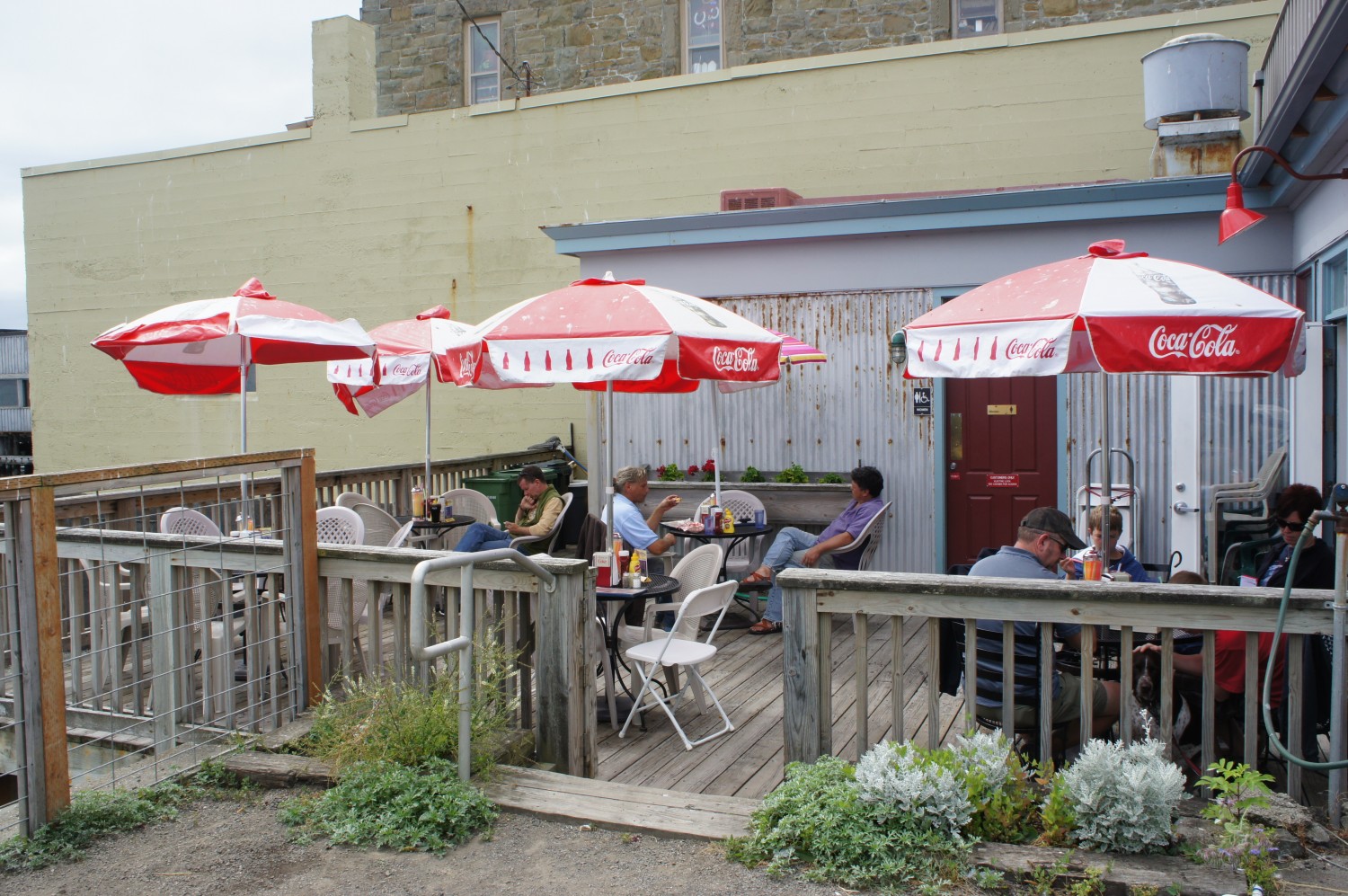 Cape Flattery Trail And Lookout
Cape Flattery was on our "must-do" list, simply for it's geographic location – it's the most northwester point in the continental United States. We didn't expect it to also be one of the most picturesque places we've been!
The easy 1.2-mile trail is pet friendly and consists of a mix of boardwalk and dirt path. Winding under a canopy of trees, the trail takes you to various lookouts, each with their own view of Cape Flattery.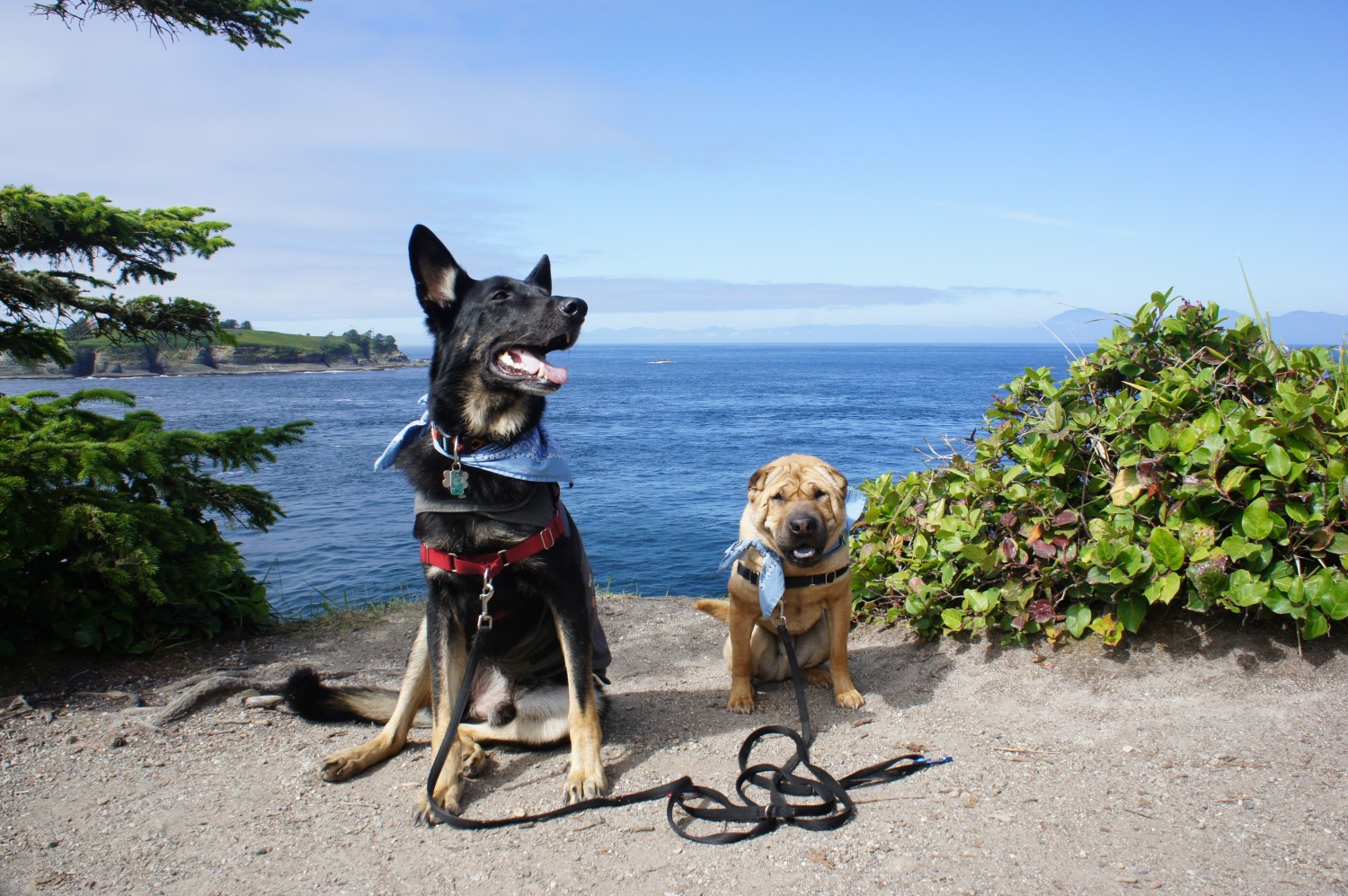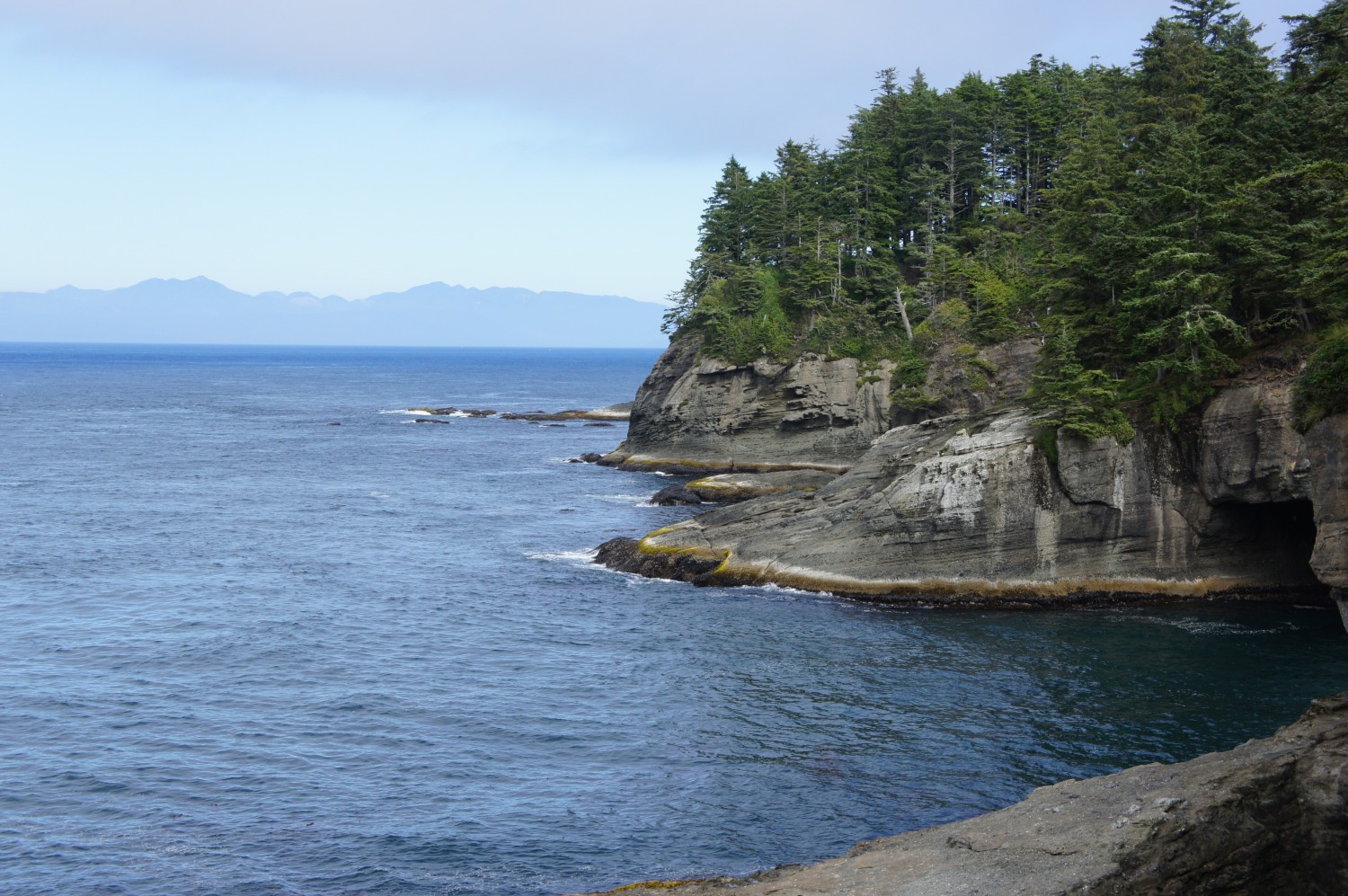 Ride The Ferry To Victoria
From Port Angeles, on the northern shore of the Olympic Peninsula, you can take a 90-minute ferry ride to Victoria, British Columbia. Victoria is a gorgeous, walkable city and fun place to explore with your dogs.
If you plan to make this part of your trip, be sure to pack your passport and your dog's vaccination records!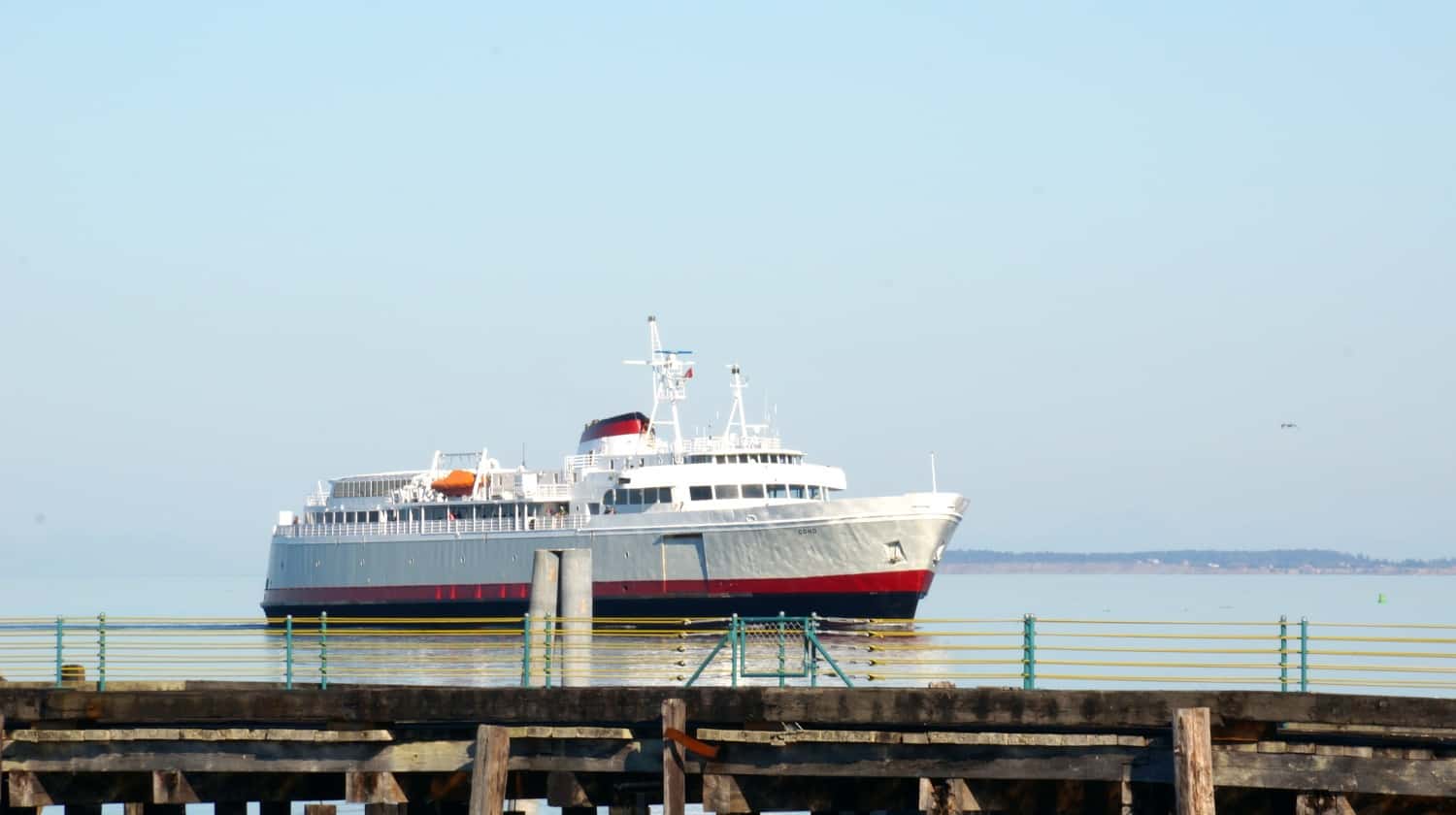 We hope our visit to the Olympic Peninsula with dogs encourages you to see it for yourself! If you know of other pet friendly things people shouldn't miss, be sure to leave a comment below.
(Visited 31,039 times, 1 visits today)