Whether you're planning multi-day camping adventures, day hikes, or walks around town with your pup, a dog backpack is a great addition to almost any dog's gear. But with all of the options out there, which dog backpack is best for your travel buddy?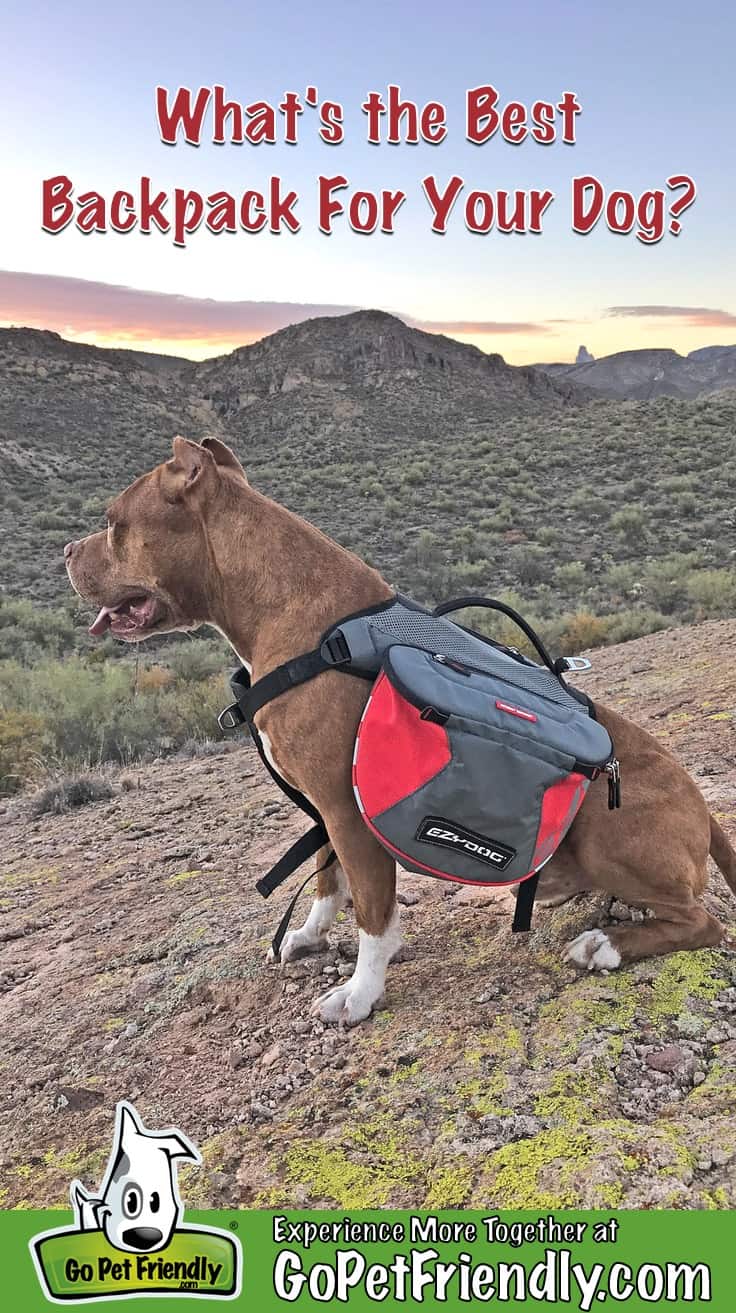 It's no secret … the best dog backpack depends on your dog!
Cool Whip and Hercules put seven dog backpacks to the test so you'd have a real-life view of the most popular dog backpacks on the market. After adjusting harnesses, filling saddlebags, re-adjusting harnesses, chasing Cool Whip around to finish clipping her in, zipping and unzipping saddlebags, we hope our feedback helps you!
Backpack Sizing
To find the best backpack for your dog, start by taking some measurements of your furry pal. And, because pictures can be deceiving, it might help to know how Cool Whip and Hercules measure up to see how your dog compares.
Cool Whip: 70 pounds, 23 inches at the shoulder, 30 inch chest circumference, 19 inch neck circumference
Hercules: 70 pounds, 20 inches at the shoulder, 29 inch chest circumference, 19 inch neck circumference
Each manufacturer provides a sizing guide for their backpack. Using your dog's measurements, you'll be able to determine which size will fit best.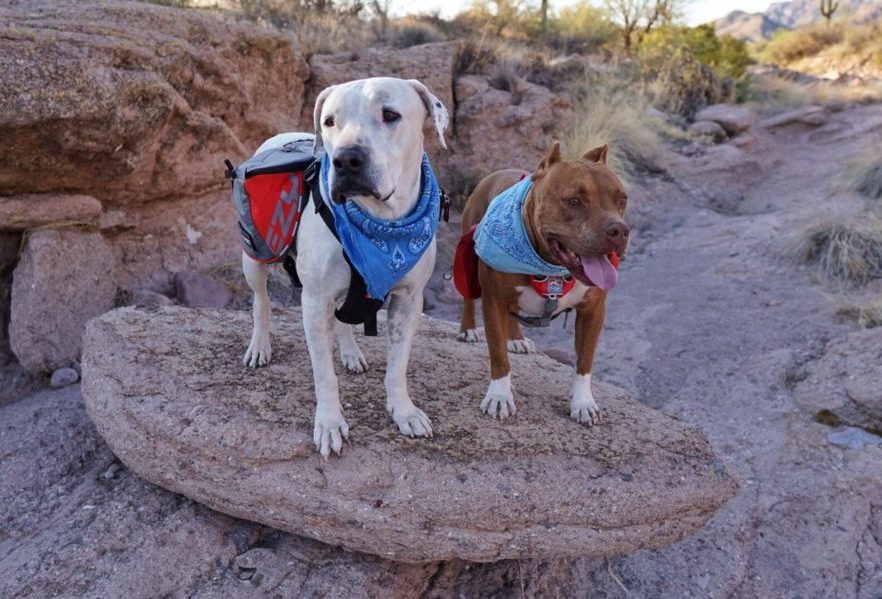 Visit our Amazon store to learn about more products we rely on to make traveling with pets easier, safer, and more fun!
Finding The Best Dog Backpack
There are a lot of options on the market, so we chose seven popular dog backpacks to test. Sharing our thoughts on the comfort and usability of each one will hopefully help you determine which will work best for you and your dog.
Note: Open saddlebags pictured below contain a 1-quart bag of kibble.
GoPetFriendly may earn commission or revenue on some items through the links below.
Alcott's Adventure Backpack is like the ever-so-perfect messenger bag you use for work, which also functions as a fantastic carry-on to fit underneath the plane seat. This pack can carry your dog's essentials for the day without getting too bulky. Plus, it sneaks in a few extra perks.
The Good Stuff: Four harness buckles on this pack make it easy get on and off your dog. Cool Whip does not like gear going over her head, so this was the ideal setup: two clips at the neck, one under the chest, and one at the side. She didn't even have to lift a paw for the lower chest strap!
Two of the four pockets also have bonus features. One large pocket is insulated to keep your dog's water (or your beverage!) cool. And one small pocket has a metal grommet that makes an easy-access waste bag dispenser.
Room for Improvement:  This backpack does not have an attachment for leashes and is not meant to be used as a harness. You'll need need to attach your dog's leash to her collar.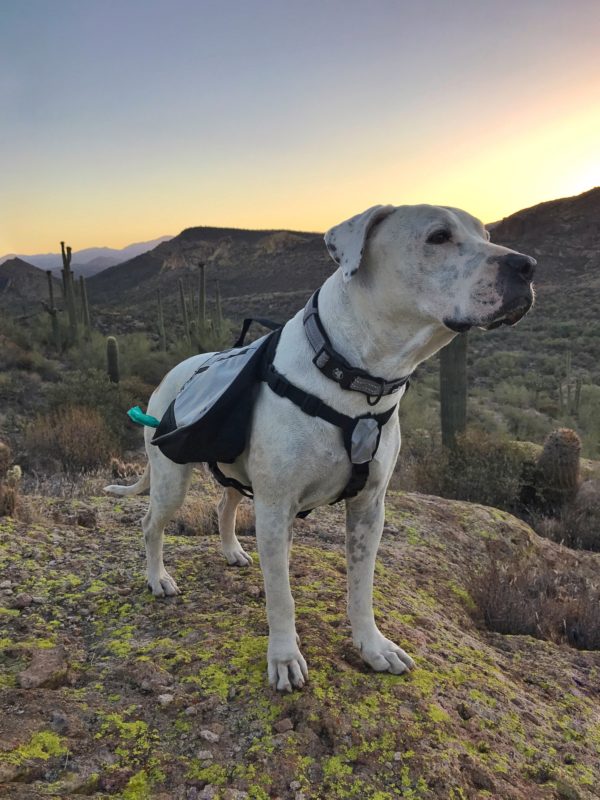 The Bay Dog Saranac Pack is a fantastic piece of gear for any type of adventure with your dog. It even stood up to Herc's rambunctious hiking style. (Which means it survived the rough rocks and prickly plants of the desert without so much as a snag.) Plus, with four buckles on the harness, it is one of the easiest packs to put on and take off.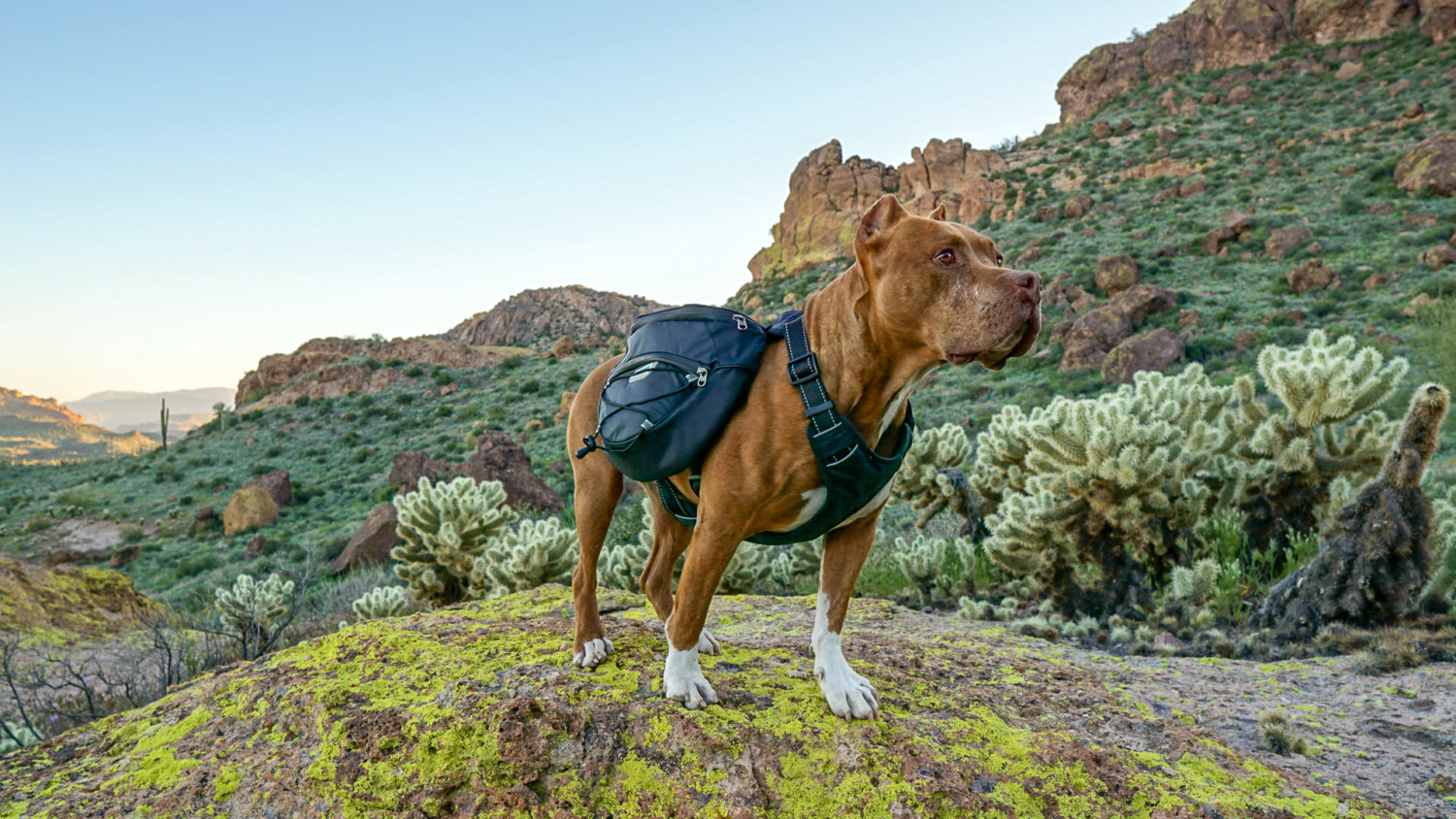 The Good Stuff: The saddlebags have all of my favorite features! I was tickled to find removable, well-sized, outer zipper pockets, internal zipper pockets, internal mesh pockets, outer loops to attach gear, a poop bag dispenser, and a neon fabric interior that made it easy to find things inside.
Additionally, the wide, padded chest and belly panel wrapped perfectly around Herc's underside. It's comfortable and protective – especially if you have a dog who likes to run through the brush.
Room for Improvement: The elastic cords on the outer side of each saddlebag caught on branches during our adventure and are a potential nuisance. Also, the adjustment straps to position the saddlebags closer to the shoulders tend to slide and needed occasional re-adjusting.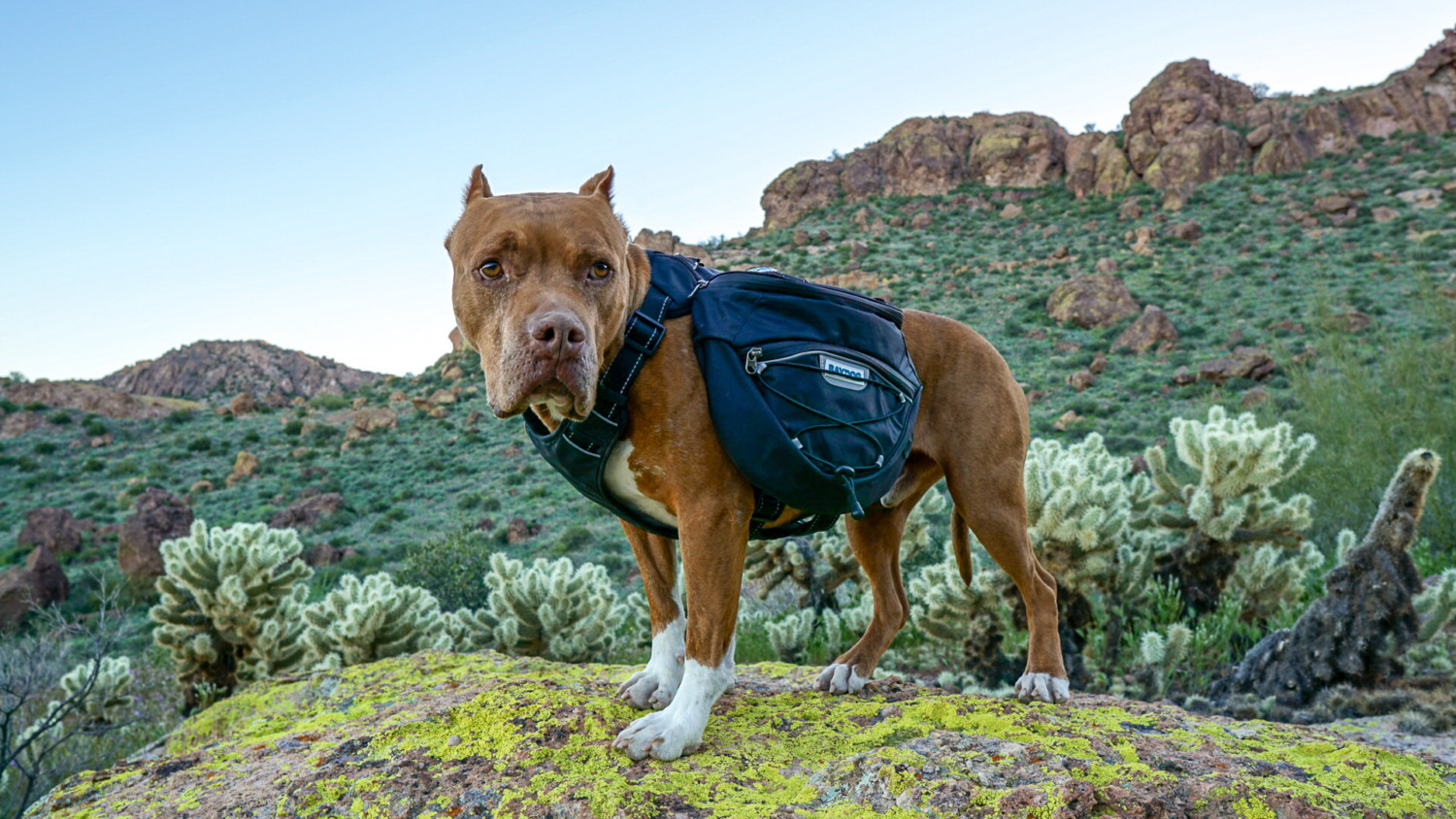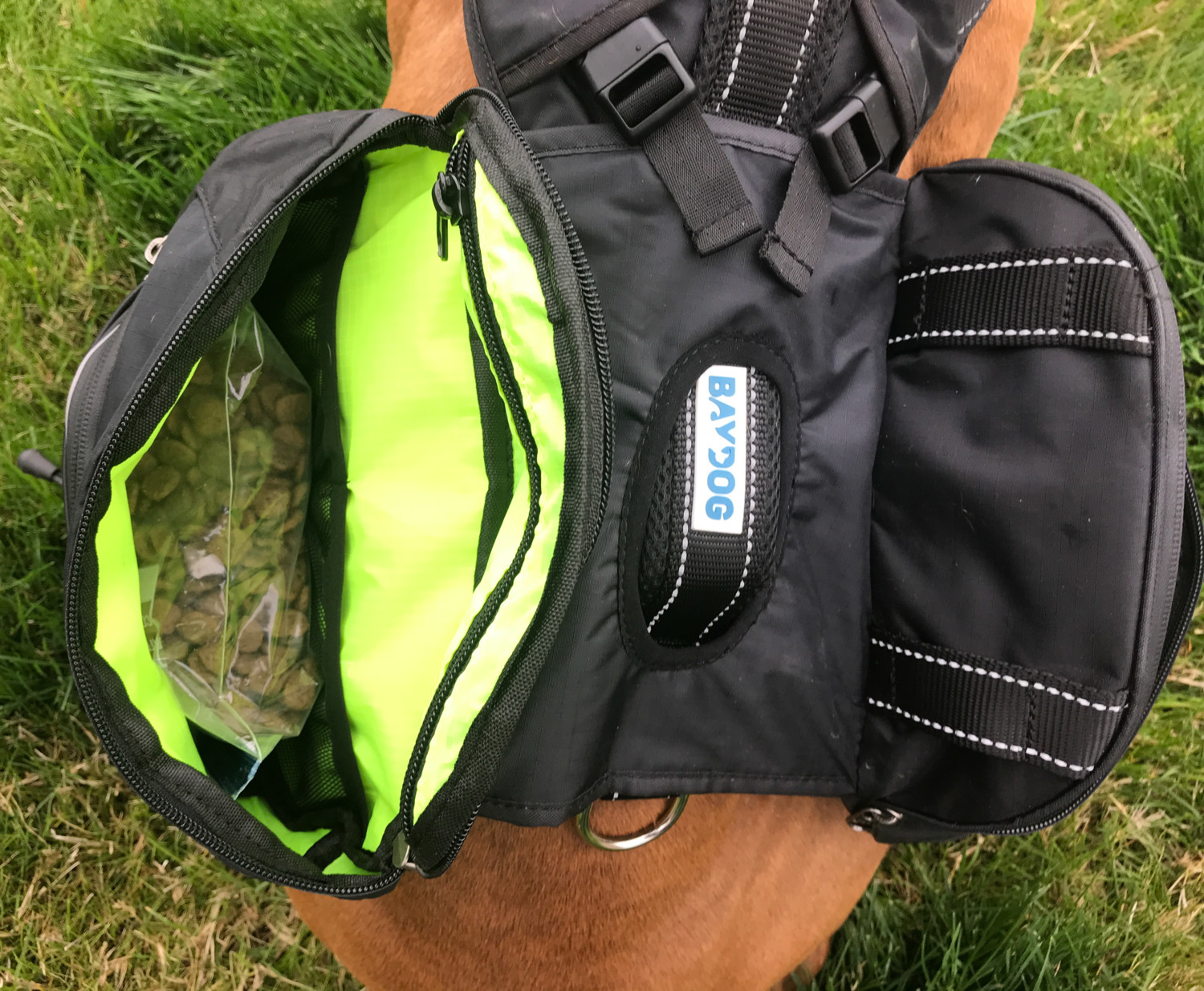 The EzyDog Summit Backpack is thoughtfully designed and well constructed. It has convenient front and back leash connection points, a mesh top for great air flow, and a wide chest pad for comfort and control.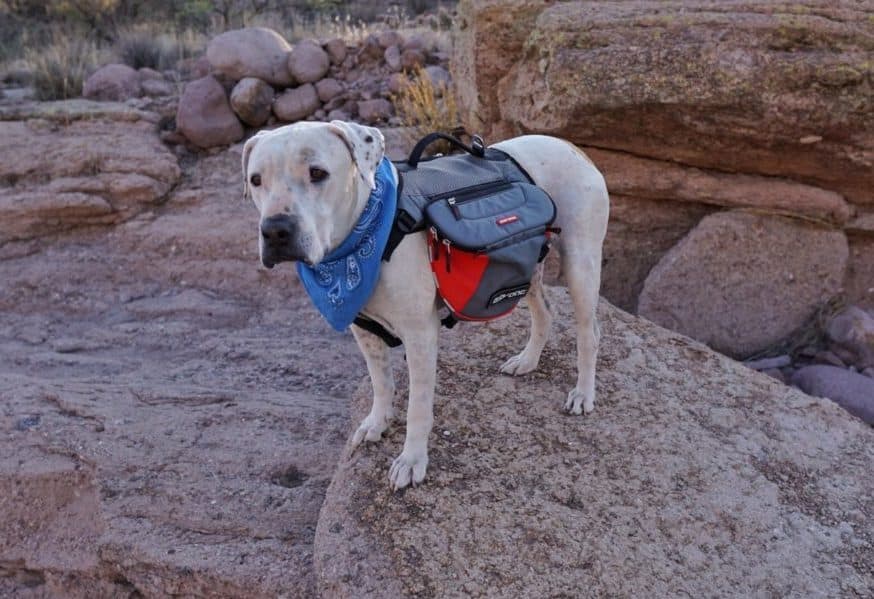 The Good Stuff: The saddlebags are the top feature here. The entire lid on each saddlebag opens, making it effortless to get gear in and out. This also makes it easy to see inside each bag. No more aimlessly fumbling around hoping to magically pull out the correct item. And one less opportunity for your dog to give you the stink eye for slowing her down!
Room for Improvement: Each bag has only one pocket; a second, smaller pocket would be convenient for organization. The second zipper at the top of each bag is a nice thought for a quick grab, but it's a tad small to be able to efficiently retrieve items.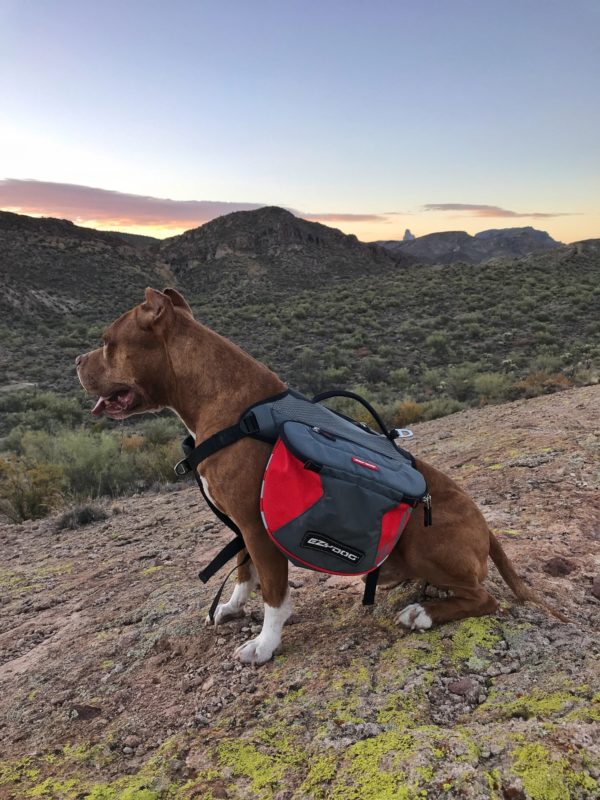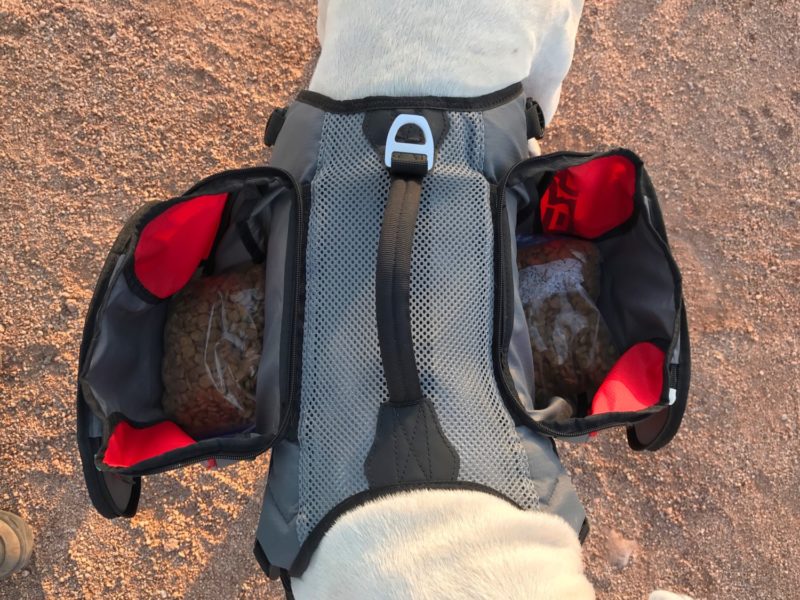 Planning a multi-day adventure with your big pup? Trying to minimize the amount of extra gear your dog is collecting? This is the backpack for you! 
Hurtta's Trail Pack sports the largest saddlebags of the group. Plus, they're removable so you can go from backpack to harness in a few quick snaps. And, since you don't have to pack a separate harness, you'll have more room for snacks!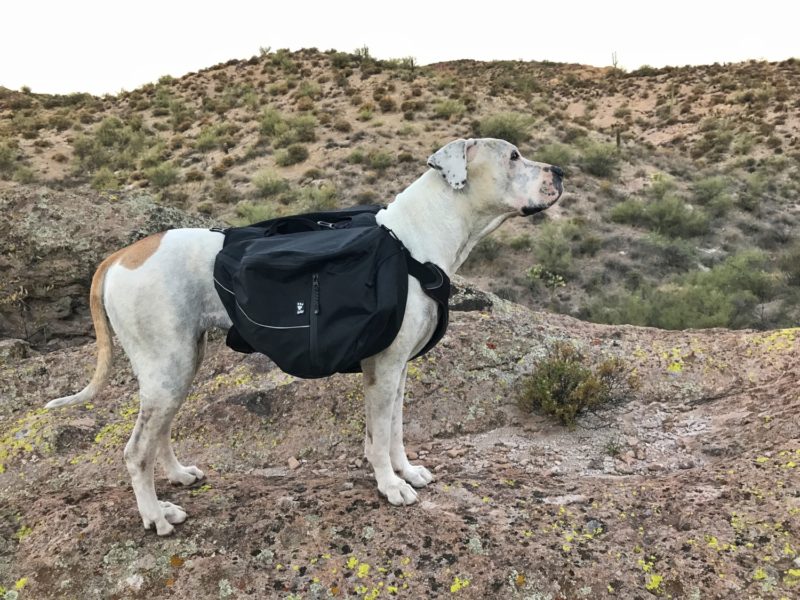 The Good Stuff: The removable bags are an obvious positive, but the harness itself deserves a shout-out as well. The flexible material conforms perfectly to your dog without any stiff or thick areas causing discomfort. The mesh sides help with air flow, and the wide chest pad wraps smoothly down the front of your dog.
Room for Improvement: The saddlebags could be oversized for some dogs. Size medium fit both Cool Whip and Hercules, but the saddlebags were a bit too bulky for Hercules with his shorter, more compact stature. It would be fantastic if a built-in zipper could reduce/expand the capacity of these bags.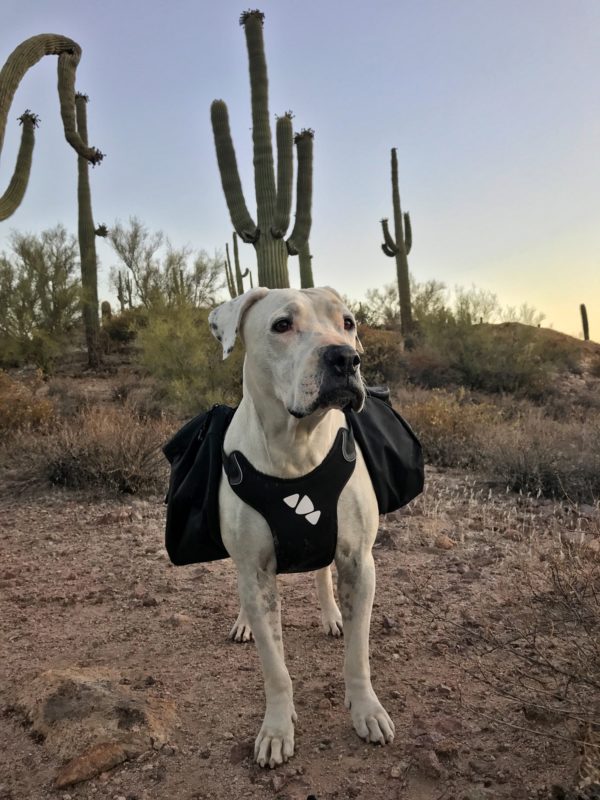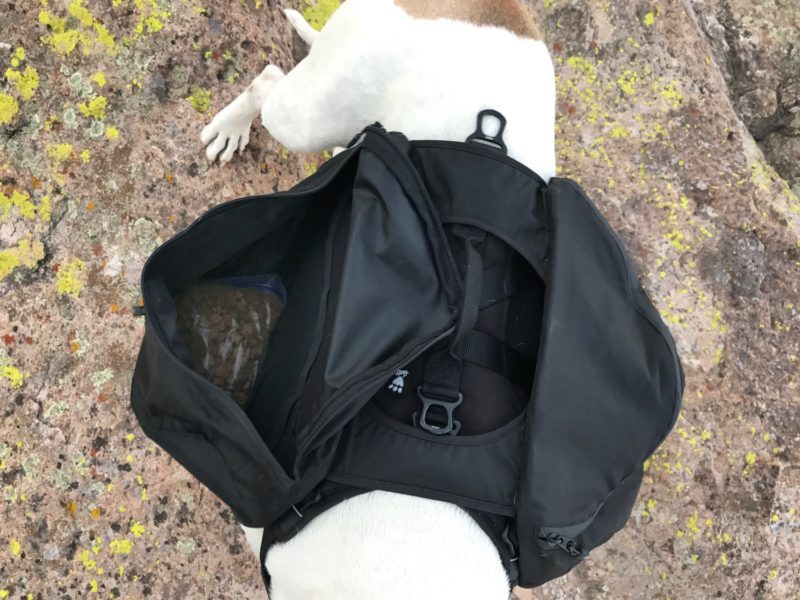 Kurgo's Baxter Dog Backpack is a pleasantly compact adventure system. This pack has multiple fit adjustments, not only for the harness, but also for the saddlebags. You can move the bags higher or lower according to the build of your dog, which is a feature unique to this pack.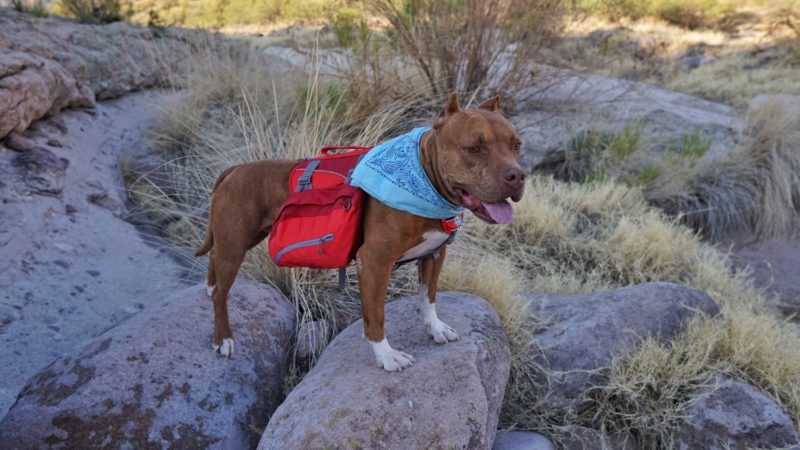 The Good Stuff: The little details on this pack are well thought out. It has easy-to-grab zipper pulls, two conveniently sized pockets, and a bottle opener on the front chest pad. And the saddlebags are the perfect size for a day hike. There's a lot here to love!
Room for Improvement: The saddle of the harness is pretty stiff, which means it might not form to the shape of your dog as easily as the other options. That could eventually make it uncomfortable for some dogs. Additionally, short hair quickly collects in the mesh on the underside of the harness.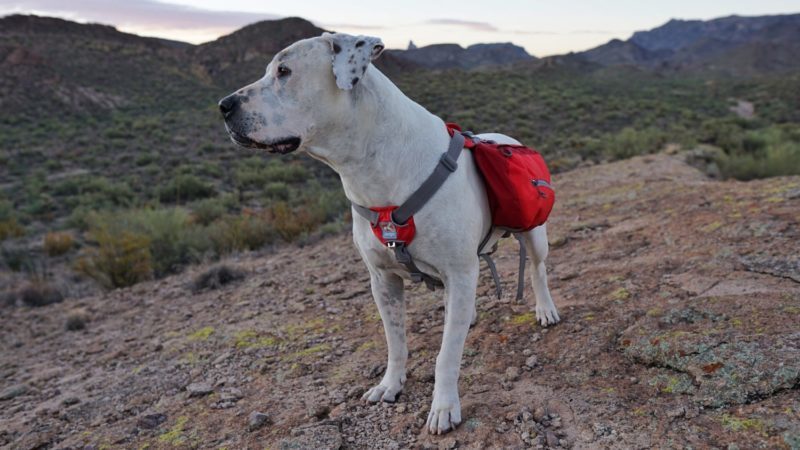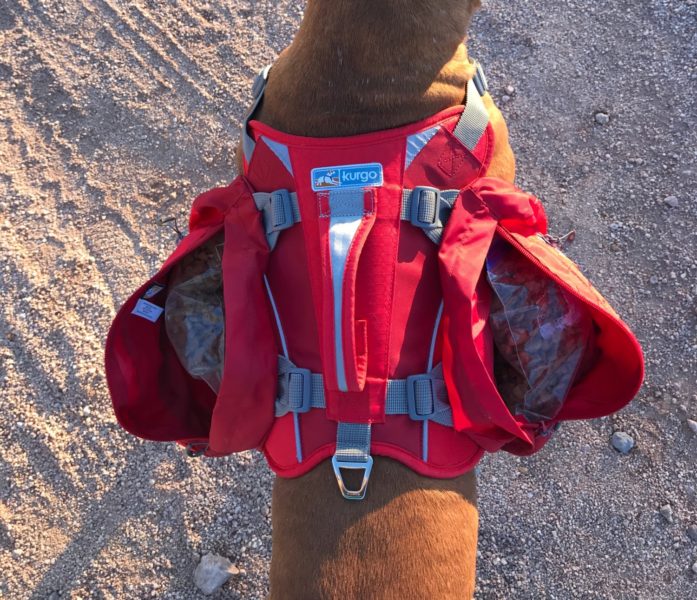 You'll never have to question what this pack can handle! Ruffwear's Approach Pack is very well constructed and durable. If your dog barrels through the wilderness with little regard for the nice accessories you provide, this pack is for you!
Hercules pays no attention to what he's hustling past, so his gear gets a solid thrashing from rocks, trees, and cacti. This pack took it all and still looked nice when we got home.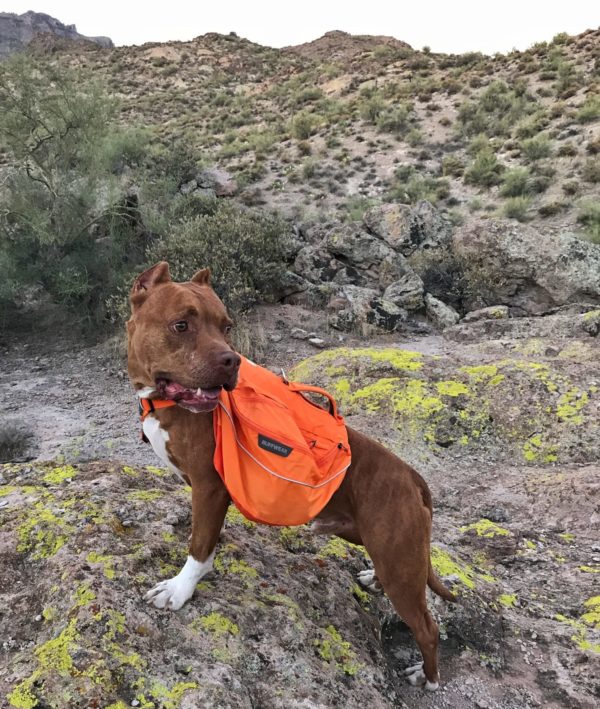 The Good Stuff: The saddlebags on this dog backpack are sized and shaped to accommodate enough gear for overnight, without being too excessive for a day hike. And the gear loops at the top of each bag are a nice addition for tying on lightweight items, like your dog's sleeping pad.
Room for Improvement: The material is not breathable and the underside of the harness collects short hair quickly. Also, the fit of this pack did not work for Cool Whip's girlish figure and chaffed under her arms no matter how the straps were adjusted.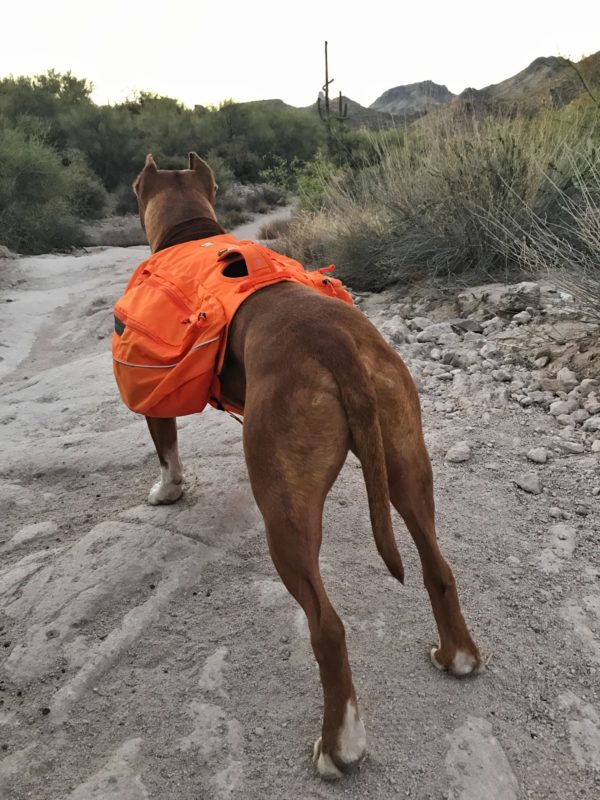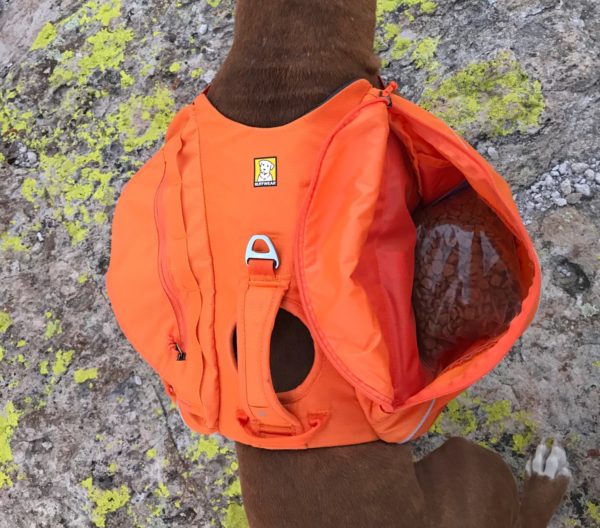 We're giving a 10/10 for style on this one! But the canvas and leather of Wolf Republic's Ranger Pack isn't just for looks—it's also durable enough to withstand any adventure.
Each saddlebag has two zippered pockets covered by a top flap that secures with a magnetic button. Both the zippers and the magnetic buttons are easily maneuverable with one hand, yet strong enough to withstand the abuse of a dog like Herc who barrels down the trail assuming the jagged boulders and thorny branches will just move out of his way.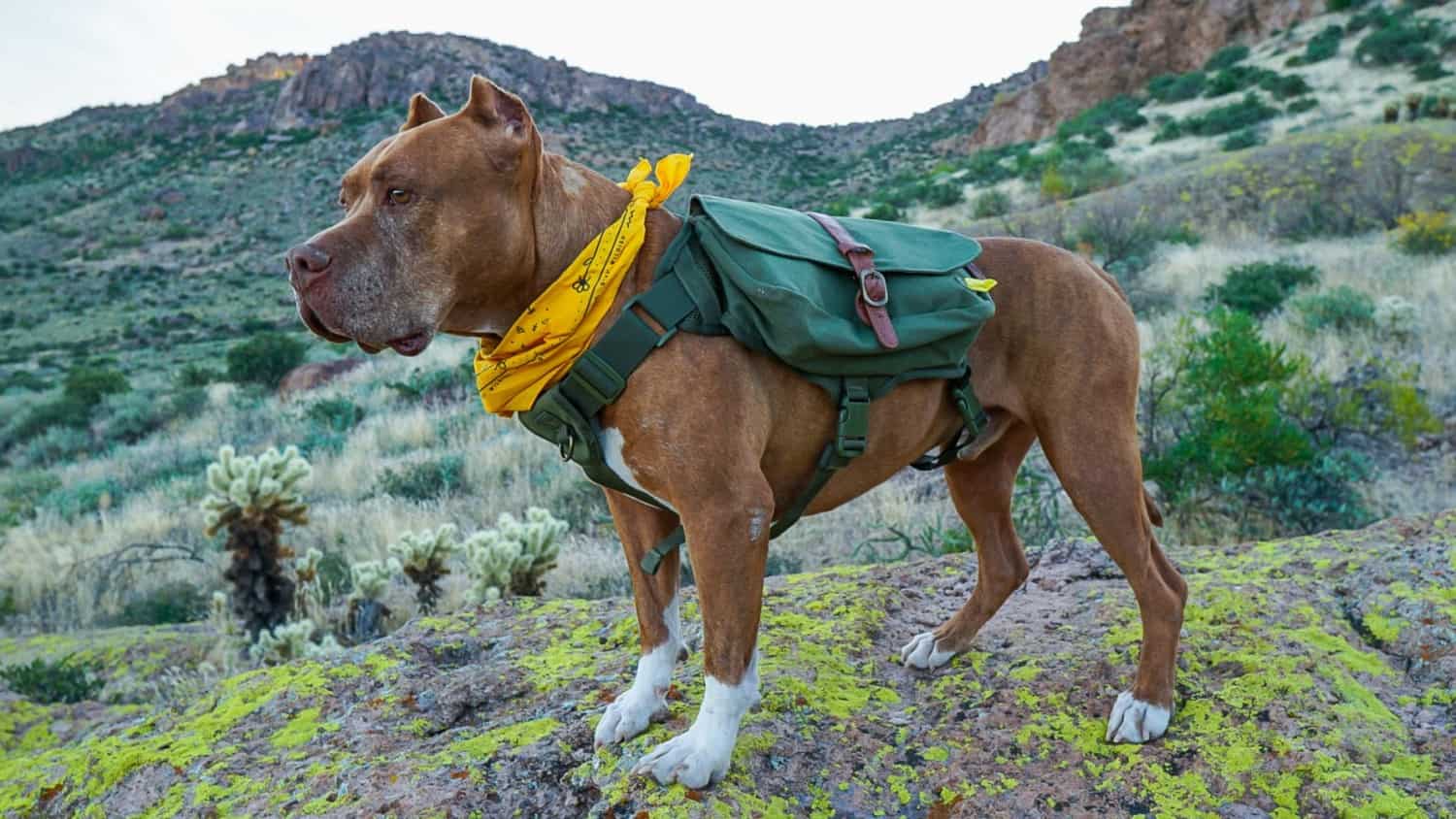 The Good Stuff: Great size and shape of the saddlebags. Big enough to fit a few items for an overnight without feeling oversized for a day hike. Versatility is key! Also, one side has a waste bag dispenser, which unexpectedly became a favorite feature on several packs.
Room for Improvement: We had a little trouble getting the belly straps to stay tightened in an optimal spot — especially the back one. So it sometimes got wet when Herc relieved himself.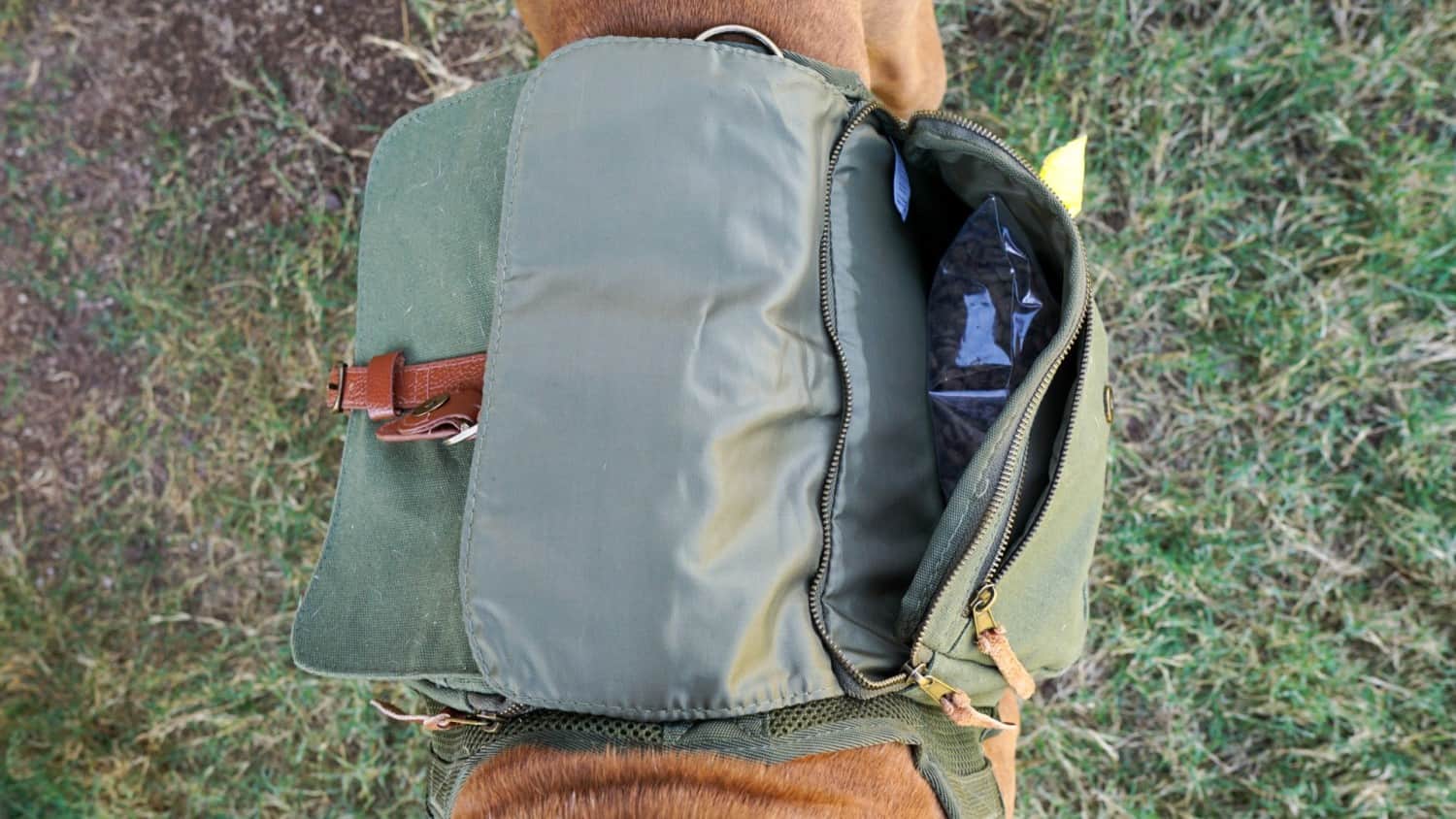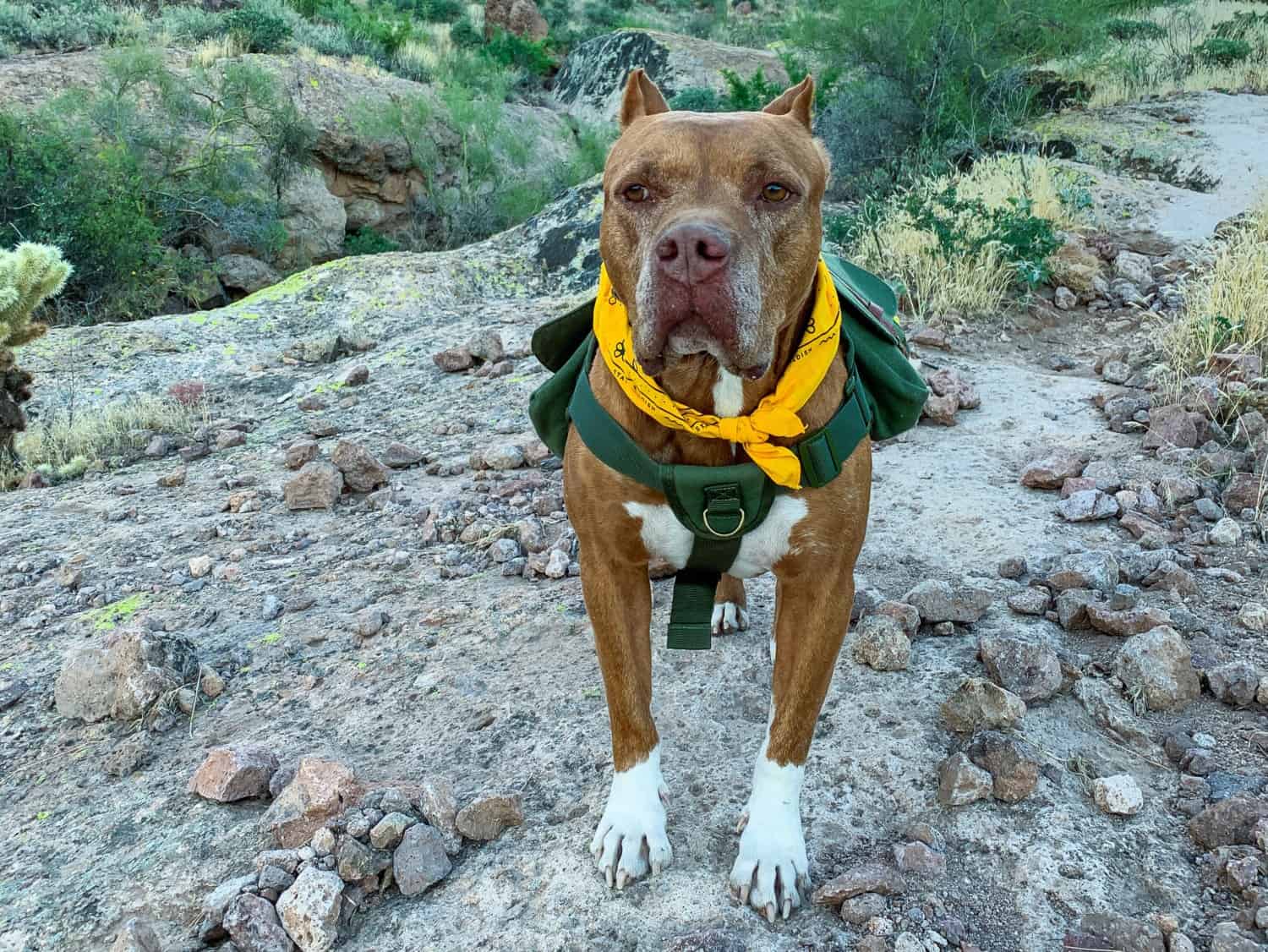 Comparing Dog Backpacks
Overall, you can't go wrong with any of these backpacks … as long as they fit your dog appropriately. Instead, focus on which features matter most to you.
Will you be taking long walks in the city?  Do you want easy access saddlebags? Will you be backpacking for several nights? Do you need a compact day hiker? Does it have to withstand a lot wear and tear?
There is something out there for everyone … even a princess like Cool Whip!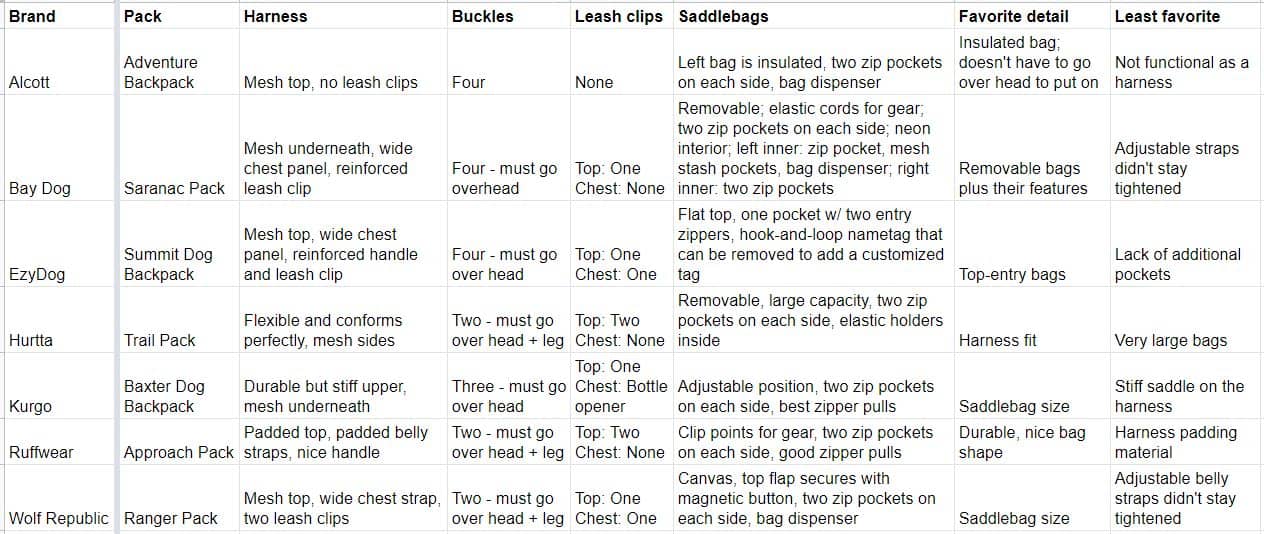 Do you have a dog backpack you'd recommend that wasn't mentioned above? Let us know in the comments below!
Visit our Amazon store to learn about more products we rely on to make traveling with pets easier, safer, and more fun!
Amazon Affiliate Disclosure: GoPetFriendly.com LLC is a participant in the Amazon Services LLC Associates Program, an affiliate advertising program designed to provide
a means for website owners to earn advertising fees by advertising and linking to amazon.com, audible.com, and any other website that may be affiliated with Amazon
Service LLC Associates Program. As an Amazon Associate, the owner of this site earns a commission from qualifying purchases.
(Visited 25,789 times, 1 visits today)